---
Album Info
Album Veröffentlichung:
2023
HRA-Veröffentlichung:
20.01.2023
Das Album enthält Albumcover Booklet (PDF)
?
Formate & Preise
| | | | |
| --- | --- | --- | --- |
| Format | Preis | Im Warenkorb | Kaufen |
| FLAC 96 / MCH | $ 22,00 | | |
| FLAC 176.4 | $ 18,50 | | |
| FLAC 88.2 | $ 15,40 | | |
| DSD 128 | $ 21,10 | | |
| MQA | $ 19,40 | | |
Henning Sommerro (b. 1952):

1

Hirtir

04:25

Anders Edenroth (b. 1963):

2

Tree Song

04:57

Marianne Reidarsdatter Eriksen (b. 1971):

3

No plantar kvinna i verda eit tre

07:50

Ellrun Ystad; Idunn Vindspoll:

4

Tre vers til mor

03:27

Christine Donkin (b. 1976):

5

Sirkel

06:24

Eric William Barnum (b. 1979):

6

Yggdrasil

05:20

Folketone; Ragnar Rasmussen (b. 1966):

7

Eg veit i himmerik ei borg

04:20

Trygve Brøske (b. 1973):

8

Ratatoskr

06:24

Ko Matsushita (b. 1962):

9

Kamuy

06:20

Mia Makaroff (b. 1970):

10

Psalm 9

06:37

Eric William Barnum:

11

Heaven Full of Stars

05:29

Total Runtime

01:01:33
Info zu Yggdrasil
Yggdrasil ist der Weltenbaum in der nordischen Mythologie, und unser Yggdrasil-Musikprojekt begann mit der Idee, Komponisten von nah und fern anzusprechen, als ob sie entlang der Äste des Baumes reisten, und es umfasste das Konzept, sich um den Baum als gemeinsames Thema zu versammeln. Wir stellten uns vor, dass der Reichtum und die Komplexität von Yggdrasil den Komponisten die Freiheit geben würde, ihre Kompositionen mit Ideen, Reflexionen, Geschichten und Bezügen zu "Weltbäumen" - wie auch immer sie dies interpretieren mögen - aus ihrem eigenen Leben zu füllen. Wir hofften, dass dies eine große Vielfalt an musikalischem Ausdruck und Inhalt hervorbringen würde. Wir haben diesen Prozess über mehrere Jahre verteilt. Auf diese Weise würde er uns immer wieder neue musikalische Herausforderungen und Inspirationen bieten und uns neue Klangfarben, Sounds und Akkorde bescheren - die wir uns dann zu eigen machen mussten. Wir hatten auch das Glück, die meisten Komponisten zu treffen und mit ihnen zusammenzuarbeiten, wodurch wir ein besseres Verständnis für ihre Musik und die Geschichten dahinter bekamen.
Musik von Henning Sommerro, Anders Edenroth, Marianne Reidarsdatter Eriksen, Ellrun Ystad, Idunn Vindspoll, Christine Donkin, Eric William Barnum, Ragnar Rasmussen, Trygve Brøske, Ko Matsushita und Mia Makaroff.
Die Aufführungen von Cantus, seine innovativen Produktionen und die Entwicklung neuer Musik waren wegweisend für andere Ensembles mit ähnlichen Ambitionen. Die Mitwirkung in den beiden Disney-Filmen zu Frozen machte Cantus auch außerhalb der Welt der Chormusik bekannt. Nach SPES (2015) und FRYD (2019), die beide für den GRAMMY in der Kategorie Best Immersive Audio Album nominiert wurden, ist YGGDRASIL das dritte Album von Cantus, das von Morten Lindberg auf dem Label 2L produziert wurde.
Cantus
Tove Ramlo-Ystad, Dirigent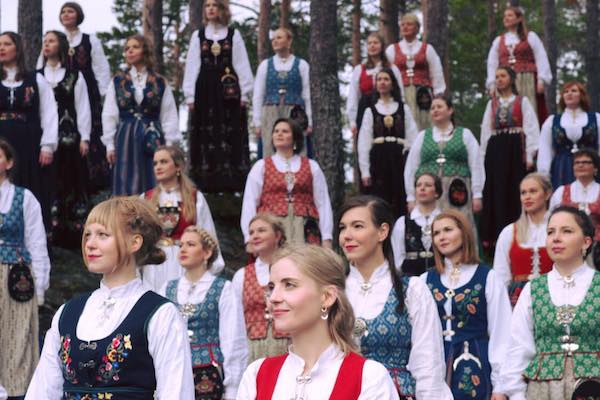 Cantus
was founded in 1986 by a group of teenage girls who wanted to sing in a choir where they themselves could be in charge. More than 20 years later, Cantus is still a choir which likes to follow its own ideas. A lucky strike led to the crossing of the paths of the newly founded choir and the young singer and conductor Tove Ramlo. Tove became Cantus' first, and so far, only conductor.
Versatility has always been one of the main characteristics of Cantus. During our entire existence we have altered between different musical genres and feel as much at home with popular music, folk music and jazz as with contemporary music and the classical choral music. We have participated in a number of international choir competitions and we believe that this has helped us to focus and perform at our best when needed. In addition to this we have also put up a number of stage performances with popular music which train us in communication with our audience. Both of these approaches have been equally important in the forming of our identity.
The members of Cantus are all amateur singers and we spend a lot of time on the choir both artistically and with the running of the organization. Being a member of Cantus is a time-consuming activity but we have great fun. And all this time we have been in charge ourselves.
Tove Ramlo-Ystad
has been Cantus' conductor since the choir was founded in 1986. Tove has a permanent position in Cantus but the relationship between Tove and Cantus is much more than a simple contract. The growth and reputation of Cantus is firmly linked to Tove and her creativity.
Tove was educated from Trøndelag Conservatory of Music followed by a Master Degree in music from the Norwegian University of Science and Technology. She has continued studying choir direction with Stefan Skiöld and more recently with Anders Eby, Professor of choir direction at the Royal College of Music in Stockholm, Sweden.
For many years Tove worked full-time as a freelance choir instructor but has recently taken up a part-time position at the Norwegian Choir Association, South Trøndelag Region.
Tove Ramlo-Ystad is one of Norway's most acknowledged choir conductors. She is a very popular and inspiring guest conductor nation-wide and she is frequently used as an adjudicator in international choir competitions.


Booklet für Yggdrasil