---
Album Info
Album Veröffentlichung:
2022
HRA-Veröffentlichung:
06.10.2022
Das Album enthält Albumcover Booklet (PDF)
Entschuldigen Sie bitte!
Sehr geehrter HIGHRESAUDIO Besucher,
leider kann das Album zurzeit aufgrund von Länder- und Lizenzbeschränkungen nicht gekauft werden oder uns liegt der offizielle Veröffentlichungstermin für Ihr Land noch nicht vor. Wir aktualisieren unsere Veröffentlichungstermine ein- bis zweimal die Woche. Bitte schauen Sie ab und zu mal wieder rein.
Wir empfehlen Ihnen das Album auf Ihre Merkliste zu setzen.
Wir bedanken uns für Ihr Verständnis und Ihre Geduld.
Ihr, HIGHRESAUDIO
Antonín Dvořák (1841 - 1904): Violin Concerto in A Minor, Op. 53, B. 108:

1

Dvořák: Violin Concerto in A Minor, Op. 53, B. 108: I. Allegro ma non troppo

12:13

2

Dvořák: Violin Concerto in A Minor, Op. 53, B. 108: II. Adagio ma non troppo

10:23

3

Dvořák: Violin Concerto in A Minor, Op. 53, B. 108: III. Finale. Allegro giocoso, ma non troppo

10:48

Alberto Ginastera (1916 - 1983): Violin Concerto, Op. 30:

4

Ginastera: Violin Concerto, Op. 30: Ia. Cadenza

05:23

5

Ginastera: Violin Concerto, Op. 30: Ib. Studio I - Per gli accordi. Allegro

01:23

6

Ginastera: Violin Concerto, Op. 30: Ic. Studio II - Per le terze. Allegretto

00:55

7

Ginastera: Violin Concerto, Op. 30: Id. Studio III - Per gli altri intervalli. Lo stesso tempo

00:48

8

Ginastera: Violin Concerto, Op. 30: Ie. Studio IV - Per l'arpeggiato. Lo stesso tempo

00:51

9

Ginastera: Violin Concerto, Op. 30: If. Studio V - Per gli armonici. Andante

02:14

10

Ginastera: Violin Concerto, Op. 30: Ig. Studio VI - Per i 24 quarti di tono. Larghissimo

01:12

11

Ginastera: Violin Concerto, Op. 30: Ih. Coda. Maestoso

01:05

12

Ginastera: Violin Concerto, Op. 30: II. Adagio per 22 solisti

09:45

13

Ginastera: Violin Concerto, Op. 30: IIIa. Scherzo pianissimo. Sempre volante, misterioso e appena sensibile

04:28

14

Ginastera: Violin Concerto, Op. 30: IIIb. Perpetuum mobile. Agitato ed allucinante

01:57

Pablo de Sarasate (1844 - 1908): Carmen Fantasy, Op. 25:

15

Sarasate: Carmen Fantasy, Op. 25: Introduction. Allegro moderato

03:13

16

Sarasate: Carmen Fantasy, Op. 25: I. Moderato

03:14

17

Sarasate: Carmen Fantasy, Op. 25: II. Lento assai

02:40

18

Sarasate: Carmen Fantasy, Op. 25: III. Allegro moderato

02:08

19

Sarasate: Carmen Fantasy, Op. 25: IV. Moderato

02:48

Total Runtime

01:17:28
Info zu Eclipse
Die dreifache Grammy-Gewinnerin Hilary Hahn präsentiert Eclipse: ein Album, das ihre Rückkehr auf die Bühne feiert. Aufgenommen mit dem hr-Sinfonieorchester und seinem Chefdirigenten (2014–2021) Andrés Orozco-Estrada, liefert die Geigerin Interpretationen von drei Werken, die mit universellen Emotionen aufgeladen sind und dennoch im musikalischen Erbe ihrer Komponisten verwurzelt sind: Dvořáks Violinkonzert, ein Meisterwerk aus der "slawischen Periode" des tschechischen Komponisten, Ginasteras Violinkonzert, ein bemerkenswertes Werk des 20. Jahrhunderts, und Sarasates Carmen-Fantasie, eines der größten virtuosen Prunkstücke aller Zeiten.
Auch für Hilary Hahn markiert das Album eine Reihe musikalischer Meilensteine. Eclipse spiegelt Hahns enge Zusammenarbeit mit den Musikern des hr-Sinfonieorchesters und ihre umfangreiche künstlerische Partnerschaft mit Maestro Orozco-Estrada wider. Während der Aufnahme hat die Künstlerin neue interessante Einblicke und beeindruckende Ausdrucksdetails der Werke kennengelernt. Vor allem aber dokumentiert das Album ihre Rückkehr zur Aufnahme nach einem einjährigen Sabbatical und vielen weiteren Monaten künstlerischer Einsamkeit.
Hahn erlebte während ihrer Zeit abseits der Bühne eine intensive persönliche Entwicklung. Nach Wellen von abgesagten Konzerten und längerfristigen Vorbereitungen alleine zu Hause reiste sie zum Live-Stream von Dvořáks Violinkonzert nach Frankfurt, unsicher wohin ihr Spiel sie führen würde. Aber auf der Bühne mit Orozco-Estrada und den Frankfurter Musikern kehrte Hahn innerlich heim. Sie erkannte, dass sich ihre musikalische Stimme in der Auszeit weiterentwickelt hatte. "Endlich war wieder alles vereint:" , erinnert sie sich, "das Konzertieren, das Ensemblespiel, ich selbst und die Musik. Unser Musizieren war lebendig und spürbar eine Erlösung." Hahn und das hr-Sinfonieorchester gaben zwei Monate später ihr erstes gemeinsames Post-Lockdown-Konzert vor Publikum, bei dem sie Ginasteras Violinkonzert sowie Sarasates Carmen Fantasie live aufgenommen haben.
"Ich habe das Gefühl, dass wir mit diesem Album etwas Wunderschönes in so schwierigen Zeiten erschaffen haben", fügt Hilary Hahn hinzu. "Nach dem Schlussakkord der Carmen-Fantasie fühlte ich mich, als hätte ich einen enormen Perspektivwechsel durchgemacht. Durch etwas wirklich Herausforderndes gegangen und gestärkt daraus hervorgegangen zu sein, als Musikerin verwandelt, zu allem bereit." Wie die Rückkehr des Lichts nach einer Sonnenfinsternis (Eclipse). "Vieles kann eine künstlerische Entwicklung befeuern, aber oft wird sie durch große Ereignisse in Gang gesetzt. Ich bin froh, dass dieser Schlüsselmoment hier dokumentiert ist, dieses Ankommen, dieses neue musikalische Zusammenfinden."
Hilary Hahn, Violine
Radio-Sinfonie-Orchester Frankfurt
Andres Orozco-Estrada, Dirigent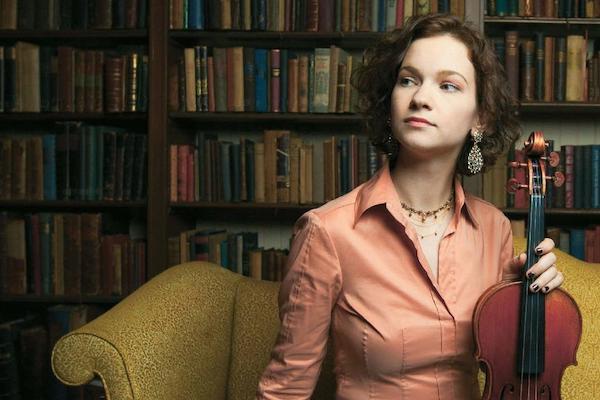 Hilary Hahn
Three-time Grammy Award-winning violinist Hilary Hahn is renowned for her virtuosity, expansive interpretations, and creative programming. Her dynamic approach to music-making and her commitment to sharing her musical experiences with a broad global community have made her a fan favorite.
Hahn's distinct stylistic choices honor the traditional violin literature while delving into the unexpected. In the past two seasons in recital tours across the United States, Europe, and Japan, she premiered six new partitas for solo violin by composer Antón García Abril. The works were Hahn's first commissioning project for solo violin and her first commission of a set of works from a single composer. García Abril was also one of the composers for "In 27 Pieces: the Hilary Hahn Encores," Hahn's multi-year commissioning project to revitalize the duo encore genre. Her album of those encores won a Grammy for Best Chamber Music/Small Ensemble Performance in 2015, and the print edition of the complete sheet music will be released by Boosey & Hawkes. Complete with Hahn's fingerings, bowings, and performance notes, the sheet music will ensure that the encores become part of the active violin repertoire. In 2017–18 Hahn returned to repertoire from the 19th and 20th centuries, performing the Tchaikovsky, Dvořák, and first Prokofiev violin concertos across the United States and Europe. She performs Bernstein's Serenade (after Plato's "Symposium") with the Los Angeles Philharmonic, Philadelphia Orchestra at home and at Carnegie Hall, and Houston Symphony at home and on tour in Belgium, Poland, Austria, and Germany as part of the celebrations of Bernstein's centennial season.
As part of recent residencies at the Vienna Konzerthaus, Seattle Symphony, and National Orchestra of Lyon, Hahn piloted free – and sometimes surprise – concerts for parents with their babies, as well as a knitting circle, a community dance workshop, a yoga class, and art students. She continued to create these community-oriented concerts as the 2017–18 Artist-in-Residence at the Philadelphia Orchestra, encouraging music lovers to combine live performance with their interests outside the concert hall and providing opportunities for parents to enjoy live music with their infants. She also played a free concert to promote a college membership program and participates in the Philadelphia Orchestra's ongoing educational activities.
Hahn's 2018–19 season revolved around the music of Bach, a constant in her musical life. Upon her admission to the Curtis Institute of Music at the age of ten, Hahn dedicated part of nearly every lesson to solo Bach; at 17 she made her recording debut with Hilary Hahn Plays Bach, consisting of three of Bach's pinnacle works for solo violin. In October 2018, she released the remaining three of the same set of pieces after two decades of anticipation from fans and critics alike, bringing her relationship to this music full circle with a worldwide solo Bach recital tour.
The season was also dedicated to another mainstay of Hahn's artistic practice: collaboration. In 2019, Hahn premiered two new works written for her: Einojuhani Rautavaara's Two Serenades for violin and orchestra, completed posthumously by Kalevi Aho, and Lera Auerbach's Sonata No. 4: Fractured Dreams. The season was bookended by another major release: her most recent solo commission, 6 Partitas by Antón García Abril. García Abril, Auerbach, and Rautavaara had been contributing composers for In 27 Pieces: the Hilary Hahn Encores, Hahn's Grammy Award-winning multi-year commissioning project to revitalize the duo encore genre. A print edition of the complete sheet music was recently released by Boosey & Hawkes; it contains Hahn's fingerings, bowings, and performance notes, ensuring that the encores become part of the active violin repertoire.
Hahn took her first violin lessons in the Suzuki program of the Peabody Institute in her hometown of Baltimore at the age of three, and at five she began lessons with Klara Berkovich, who had just emigrated from St. Petersburg. At ten, Hahn was admitted to the Curtis Institute of Music in Philadelphia to study with Jascha Brodsky, a former pupil of Eugène Ysaÿe and Efrem Zimbalist. Hahn completed her university requirements at sixteen, having already made her solo debuts with the Baltimore, Pittsburgh, Utah, and Bavarian Radio symphony orchestras; the Philadelphia, Cleveland, and Budapest Festival orchestras, and the New York Philharmonic, among others. Hahn continued her studies for three more years, delving into languages, literature, and writing, and received her bachelor's degree at nineteen. She spent four summers at the Marlboro Music Festival and another four in the total-immersion German, French, and Japanese programs at Middlebury College. She holds honorary doctorates from Middlebury College and Ball State University, where there are also three scholarships in her name.
Hahn has released sixteen albums on the Deutsche Grammophon and Sony labels, in addition to three DVDs, an Oscar-nominated movie soundtrack, an award-winning recording for children, and various compilations. Spanning an extremely wide range of repertoire, including Bach, Stravinsky, Elgar, Beethoven, Vaughan Williams, Mozart, Schoenberg, Paganini, Spohr, Barber, Bernstein, Ives, Higdon, and Tchaikovsky, her recordings have received every critical prize in the international press and have met with equal popular success. All have debuted in the top ten of the Billboard classical chart. Her seventeenth album will be a retrospective collection that also contains new live material and art from her fans, in keeping with a decades-long tradition of collecting fan art at concerts.
Hahn's first Grammy came in 2003 for her Brahms and Stravinsky concerto album. A pairing of the Schoenberg and Sibelius concerti spent 23 weeks on the charts and earned Hahn her second Grammy. In 2010 she premiered her recording of Jennifer Higdon's Violin Concerto along with the Tchaikovsky concerto. Higdon's composition, which was written for Hahn, went on to win the Pulitzer Prize. In 2012 Hahn launched Silfra with experimental prepared-pianist Hauschka. The album was produced by Valgeir Sigurðsson and was entirely improvised by Hahn and Hauschka following an intensive period of development.
Hahn is an avid writer, having posted journal entries for two decades on her website, hilaryhahn.com, and published articles in mainstream media. On her YouTube channel, youtube.com/hilaryhahnvideos, she interviews colleagues about their experiences in music. Her violin case comments on life as a traveling companion, on Twitter and Instagram at @violincase. In 2001, Hahn was named "America's Best Young Classical Musician" by Time magazine, and in 2010, she appeared on The Tonight Show with Conan O'Brien. Hahn was featured in the Oscar-nominated soundtrack to The Village and has participated in a number of non-classical productions, collaborating on two records by the alt-rock band ….And You Will Know Us By The Trail of Dead, on the album Grand Forks by Tom Brosseau, and on tour with folk-rock singer-songwriter Josh Ritter.


Booklet für Eclipse