---
Album info
Album including Album cover Booklet (PDF)
I`m sorry!
Dear HIGHRESAUDIO Visitor,
due to territorial constraints and also different releases dates in each country you currently can`t purchase this album. We are updating our release dates twice a week. So, please feel free to check from time-to-time, if the album is available for your country.
We suggest, that you bookmark the album and use our Short List function.
Thank you for your understanding and patience.
Yours sincerely, HIGHRESAUDIO
Antonín Dvořák (1841 - 1904): Violin Concerto in A Minor, Op. 53, B. 108:

1

Dvořák: Violin Concerto in A Minor, Op. 53, B. 108: I. Allegro ma non troppo

12:13

2

Dvořák: Violin Concerto in A Minor, Op. 53, B. 108: II. Adagio ma non troppo

10:23

3

Dvořák: Violin Concerto in A Minor, Op. 53, B. 108: III. Finale. Allegro giocoso, ma non troppo

10:48

Alberto Ginastera (1916 - 1983): Violin Concerto, Op. 30:

4

Ginastera: Violin Concerto, Op. 30: Ia. Cadenza

05:23

5

Ginastera: Violin Concerto, Op. 30: Ib. Studio I - Per gli accordi. Allegro

01:23

6

Ginastera: Violin Concerto, Op. 30: Ic. Studio II - Per le terze. Allegretto

00:55

7

Ginastera: Violin Concerto, Op. 30: Id. Studio III - Per gli altri intervalli. Lo stesso tempo

00:48

8

Ginastera: Violin Concerto, Op. 30: Ie. Studio IV - Per l'arpeggiato. Lo stesso tempo

00:51

9

Ginastera: Violin Concerto, Op. 30: If. Studio V - Per gli armonici. Andante

02:14

10

Ginastera: Violin Concerto, Op. 30: Ig. Studio VI - Per i 24 quarti di tono. Larghissimo

01:12

11

Ginastera: Violin Concerto, Op. 30: Ih. Coda. Maestoso

01:05

12

Ginastera: Violin Concerto, Op. 30: II. Adagio per 22 solisti

09:45

13

Ginastera: Violin Concerto, Op. 30: IIIa. Scherzo pianissimo. Sempre volante, misterioso e appena sensibile

04:28

14

Ginastera: Violin Concerto, Op. 30: IIIb. Perpetuum mobile. Agitato ed allucinante

01:57

Pablo de Sarasate (1844 - 1908): Carmen Fantasy, Op. 25:

15

Sarasate: Carmen Fantasy, Op. 25: Introduction. Allegro moderato

03:13

16

Sarasate: Carmen Fantasy, Op. 25: I. Moderato

03:14

17

Sarasate: Carmen Fantasy, Op. 25: II. Lento assai

02:40

18

Sarasate: Carmen Fantasy, Op. 25: III. Allegro moderato

02:08

19

Sarasate: Carmen Fantasy, Op. 25: IV. Moderato

02:48

Total Runtime

01:17:28
Info for Eclipse

"The brand new album from the three-time Grammy Award-winning violinist Hilary Hahn. Her most personal album to date, recorded immediately after lockdown, the album was recorded with the Frankfurt Radio Symphony and Andrés Orozco-Estrada, and features Dvořák's and Ginastera's Violin Concertos as well as Sarasate's Carmen Fantasy.
"This album is my return after an extended time out of the spotlight. Rediscovering my voice felt like the time following an eclipse; artistic evolution can come from many sources, but it is often set in motion by big events that bring about a change of perspective and reveal one's true self." (Hilary Hahn)
Hilary Hahn's latest album, Eclipse, celebrates the power of authenticity. Recorded with the Frankfurt Radio Symphony and its Music Director (2014-2021), Andrés Orozco-Estrada, it sees the triple Grammy-winning violinist deliver interpretations of three works charged with universal emotions yet rooted in their composers' musical heritage: Dvořák's Violin Concerto, a tour de force from the Czech composer's "Slavic period," Ginastera's Violin Concerto, a strikingly original 20th-century gem, and Sarasate's Carmen Fantasy, among the greatest virtuoso showpieces of all time. "This recording tells stories I didn't understand until I returned to the stage after a long hiatus: the elation of coming into one's own, the declaration of an artistic identity, and what it means to regain your native language through music," says Hahn.
The album marks a series of musical milestones for the violinist. She has long loved the works it contains and discovered fresh insights and details of expression as she recorded each of them for the first time. Eclipse also reflects Hahn's close collaboration with the musicians of the Frankfurt Radio Symphony (in their home city and on tour) and her extensive partnership with Maestro Orozco-Estrada. Above all, it documents her return to recording, following a year-long sabbatical and many additional months of artistic solitude.
Hahn experienced intense personal evolution during her time away from the stage. After waves of canceled concerts and extended solo preparation, she arrived in Frankfurt for the live-stream of Dvořák's Violin Concerto, unsure of where her playing would lead her. With Orozco-Estrada and the Frankfurt musicians, Hahn returned to her truest form of expression, performing. In isolation, she realized, her musical identity had strengthened rather than waned. "When I got onstage for the Dvořák in April last year," she recalls, "it was like a jolt of life, as if the world came rushing back in Technicolor." Hahn and the Frankfurt Radio Symphony gave their first post-lockdown concert together in front of an audience two months later, during which their Ginastera and Sarasate performances were recorded live.
Alongside the joy of once again working with fellow artists, Hilary Hahn was captivated by the unique qualities of the works on Eclipse. All three composers featured on the album spent extended periods away from home – Dvořák and Ginastera in the United States, Sarasate almost permanently on tour – but remained in touch with their cultural roots even as they developed their own unique and multi-layered artistic voices.
Dvořák, a village butcher's son raised in central Bohemia, incorporated the folk songs and dances he had heard as a boy in his mature musical language in defiance of the Austro-Hungarian Empire's suppression of Czech culture and language. The Violin Concerto in A minor, Op.53, written between 1879 and 1882 for the great virtuoso Joseph Joachim, weaves folk-inspired themes typical of Dvořák's Slavic period into the classical forms of sonata and rondo. It concludes with a stylized version of the furiant, a fiery Czech dance, part of what Hahn calls "a gigantic statement of human emotion."
Ginastera's Concerto was commissioned by the New York Philharmonic and first performed by them and Ruggiero Ricci under the direction of Leonard Bernstein at the newly-opened Lincoln Center in 1963. A native of Buenos Aires, Ginastera made his name in the United States during the 1950s with works that combined elements of traditional Argentinian music and edgy modernism. His Violin Concerto, composed during the chaotic years between Juan Perón's 1955 deposal and the military coup of 1966, explores the infinite possibilities of variation within the form: Ginastera introduces a multitude of themes in its breathtaking opening solo cadenza and transforms them across three intricately crafted, absorbingly complex movements for violin and orchestra. The central Adagio is notable for turning the spotlight on the principal players of the orchestra, as well as the soloist. "I've been obsessed with the Ginastera for years," notes Hahn. "It's tantalizing and magical and weird. It's a mix of all of the rawest feelings you can have as a human being, but in a format that is pure genius."
Violinist-composer Pablo de Sarasate, born in Pamplona, gave the premiere of his hugely demanding Carmen Fantasy in Paris in 1883. The dramatic hit tunes of Bizet's Carmen, a tragic tale of love and jealousy set in southern Spain, supplied Sarasate with the themes for a series of richly decorated episodes that distill the essence of the opera and its charismatic heroine. "My emphasis in this interpretation is to make the piece operatic, so you can imagine hearing the words and the story they tell," comments Hahn. "It was a joy to work on it in Frankfurt with my wonderful colleagues."
"I feel with this album like we made something powerfully beautiful together during a difficult time," she adds. "When we played the final note of the Carmen Fantasy, I felt like I'd gone through a huge shift of perspective, through something really challenging, and emerged stronger as a person and a musician." She compares this shift to the return of light that always follows an eclipse. "Artistic evolution can come from many sources, but it often comes from a big event. I am so happy that I can share this pivot, this landing, this merging of voices in the global language of music."
Hilary Hahn, violin
Radio-Sinfonie-Orchester Frankfurt
Andres Orozco-Estrada, conductor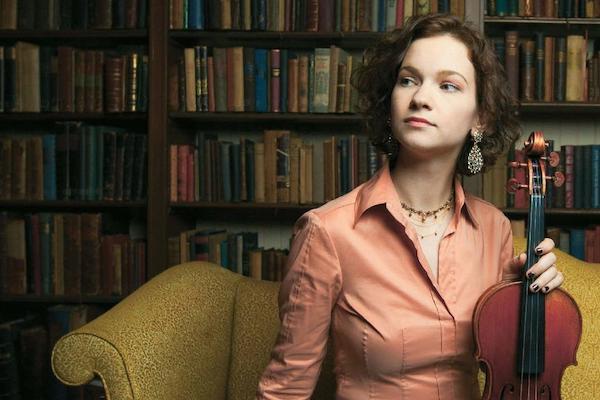 Hilary Hahn
Three-time Grammy Award-winning violinist Hilary Hahn is renowned for her virtuosity, expansive interpretations, and creative programming. Her dynamic approach to music-making and her commitment to sharing her musical experiences with a broad global community have made her a fan favorite.
Hahn's distinct stylistic choices honor the traditional violin literature while delving into the unexpected. In the past two seasons in recital tours across the United States, Europe, and Japan, she premiered six new partitas for solo violin by composer Antón García Abril. The works were Hahn's first commissioning project for solo violin and her first commission of a set of works from a single composer. García Abril was also one of the composers for "In 27 Pieces: the Hilary Hahn Encores," Hahn's multi-year commissioning project to revitalize the duo encore genre. Her album of those encores won a Grammy for Best Chamber Music/Small Ensemble Performance in 2015, and the print edition of the complete sheet music will be released by Boosey & Hawkes. Complete with Hahn's fingerings, bowings, and performance notes, the sheet music will ensure that the encores become part of the active violin repertoire. In 2017–18 Hahn returned to repertoire from the 19th and 20th centuries, performing the Tchaikovsky, Dvořák, and first Prokofiev violin concertos across the United States and Europe. She performs Bernstein's Serenade (after Plato's "Symposium") with the Los Angeles Philharmonic, Philadelphia Orchestra at home and at Carnegie Hall, and Houston Symphony at home and on tour in Belgium, Poland, Austria, and Germany as part of the celebrations of Bernstein's centennial season.
As part of recent residencies at the Vienna Konzerthaus, Seattle Symphony, and National Orchestra of Lyon, Hahn piloted free – and sometimes surprise – concerts for parents with their babies, as well as a knitting circle, a community dance workshop, a yoga class, and art students. She continued to create these community-oriented concerts as the 2017–18 Artist-in-Residence at the Philadelphia Orchestra, encouraging music lovers to combine live performance with their interests outside the concert hall and providing opportunities for parents to enjoy live music with their infants. She also played a free concert to promote a college membership program and participates in the Philadelphia Orchestra's ongoing educational activities.
Hahn's 2018–19 season revolved around the music of Bach, a constant in her musical life. Upon her admission to the Curtis Institute of Music at the age of ten, Hahn dedicated part of nearly every lesson to solo Bach; at 17 she made her recording debut with Hilary Hahn Plays Bach, consisting of three of Bach's pinnacle works for solo violin. In October 2018, she released the remaining three of the same set of pieces after two decades of anticipation from fans and critics alike, bringing her relationship to this music full circle with a worldwide solo Bach recital tour.
The season was also dedicated to another mainstay of Hahn's artistic practice: collaboration. In 2019, Hahn premiered two new works written for her: Einojuhani Rautavaara's Two Serenades for violin and orchestra, completed posthumously by Kalevi Aho, and Lera Auerbach's Sonata No. 4: Fractured Dreams. The season was bookended by another major release: her most recent solo commission, 6 Partitas by Antón García Abril. García Abril, Auerbach, and Rautavaara had been contributing composers for In 27 Pieces: the Hilary Hahn Encores, Hahn's Grammy Award-winning multi-year commissioning project to revitalize the duo encore genre. A print edition of the complete sheet music was recently released by Boosey & Hawkes; it contains Hahn's fingerings, bowings, and performance notes, ensuring that the encores become part of the active violin repertoire.
Hahn took her first violin lessons in the Suzuki program of the Peabody Institute in her hometown of Baltimore at the age of three, and at five she began lessons with Klara Berkovich, who had just emigrated from St. Petersburg. At ten, Hahn was admitted to the Curtis Institute of Music in Philadelphia to study with Jascha Brodsky, a former pupil of Eugène Ysaÿe and Efrem Zimbalist. Hahn completed her university requirements at sixteen, having already made her solo debuts with the Baltimore, Pittsburgh, Utah, and Bavarian Radio symphony orchestras; the Philadelphia, Cleveland, and Budapest Festival orchestras, and the New York Philharmonic, among others. Hahn continued her studies for three more years, delving into languages, literature, and writing, and received her bachelor's degree at nineteen. She spent four summers at the Marlboro Music Festival and another four in the total-immersion German, French, and Japanese programs at Middlebury College. She holds honorary doctorates from Middlebury College and Ball State University, where there are also three scholarships in her name.
Hahn has released sixteen albums on the Deutsche Grammophon and Sony labels, in addition to three DVDs, an Oscar-nominated movie soundtrack, an award-winning recording for children, and various compilations. Spanning an extremely wide range of repertoire, including Bach, Stravinsky, Elgar, Beethoven, Vaughan Williams, Mozart, Schoenberg, Paganini, Spohr, Barber, Bernstein, Ives, Higdon, and Tchaikovsky, her recordings have received every critical prize in the international press and have met with equal popular success. All have debuted in the top ten of the Billboard classical chart. Her seventeenth album will be a retrospective collection that also contains new live material and art from her fans, in keeping with a decades-long tradition of collecting fan art at concerts.
Hahn's first Grammy came in 2003 for her Brahms and Stravinsky concerto album. A pairing of the Schoenberg and Sibelius concerti spent 23 weeks on the charts and earned Hahn her second Grammy. In 2010 she premiered her recording of Jennifer Higdon's Violin Concerto along with the Tchaikovsky concerto. Higdon's composition, which was written for Hahn, went on to win the Pulitzer Prize. In 2012 Hahn launched Silfra with experimental prepared-pianist Hauschka. The album was produced by Valgeir Sigurðsson and was entirely improvised by Hahn and Hauschka following an intensive period of development.
Hahn is an avid writer, having posted journal entries for two decades on her website, hilaryhahn.com, and published articles in mainstream media. On her YouTube channel, youtube.com/hilaryhahnvideos, she interviews colleagues about their experiences in music. Her violin case comments on life as a traveling companion, on Twitter and Instagram at @violincase. In 2001, Hahn was named "America's Best Young Classical Musician" by Time magazine, and in 2010, she appeared on The Tonight Show with Conan O'Brien. Hahn was featured in the Oscar-nominated soundtrack to The Village and has participated in a number of non-classical productions, collaborating on two records by the alt-rock band ….And You Will Know Us By The Trail of Dead, on the album Grand Forks by Tom Brosseau, and on tour with folk-rock singer-songwriter Josh Ritter.

Booklet for Eclipse