---
Album Info
Album Veröffentlichung:
2020
HRA-Veröffentlichung:
03.04.2020
Das Album enthält Albumcover Booklet (PDF)
Michele Mascitti (1663 - 1760): Sonata for Violin and Continuo in A Major, Op. 9 No. 1:

1

Sonata for Violin and Continuo in A Major, Op. 9 No. 1: I. Larghetto

01:28

2

Sonata for Violin and Continuo in A Major, Op. 9 No. 1: II. Allegro

02:54

3

Sonata for Violin and Continuo in A Major, Op. 9 No. 1: III. Sarabanta (Largo)

02:48

4

Sonata for Violin and Continuo in A Major, Op. 9 No. 1: IV. Allegro moderato

03:18

Sonata for Violin and Continuo in G Minor, Op. 9 No. 2 :

5

Sonata for Violin and Continuo in G Minor, Op. 9 No. 2 : I. Larghetto

01:46

6

Sonata for Violin and Continuo in G Minor, Op. 9 No. 2 : II. Allemanda (Allegro)

02:30

7

Sonata for Violin and Continuo in G Minor, Op. 9 No. 2 : III. Largo

02:16

8

Sonata for Violin and Continuo in G Minor, Op. 9 No. 2 : IV. Allegro

01:41

Sonata for Violin and Continuo in F Major, Op. 9 No. 3 :

9

Sonata for Violin and Continuo in F Major, Op. 9 No. 3 : I. Vivace

02:41

10

Sonata for Violin and Continuo in F Major, Op. 9 No. 3 : II. Adagio

00:42

11

Sonata for Violin and Continuo in F Major, Op. 9 No. 3 : III. Allegro moderato

01:29

12

Sonata for Violin and Continuo in F Major, Op. 9 No. 3 : IV. Larghetto et affettuoso

01:56

13

Sonata for Violin and Continuo in F Major, Op. 9 No. 3 : V. Allegro

02:12

Sonata for Violin and Continuo in D Minor, Op. 9 No. 5:

14

Sonata for Violin and Continuo in D Minor, Op. 9 No. 5: I. Un poco andante

01:26

15

Sonata for Violin and Continuo in D Minor, Op. 9 No. 5: II. Allemanda (Allegro)

02:39

16

Sonata for Violin and Continuo in D Minor, Op. 9 No. 5: III. Adagio

01:29

17

Sonata for Violin and Continuo in D Minor, Op. 9 No. 5: IV. Allegro

02:09

Sonata for Violin and Continuo in A Minor, Op. 9 No. 6:

18

Sonata for Violin and Continuo in A Minor, Op. 9 No. 6: I. Andante

02:17

19

Sonata for Violin and Continuo in A Minor, Op. 9 No. 6: II. Allegro

01:59

20

Sonata for Violin and Continuo in A Minor, Op. 9 No. 6: III. Largo et affettuoso

02:16

21

Sonata for Violin and Continuo in A Minor, Op. 9 No. 6: IV. Allegro moderato

02:38

Sonata for Violin and Continuo in D Major, Op. 9 No. 7:

22

Sonata for Violin and Continuo in D Major, Op. 9 No. 7: I. Vivace

01:27

23

Sonata for Violin and Continuo in D Major, Op. 9 No. 7: II. Largo

00:35

24

Sonata for Violin and Continuo in D Major, Op. 9 No. 7: III. Allegro

01:45

25

Sonata for Violin and Continuo in D Major, Op. 9 No. 7: IV. Largo

01:36

26

Sonata for Violin and Continuo in D Major, Op. 9 No. 7: V. Allegro

02:56

Sonata for Violin and Continuo in B-Flat Major, Op. 9 No. 9:

27

Sonata for Violin and Continuo in B-Flat Major, Op. 9 No. 9: I. Un poco andante

01:52

28

Sonata for Violin and Continuo in B-Flat Major, Op. 9 No. 9: II. Allegro

01:54

29

Sonata for Violin and Continuo in B-Flat Major, Op. 9 No. 9: III. Largo

01:48

30

Sonata for Violin and Continuo in B-Flat Major, Op. 9 No. 9: IV. Allegro

02:20

Sonata for Violin and Continuo in C Minor, Op. 9 No. 12:

31

Sonata for Violin and Continuo in C Minor, Op. 9 No. 12: I. Adagio

01:35

32

Sonata for Violin and Continuo in C Minor, Op. 9 No. 12: II. Allegro

01:54

33

Sonata for Violin and Continuo in C Minor, Op. 9 No. 12: III. Adagio

01:36

34

Sonata for Violin and Continuo in C Minor, Op. 9 No. 12: IV. Allegro

02:52

Total Runtime

01:08:44
Info zu Mascitti: Sonate a violino solo e basso, Opera Nona
In 1738 the acclaimed violinist and composer Michele Mascitti (1664-1760) published in Paris his ninth collection of sonatas. The seventy-four-year-old Neapolitan musician was at the end of his long and celebrated career, but not of his creative powers. Dedicated to the Crozat family, which was to be Mascitti's patron until the end of his life, the twelve sonatas for violin and bass op. 9 are fine examples of the graceful blend of Italian and French styles that made this composer so popular in France. With the world premiere of Mascitti's op. 9, the Quartetto Vanvitelli carries on the rediscovery of this music that Hubert Le Blanc likened 'to the warbling of the nightingale'. After the success of their interpretation of Mascitti's op. 8, greeted as 'a jewel of interpretation that exalts with grace, elegance and, more importantly, finesse of touch, the individual stylistic experimentation of Mascitti' (A 111), the ensemble Vanvitelli makes with this recording another decisive step towards the full appreciation of this remarkable and unjustly forgotten composer.
Quartetto Vanvitelli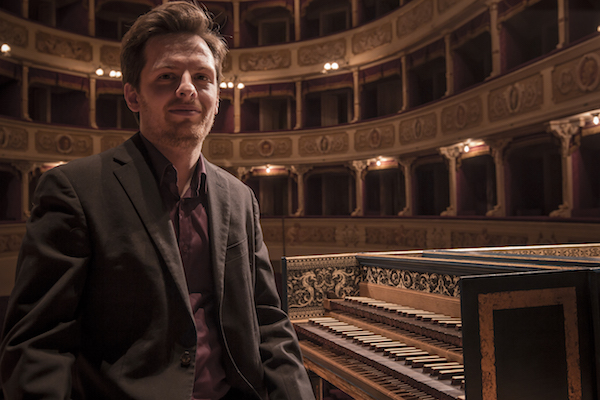 Luigi Accardo
was born in 1985 in Cagliari. In 2009 he graduated in piano from the Conservatorio Giovanni Pierluigi da Palestrina of Cagliari, under the teaching of Rosabianca Rachel. In 2009 he moved to Piacenza where he started to play the harpsichord and under the teaching of Paola Poncet in 2012 he graduated in harpsicord from the Conservatorio Giuseppe Nicolini di Piacenza. Later in 2014 he got his master in harpsicord and ancient keyboards with highest honours, and in 2017 he got master in "Chamber Music" with highest honours. He attended various master classes and upgrading courses with musicians such as Cristine Schornsheim, Olivier Baumont, Carmen Leoni, Pierre Hantai.
In 2008 he graduated with highest honours in ethnomusicology from the Conservatorio di Cagliari. In 2011 he received his master degree in musicology (with highest honours) from the Facoltà di Musicologia di Cremona. He is partaking in a research project on musicals religious celebrations of 1937. From 2006 to 2009 he carried out a study on the religious celebration of the Holy Week of Bonnannaro (SS) for the "Hymnos" a cultural association. He participated as a speaker, in seminars and conferences.
As a performer, he played as harpsichordist in many concerts, in Italy (Milano, Torino, Lodi, Piacenza, Cremona, Cagliari, Pula, Laconi, Alghero, Parma, Illasi, Pamparato, Somma Campagna, Padova, Varese, L'Aquila, Mantova, Udine) in Germany (Bremen), in Croatia (Zagreb, Rovigno, Korčula) in France (Prades, Latour de France, Plateau, Bordeaux) in Netherlands (Vorden), in Kuwait (Kuwait City), Vilnius (Lithuania), Moscow (Russia), Tokyo, Fuji (Japan).
Luigi recorded for Arcana (Outhere Music) a solo Cd, titled "Santo Lapis – La Stravaganza & 12 Harpsichord Sonatas". This music, by the italian composer Santo Lapis (from Bologna) is recorded and published for the first time.
In 2013 he founded in collaboration with the musician Enrico Bissolo the "Daccapo – Italian Harpsichord Duo". The ensemble works at the realisation of an original repertoire for two harpsichords. The Duo has recently recorded a compact disc that was published in February 2014 with Stradivarius (Milano). The duo works with ARTCAM (videomakers) to create musical videoclip based on Daccapo's arrangement of Italian Baroque Music.
In 2013 he founded with the violinist Sara Meloni, the ensemble "Musici di Castello", based in the prestigious Palazzo Siotto in Cagliari. They are studying and playing the repertoire of ancient music, from the first baroque to the galante style.
Luigi plays cembalo and organ in "Accademia d'Arcadia" ensemble, with Alessandra Rossi as conductor.
Luigi plays cembalo and organ in "Quartetto Vanvitelli" Ensemble. The ensemble has recorded unpublished sonatas for violin and b.c. from op. VIII by Michele Mascitti.
Luigi plays cembalo in "Articoolazione" Ensemble, with Nicola Brovelli (cello), Diego Leverić (teorbe, lute and baroque guitar) and Leandro Marziotte (countertenor). The ensemble works mainly at Italian repertoire and has recently recorded six new unpublished Napolitan Cantatas from XVIII century. (Out in September 2016, Arcana – Outhere Music).
Luigi plays also keyboards, makes videos for the website "www.space4keys.com". He played keyboards in various performance held in Italy, Switzerland and France. He also recorded two original albums: Starbynary – Dark Passenger, BakerTeam Records, 2014 ; Starbynary – Divina Commedia-Inferno, Revalve Records, 2017.


Booklet für Mascitti: Sonate a violino solo e basso, Opera Nona