---
Biographie Gerald Wilson Big Band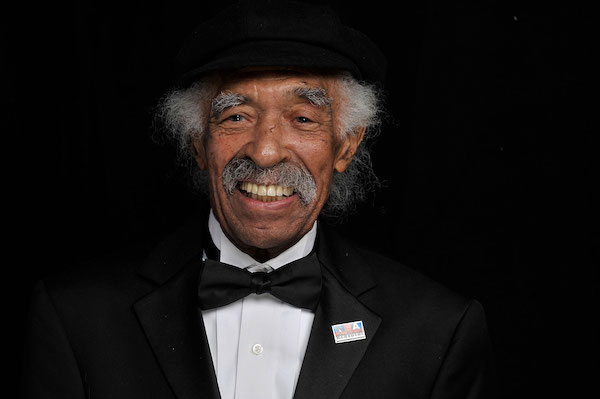 Gerald Wilson
Wilson's use of multiple harmonies was a hallmark of his big bands, earning him a reputation as a leading composer and arranger. His band was one of the greats in jazz, leaning heavily on the blues but integrating other styles. His arrangements influenced many musicians that came after him, including multi-instrumentalist Eric Dolphy, who dedicated the song "G.W." to Wilson on his 1960 release Outward Bound.
Wilson started out on the piano, learning from his mother, then taking formal lessons and classes in high school in Memphis, Tennessee. The family moved to Detroit in 1934, enabling him to study in the noted music program at Cass Tech High School. As a professional trumpeter, his first jobs were with the Plantation Club Orchestra. He took Sy Oliver's place in the Jimmie Lunceford band in 1939, remaining in the seat until 1942, when he moved to Los Angeles.
In California, he worked in the bands of Benny Carter, Les Hite, and Phil Moore. When the Navy sent him to its Great Lakes Naval Training Station in Chicago, he found work in Willie Smith's band. He put together his own band in late 1944, which included Melba Liston, and replaced the Duke Ellington band at the Apollo Theatre when they hit New York. Wilson's work as a composer-arranger enabled him to work for the Count Basie and Dizzy Gillespie bands. Wilson then accompanied Billie Holiday on her tour of the South in 1949.
In the early 1960s, he again led his own big bands. His series of Pacific Jazz recordings established his unique harmonic voice, and Mexican culture—especially the bullfight tradition—influenced his work. His appearance at the 1963 Monterey Jazz Festival increased his popularity.
He contributed his skill as an arranger and composer to artists ranging from Duke Ellington, Stan Kenton, and Ella Fitzgerald to the Los Angeles Philharmonic to his guitarist-son Anthony. Additionally he was a radio broadcaster at KBCA and a frequent jazz educator. Among his more noted commissions were one for the 40th anniversary of the Monterey Jazz Festival in 1998, which he revisited in 2007 with his album Monterey Moods, and one for the 30th anniversary of the Detroit International Jazz Festival in 2009.