---
Biographie Fleshgod Apocalypse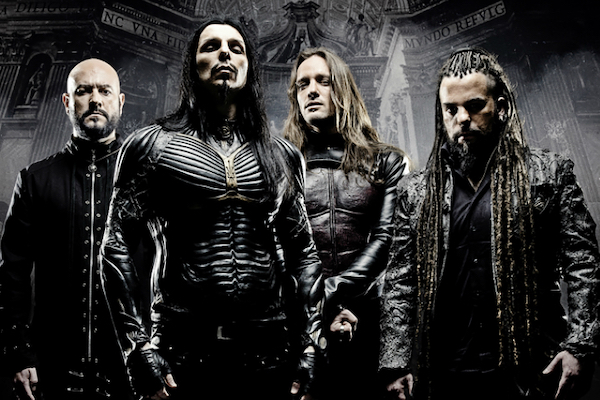 Fleshgod Apocalypse
Formed in 2007 in Perugia by Paoli, bassist/vocalist Paolo Rossi, guitarist/vocalist Cristiano Trionfera, and drummer Francesco Struglia, Fleshgod Apocalypse quickly set off a firestorm of interest after releasing their only demo, Promo '07. After a short stint on Dutch indie Neurotic Records, the group signed a deal with Candlelight Records for Europe and Willowtip Records for North America. The result of the deal was debut album, Oracles, in 2009. Based off the first track alone – "In Honour of Reason" – Fleshgod Apocalypse were hailed as Europe's finest newcomers. But it was follow-up album, Agony (2011), where the Italians became maestros of orchestral death metal. Through the use of woodwinds, brass, strings, and percussion, Fleshgod Apocalypse transformed their technical death metal, effectively widening the sonic palette. Albums like the mega-epic Labyrinth (2013) and the ultra-ornate King (2016) followed, ramping up the group's penchant for Bach- and Beethoven-inspired overtures combined with savagely brutal death metal.
"When we founded this band, we had clear in mind that we wanted to do something important with our music and everyone was kind of prepared that it wouldn't have been easy," Paoli says. "All the beautiful memories I have now from these past few years and all the expectations from what's to come make this journey unique and our lives very special. And it's great to make all these considerations having in our hands not just a 'fifth album,' but the best album in our career. It shows that both our working formula and the idea that what we achieve is never an end point, but a new starting point, are working well. This has also been perceived as a sign of true commitment by the fans. We feel a constant progress as artists and human beings, which makes me really proud of who we are and what we deliver."
But there's one key difference between King and Veleno. That's the absence of guitarist/vocalist Cristiano Trionfera and vocalist/guitarist Tommaso Riccardi, both of whom predate the Mafia EP (2010). Trionfera and Riccardi left the group in 2017 for personal reasons. Their departure have re-shaped Fleshgod Apocalypse, however, with Paoli jumping from the drums to assume the role as vocalist/guitarist. Stepping in to fill the gaps are drummer David Folchitto (Stormlord) and guitarist Fabio Bartoletti (Deceptionist), two musicians with a long history in the various extremes of Italian metal.
"David and Fabio are great musicians and persons and they're doing a killer job live," says Paoli. "It's a first step, we just need more time before adding someone new to our formation. It's like getting married again and you want to be sure everything's working fine. Let me be clear: they are not fill-in musicians, they are definitely part of the family. We are just taking it easy before announcing a new lineup officially."
The "metal part" of Veleno was recorded in Rome, Italy at Bloom Recording Studio and Kick Studio with long-standing collaborator Marco Mastrobuono, while the "orchestral part"—the ensembles—were tracked at Musica Teclas Studio in Perugia. Fleshgod Apocalypse then took the effort over to Grammy-nominated Jacob Hansen at Hansen Studios in Denmark for mixing and mastering. The entire production of Veleno took, according to Paoli, about three months.
"This was the second time recording with Marco," Paoli says. "We are longtime friends as well, so we know each other very well. He helped us to push beyond our limits once again, explore new fields and discover inner abilities we didn't even know to have. Also, this time we had the opportunity to record in one of the best studios in the country: the Bloom Recording Studio in Rome, which is renowned for high-end mainstream productions and movie scores recordings. We recorded almost everything there, except for some stuff we tracked afterwards at Marco's Kick Studio. It has been the best recording session I've ever done for Fleshgod Apocalypse, and I think it's been the same for the other guys. For the orchestral and choir recordings, we worked with our friend Daniele Marinelli, who is an expert when it comes to recording classical instruments and choirs. With all the stellar productions Jacob has delivered throughout his career, we thought he could have been the right producer for such a complex and demanding task, which requires technical skills, taste and intuition. He outdid himself. We really hope we can work with him again in the future, as he's not only one of the best metal producers around, but also a really humble and kind person."
With the best possible production job, real orchestral ensembles—a full string quartet, a classical percussionist, and a baroque choir were part of the process—and guest musicians in the shape of Maurizio Cardullo (Folkstone) and Daniele Marinelli playing Uilleann Pipes and mandolin, respectively, Veleno is Fleshgod Apocalypse's masterwork. From the tense opening barrage of "Fury" through the scenic vistas of "Monnalisa" to the brooding if heroic "Embrace the Oblivion," Veleno encompasses the greatness of the albums prior but opens up whole new opportunities—sonic and aesthetic—for Fleshgod Apocalypse. In fact, it's an album that will have dedicated fans frothing ("Worship and Forget," "Carnivorous Lamb") to evangelize Fleshgod Apocalypse to new hordes, while introducing critics to the group's now-fully realized score-like qualities ("The Day We'll Be Gone," "Monnalisa").
"Some things come with time and experience," says Paoli. "The more we go on as composers, the more we learn and develop. If you work hard you can improve your abilities forever and I bet all our fans can feel a gradual and constant progress in balancing all the different elements of our music. I mean, musical taste is totally subjective and everyone can have a favorite Fleshgod Apocalypse album, but I think the improvement in composition technique is more than evident and objective. We go farther on this aspect album after album. Our dream remains to collaborate one day with a full symphonic orchestra. With all the support and interest we are receiving by fans and the music industry, it looks like that day is not that far anymore."
As for what's next, Fleshgod Apocalypse are beyond excited that Veleno isn't just their best album to date but that it's a paradigm shift for the Italians. That it includes a multi-faceted lyrical concept, direct (and important) cultural ties to their home country, and a deeply symbolic cover painting by Travis Smith (Opeth, Overkill) form a splendid coda, the likes of which have yet to be experienced on a Fleshgod Apocalypse album. Look for the Italians this summer at festivals across Europe, a world tour, starting this fall in Europe. As famous Italian poet Dante Alighieri once wrote, "From the little spark may burst a mighty flame." Veleno is that mighty flame.