---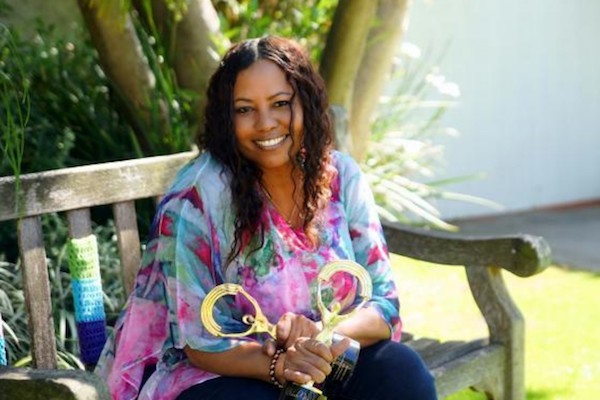 Gail Jhonson
brings all of her many talents to bear as soul-lifting spiritualist, next-gen feminist inspiration, big-picture band leader and, Philly street-corner rhythmist; building on a foundation of straight-ahead jazz, R&B, Funk and Gospel.
Let's learn a little about HerStory… born and raised in the city of Philadelphia, Gail's fascination with the endless possibilities of the piano began at the young age of 10. By 14, Gail had played her first professional gig, starting her on a journey that has seen her travel the world, touching lives through her gift of music.
From her humble beginnings on the streets of Philly to the height of her success on the stage and in the studio, Gail Jhonson has lived a life fully committed to music. The next chapter in HerStory saw Gail graduate from the Berklee College of Music, with a B.A. in Composition. Gail made the move west, to Los Angeles, where she established herself in the vibrant heart of the music industry.
Gail's impressive resume as a recording artist and touring musician includes appearances with such notables as Norman Brown, Mindi Abair, Bobby Womack, Ray Parker jr, Pink, Milli Vanilli, Morris Day (Time) & Rain Pryor. TV apearances on The Jay Leno Show, BET, several videos, Gospel Theatre, Jazz Festivals with Cindy Bradley, Peabo Bryson, Jeff Lorber, Patti Austin, Marion Meadows and so many others!
In 2010 and 2011 The American Black Music Association awarded Gail a Spotlight Award at the red carpet event in Los Angeles; for which she won "Best Jazz Musician." Her daughter Tamina performed & also won "Best Jazz Vocalist."
To give you some more background to Her Story, in 2009, Gail's CD Pearls garnered the nod in the 51st Annual Grammy Awards, a featured artist on the SummerStorm Tour, hosted by Norman Brown, for whom she has been music director for many years.
Gail leads the all female ensemble "Jazz in P!nk", featuring such artists as Karen Briggs, Althea Rene & Mariea Antoinette. She has her own band "3 Piece Suit" in Los Angeles. She is an educator and author of 3 music method books; also composer for the musical Overcome, Overjoyed-showing at The El Portal Theatre/North Hollywood.