---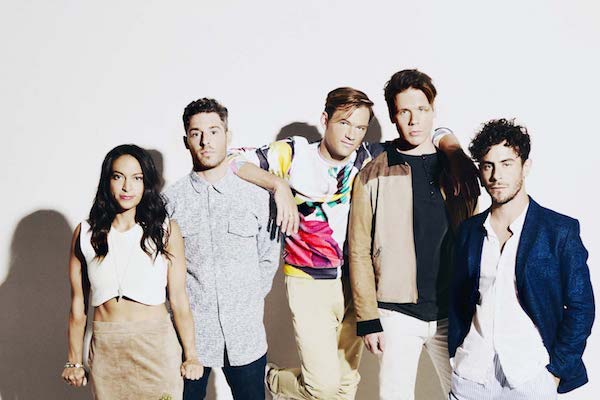 St. Lucia
At ten years old, Jean-Philip Grobler was a part of history. Along with the rest of the prestigious Drakensberg Boys Choir, he found himself on the field of Cape Town's Newlands Stadium in his native South Africa, singing the national anthem in front of Nelson Mandela (and the entire country) at the opening of the 1995 rugby World Cup. Depicted in the film Invictus, starring Matt Damon and Morgan Freeman, the matches represented South Africa's first international play since the fall of apartheid, as well as Mandela's ambitious plan for uniting a deeply divided nation.
"I was still really young at that point, so I don't think that I fully understood the gravity of it," remembers Grobler, who got his first taste of touring internationally with the mixed-race choir. "We had just come out of apartheid and the mood of the country was still frayed, but somehow Mandela understood this World Cup would be an opportunity to bring the country together, and this almost impossible dream of South Africa becoming a rainbow nation seemed possible for the first time. It was such an emotional moment."
Emotional moments are Grobler's specialty. Under the name St. Lucia, he crafts the kind of high-energy, artful pop that tugs at the heartstrings as it pulls you onto the dance floor, and in four short years, he's amassed a lifetime of highlights: signing with Columbia Records; selling out multiple nights at Terminal 5 in his adopted hometown of NYC; performing at major festivals from Lollapalooza to the main stage at Coachella; touring with stars like Ellie Goulding and Two Door Cinema Club; landing his songs in national campaigns from Victoria's Secret to Taco Bell; producing the debut LP for friends and label-mates HAERTS; and collaborating on remixes for peers like Passion Pit, Charli XCX, and Foster The People.
It's all been remarkable, but it's also only been the prelude to Matter, St. Lucia's second full-length release and most exhilarating collection yet. The record finds a more sophisticated and bold Grobler grappling with themes of getting older, battling with insecurity and self-doubt while balancing maturity and ambition. It's a St. Lucia record though, so even the darkest moments are bristling with infectious vitality and hook-fueled charisma. Writing the songs, however, required Grobler to change up his process from 2013's 'When The Night,' the debut album he built from the ground up playing nearly every instrument himself in his Brooklyn studio.
"As St. Lucia started taking off and we were touring more and more, I discovered that having more success doesn't mean you get more ideal recording situations," he explains. "I realized that if I didn't start to embrace the fact that I couldn't spend all day in the studio with my instruments, and if I didn't learn to write on my laptop on the road, it was going to take me five years to write the album."
Instead of watching movies or sleeping in the van, Grobler would program beats and synths on the computer as he criss-crossed the country on endless tours, discovering that the new limitations forced him to be more concise and decisive in his arrangements, a quality that carried over into the recording sessions with producer Chris Zane (Passion Pit, The Walkmen). For six months, the two laid down all the ideas Grobler had collected for the new songs—with Zane contributing much of the percussion and the St. Lucia live band members (Ross Clark, Nick Paul, Dustin Kaufman, and Patti Beranek) making appearances throughout—before whittling down the arrangements to their most direct, essential cores.
"We didn't hold back during the recording process. Almost every song ended up having at least 200 audio tracks, and we weren't mixing as we went along. So, when it came time to actually mix the album, it was this process of elimination with all the instruments, and it felt refreshing to not have everything playing at the same time, to have a lot more space," says Grobler. "On the last record, I was trying to fit every instrument on every track, layering all these lush sounds. If the last album sounded like the tropics, this album is the desert."
St. Lucia's version of the desert is still an inviting place, though, one inspired by blending Grobler's love of 80's pop, R&B, and alternative rock influences into an instantly captivating concoction. Lead single "Dancing On Glass," which was co-written with Tim Pagnotta (Walk The Moon) on a west coast writing trip, bubbles over with contagious vivacity as Grobler sings about having the faith to chase what makes you happy, even if logic and practicality tell you it's bound to fall apart. On the heart pounding "Physical," he taps into primal lust, while "Help Me Run Away," co-written with Jack Antonoff (fun./Bleachers), serves as a ode to Grobler's adopted homeland of America. The album isn't without its progressive side, though, revealed in songs like "Rescue Me" and "Home", whose synth lines propels the tunes through countless electronic twists and turns.
The seeds of St. Lucia's sound lay in the years after Grobler left South Africa, first moving to Liverpool, where he spent three years at music school and met Patti Beranek, who would become his best friend, his sounding board, his collaborator, and ultimately, his wife. Little outside of the most mainstream artists from Western pop ever reached his radar in South Africa, so Grobler found music school to be an eye-opening experience, introducing him to decades of more obscure music and artists from around the world. After graduating, the couple moved to New York, where Grobler found work as a jingle writer and decided to launch St. Lucia, melding his newfound, artier, underground influences with those mainstream pop records he had originally fallen in love with growing up in Johannesburg.
"At the jingle house, one day we'd have to write an R&B track, and one day we'd have to do an orchestral piece, and one day an Americana song," he remembers. "At the time, I knew nothing about synths, but there were a couple lying around the office and I started messing with them, and I fell in love with all these genres that I'd been feeling kind of resistant to. It really helped me develop our signature sound."
Though synth-pop has been an easy and reductive label used to categorize St. Lucia, most of the songs on Matter feature as much electric guitar, explosive percussion and complex brass arrangements as synthesizers. Nearly every track on the album contains horns and multi-part vocal arrangements, their sophistication reflective of Grobler's lifetime of music study. But there's nothing academic about a St. Lucia concert. Grobler and his cohorts are first and foremost a live band, with their reputation for dazzling, immersive shows fueling their rapid growth and status as global festival favorites.
That said, the days of word-of-mouth growth and being able to introduce your friends to the music of St. Lucia for the first time appear to be numbered, as Grobler prepares to hit the biggest stages of his career with his best album to date. He may have been a part of history as a child, but now Grobler's all grown up and ready to write his own.