---
Biographie The Spirit of Gambo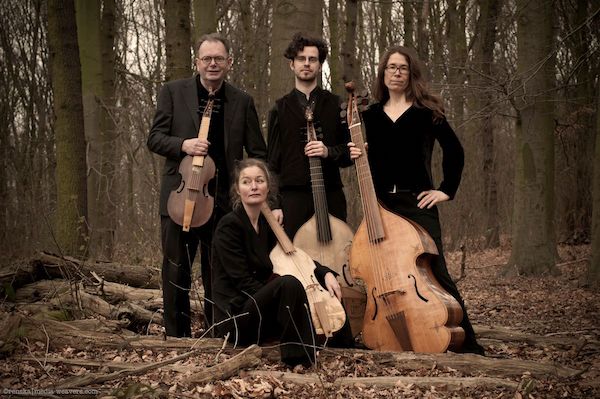 The Spirit of Gambo
wird von Kritikern hochgelobt für seine ausgelassene Spielfreude, Leidenschaft und fundierte Auseinandersetzung mit der Musik.
Ihr Repertoire enthält u.a. Musik von Dowland, Purcell und Bach.
Die hochemotional aufgeladene Musik, gepaart mit einem intimem Zusammenspiel, schafft es immer wieder, die Zuhörer tief zu berühren.
The Spirit of Gambo setzt neue Maßstäbe für Consortmusik-Konzerte.
Die Initiatoren des Ensembles sind Freek Borstlap und Gesina Liedmeier. Die zwei anderen festen Mitspieler sind Ivanka Neeleman und Thomas Baeté.
The Spirit of Gambo spielt auf herrlichen, speziell für das Ensemble von Gesina Liedmeier gebauten Gamben. Die kunstvoll bemalten Instrumente mit geschnitzten Tierköpfen sind eine Lust für Augen und Ohren.
Für die CD 'Jenkins consort music of four parts' erhielt The Spirit of Gambo die höchste Auszeichnung: den französischen Schallplattenpreis Diapason d'Or. The Spirit of Gambo, zu Gast bei internationalen Festivals, nahm auch zahlreiche CD's auf, darunter eine Aufnahme mit der Sopranistin Claron McFadden (The Silver Swan) und eine CD mit Musik von Christopher Tye.