---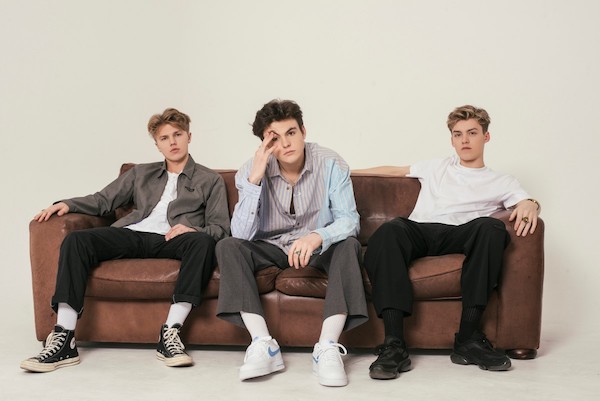 New Hope Club
Sie sind gerade einmal um die zwanzig Jahre alt und haben binnen kürzester Zeit musikalisch einiges erreicht – New Hope Club. 2017 war das britische Trio erstmals in Deutschland unterwegs, nach einer exklusiven Show in Köln im April 2019 kehren sie nun für drei Daten zurück nach Deutschland. Auf dem Tourplan stehen Hamburg (23. Juni), Köln (24. Juni) und Berlin (27. Juni).
Selten hat eine junge Nachwuchsband die Welt so schnell erobert wie New Hope Club. Im Oktober 2015 finden Blake Richardson und George Smith zueinander und gründen das Musikprojekt, das nur wenige Wochen später um Reece Bibby vervollständigt wird, den man bisher von der X Factor-Band "Stereo Kicks" kannte. Bereits im Dezember desselben Jahres unterschreiben die drei ihren ersten Plattenvertrag bei Steady Records.
Ab diesem Moment geht es für die Engländer rasend schnell voran. 2016 haben New Hope Club ihre Live-Premiere als Band, allerdings nicht in einem gemütlichen kleinen britischen Club, sondern als Support von The Vamps in Birmingham vor 15.000 Konzertbesuchern. Auf der zweimonatigen Tour quer durch UK und Irland covern sie Hits von Größen wie Justin Bieber, Shawn Mendes und One Direction.
Mit "Welcome To The Club" kommt dann 2017 die erste EP mit den Singles "Perfume" und "Fixed" auf den Markt. Im selben Jahr begleiten die Pop-Rocker die "Got Me Started"-Tour von TINI quer durch Deutschland und gehen als Support von Sabrina Carpenter auf Nordamerika-Reise. Diese erste Welle in der Öffentlichkeit bingen New Hope Club zudem eine Nominierung beim "Teen Choice Award" in der Kategorie "Next Big Thing" ein.
Nachdem die Briten im letzten Jahr die zweite EP "Welcome To The Club (Pt. 2)" veröffentlichten, die in 10 Ländern auf Platz 1 und in weiteren 20 in den Top 10 der iTunes Charts landete, gab es für die Fans Anfang Februar mit der Single "Permission" schon den nächsten musikalischen Leckerbissen, den es in einer Full- sowie Akustikversion gibt. Bereits 4 Millionen Fans erreicht das Trio weltweit über ihre Social-Media-Kanäle und lassen eine entsprechend erfolgreiche Tournee im Juni 2019 erwarten.