---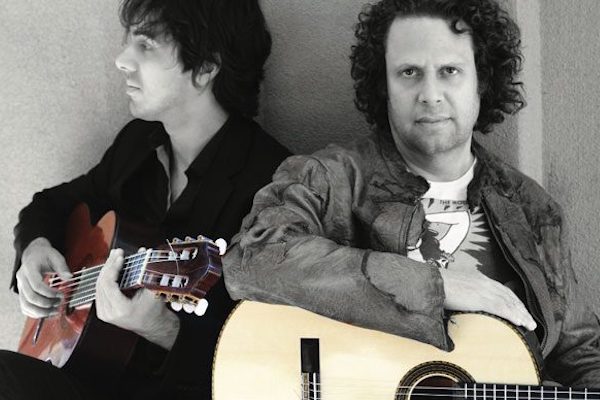 Adam del Monte
One of the leading flamenco and classical guitarist/composers of his generation, Adam del Monte has made it his life mission to fully express himself in these two genres, transcending labeling and convention. Always having incorporated a wide array of musical styles in his compositions, del Monte has embarked on a journey of creating a unique sound and language of flamenco that is both steeped in tradition and progressive in its openness to musical flavors from around the world.
Del Monte has recorded for Deutsche Gramophone – the featured flamenco guitar part in the double Grammy award winning opera "Ainadamar" by Osvaldo Golijov (2006), with soprano Dawn Upshaw and the Atlanta Symphony, conducted by Robert Spano. Since then he has toured this opera in, Carnegie Hall, NY, Lincoln Center, NY, Barbican Center, London, Colorado Music Festival, in Boulder, Chicago Symphony and many more.
Del Monte has recently composed his second flamenco guitar concerto, "Paisajes", which was debuted and commissioned by the St. Monica Symphony. He has since performed it with the Moscow State Symphony in Tchaikovsky Hall and the Simon Bolivar Symphony Orchestra, in Caracas, Venezuela.
He has also recorded "Avner's Theme" by film composer John Williams for the sound track CD of the motion picture " Munich" by Steven Spielberg. Other film credits include featured participations in Films such as Knight and Day with Tom Cruise and Cameron Diaz and Mr and Mrs. Smith with Brad Pitt and Angelina Jolie, music by John Powell, and Toy Story 3, music by Randy Newman.
Del Monte has also performed with flamenco singer Enrique Morente and the Madrid Symphony Orchestra, as well as with Lole' y Manuel. Del Monte was both influenced by and inspired the younger generation of flamenco performers who were beginning to depart from the previous virtual space of Spanish flamenco. Del Monte, too, set out in new directions, integrating years of traditional and leading –edge flamenco training as well as expanding his musicianship on the classical guitar. An eclectic awareness of jazz, world music and other contemporary forms led to new, creative renditions of flamenco repertoire.
He has been commissioned by the LA Guitar Quartet to compose a 'progressive' flamenco piece entitled 'Cambio de Aire'. He has collaborated with Yusef Lateef and the Atlanta Symphony at the National Black Arts Festival in Atlanta GA. His flamenco debut CD on the Spanish label Sonifolk (1998), entitled: "Viaje a Un Nuevo Mundo" (Journey to a New World) was most favorably reviewed by Spain's most acclaimed flamenco critic Angel Alvarez Caballero as well as Miguel Mora of El Pais an Alfredo Grimaldos of El Mundo.
Other discographies include: A Mel Bay Artist Video Series –a classical and flamenco recital. A GSP classical CD entitled "EZORDIO". In 1998, Adam performed in Spain on the TV program "Algo Mas Que Flamenco" with Lole Montoya.
He has composed a flamenco guitar concerto ;"Ensueño Flamenco" for guitar & orchestra which he premiered in Boston with the BMOP (Boston Modern Orchestra Project) in Jordan Hall, conducted by Gil Rose. In 1999 he returned to Granada to perform in the oldest "Peña Flamenca" "La Plateria",as well as a tour in Switzerland with singer ,Curro Fernandez.
In February of 2000 he performed the Concierto de Aranjuez with the LA Philharmonic. In June 2000, he performed at the Hollywood Bowl, once with his flamenco ensemble and once with the Los Angeles Philharmonic and classical Spanish dancer Lola Greco.
Adam performed as soloist the Concierto de Aranjuez at Disney Hall several times. He has also performed the "Aranjuez" with the Pacific Symphony with Carl St. Claire. In 2005 del Monte took part in the Los Angeles Philharmonic Chamber Music Series at Disney Hall, performing the "Histoire du Tango" by Astor Piazzolla with violinist Mark Kashper. He was a member of the Falla Guitar Trio from 2007-2012 where he performed extensively all around the US.
In 2008 he has performed his Flamenco Concerto and the Concierto de Aranjuez with the Ranana Symphonet, conducted by Nir Kabaretti.
First Prize Winner at the 1997 Stotsenberg International Classical Guitar Competition, del Monte is one of the new generations dynamic force in both flamenco and classical guitar. He studied flamenco & classical guitar in Spain, Israel & England. Beginning with his father, he continued his training with such famed Gypsy performers as Pepe "Habichuela", Paco Cortez, Nino Miguel &Gerardo Nunez. His classical guitar teachers were Menashe Baquiche, Israel and Gordon Crosskey at Chethams School of Music and at the Royal Northern College of Music, Manchester, England. He has also appeared as both a solo artist and group performer in major venues such as LA's Mark Taper Forum and the Wilshire Theater; the Teatro Real and the Conde Duque in Madrid; Manuel de Falla Auditorium in Granada; New Mexico St Francis Auditorium in Santa Fe; the International Guitar Festival in Israel, GFA in St Louis,'96, La Jolla ,'97 and Charleston, 99 GFA, Guitar Festival, the 500th anniversary of Columbus celebrations in Paris & Madrid.
Adam has been on the studio guitar department faculty at USC since 2000, where he teaches flamenco and classical guitar.
Del Monte playas a guitar by Erez Perelman.
Mak Grgic
Touted as a "gifted young guitarist" by the New York Times, and "a guitarist to keep an eye on" by the Washington Post, Mak Grgic is emerging as a star on the worldwide stage. An expansive and adventurous repertoire attests to his versatility and wide-ranging interests: From the ethnic music of his native Balkans to extreme avant-garde and microtonal music, his extraordinary talents and tastes as soloist, collaborator, and recording artist are fueled by his curiosity, imagination, and boundless energy.
As a concert artist, Mak averages eighty-five performances a year — nearly two bookings per week — as both soloist and collaborator. He is a founding member and active performer in two duos—the Flamenco-style "Duo Deloro" with Adam Del Monte, and the new music-focused "FretX Duo" with Daniel Lippel, guitarist of the International Contemporary Ensemble (ICE). As Young Artist in Residence with the Da Camera Society of Los Angeles, he founded "DC8," an octet declared "an inspiring addition to the contemporary music landscape in Los Angeles [Los Angeles Times]." Other ongoing collaborations include the JACK Quartet, Martin Chalifour (concertmaster, LA Philharmonic), cellists Jay Campbell and Joshua Roman, The Assad Brothers, and John Sant'Ambrogio (St. Louis Symphony).
In 2009 at the age of 22, Mak made his debut in Russia, performing the Rodrigo Concierto de Aranjuez with the St. Petersburg Symphony Orchestra under Vladimir Lande. The following spring, while on tour in the U.S. with the Zagreb Guitar Quartet, he performed with Christopher McGuire, guitarist and artistic director of the Allegro Guitar Series in Austin, Texas. That summer, at the Lancaster Festival in Ohio, he performed Rodrigo's Fantasia para un Gentilhombre with the Festival Orchestra, as well as Boccherini's famous Introduction et Fandango with the Festival String Quartet.
A month-long tour recently took Mak to China, Japan and the Balkans. Other recent engagements included performances and residencies at several venues in Portugal; in Castilla-Leon/Spain, at the Teatro Cervantes de Bejar; the Sarajevo Music Academy; several venues in Slovenia; the Paris Guitar Foundation; Zurich University of the Arts; and the Hong Kong International Guitar Festival.
In North America, he has performed at Austin Classical Guitar; Beyond Microtonal Music Festival/Pittsburgh; the Dallas Opera for performances of Peter Maxwell Davies's The Lighthouse; Dumbarton Concerts/Washington, D.C.; Kitchener-Waterloo/Ontario; the National Gallery of Art; NAMM Show/California; Strathmore Hall/Maryland; the New York Classical Guitar Society; Triangle Guitar Society/North Carolina; and numerous other venues and guitar societies across the globe.
Also an active entrepreneur and educator, Mak is director of several organizations including the European Guitar Festival Collaborative; the Zagreb Guitar Festival; Roots & Notes Interactive Music Festival in Croatia; EuroStrings, a consortium of seventeen guitar festivals in Europe; and Music@Rush Hour in Los Angeles. He serves as an adjunct faculty member at Mount St. Mary's University in Los Angeles, and director of the Elemental Guitar in Santa Monica, an exciting program for youth.
An enthusiastic recording artist, Mak's albums capture a probing and continuous exploration of the world of guitar and all its possibilities. His latest recordings, "Balkanisms" for Naxos Music and "MAKrotonal" for MicroFest Records, explore a vast repertoire spanning ethnic music, microtonal, new music and early music on re-fretted instruments, such as a "zig-zag fretted Bach prototype guitar" that captures the temperaments of the Baroque period. Other albums in progress include an homage to Ligeti, spotlighting gamelan-inspired guitar arrangements.
Born in Ljubljana, Slovenia, in 1987, Mak studied guitar in Zagreb with the revered Ante Cagalj at the Elly Basic Music Academy. By the age of 14, he was balancing his world champion status in karate with his love for the guitar. Throughout his high school years, he concertized in Ljubljana and Zagreb, splitting his weeks between the two cities, as well as competing in professional martial arts contests across Europe and Asia. Following an injury to his left thumb, he made the decision to focus solely on a career in music, going on to complete a bachelor's degree with Alvaro Pierri at the University for Music and Performing Arts in Vienna.
Pursuing advanced studies in the U.S., Mak was one of the first students to apply for USC Thornton's new Arts Leadership graduate program, which he incorporated into his doctoral studies in guitar. He has been a student of William Kanengiser and Scott Tennant of the Los Angeles Guitar Quartet, in addition to Brian Head, artistic director of Guitar Foundation of America. In the fall of 2017, he began the Artist Diploma program at USC, the first guitarist in the university's history to be admitted to this elite program. Mak plays and endorses an array of outstanding concert guitars made by diverse craftsmen, including German Antonius Mu?ller, Chinese master luthier, Hanson Yao, Bosnian Slavko Mrdalj, Slovenian Samo Sali, as well as a 1966 Jose? Rami?rez, all of this in addition to other re-fretted and remodeled guitars.
Mak Grgic is also proud to be involved with the Bosana Foundation, an organization that raises money for Bosnian youth.