---
Escher String Quartet, Paulina Swierczek, Miranda Cuckson, Jacob Greenberg
---
Biographie Escher String Quartet, Paulina Swierczek, Miranda Cuckson, Jacob Greenberg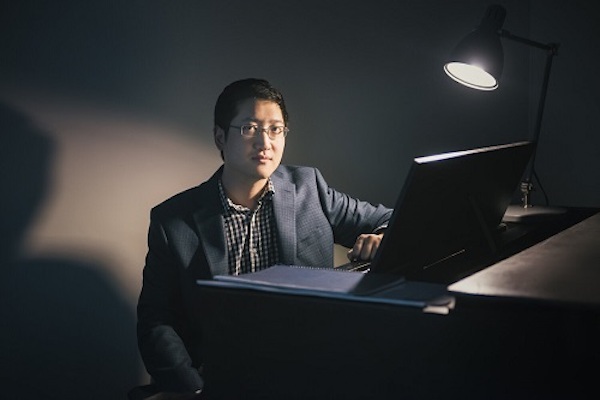 Anthony Cheung
writes music that explores the senses, a wide palette of instrumental play and affect, improvisational traditions, reimagined musical artifacts, and multiple layers of textual meaning. Described as "gritty, inventive and wonderfully assured" (San Francisco Chronicle) and praised for its "instrumental sensuality" (Chicago Tribune), his music reveals an interest in the ambiguity of sound sources and constantly shifting transformations of tuning and timbre. Representations of space and place are achieved through allusions in spatialization, orchestration, and recorded sound.
Anthony Cheung has been commissioned by leading groups such as the Ensemble Modern, Ensemble Intercontemporain, Cleveland Orchestra (as the Daniel R. Lewis Young Composer Fellow), Frankfurt Radio Symphony Orchestra, Ensemble Musikfabrik, Scharoun Ensemble Berlin, and the International Contemporary Ensemble (ICE). His work "Lyra" was commissioned for the New York Philharmonic at the request of Henri Dutilleux, as part of the orchestra's inaugural Kravis Prize for New Music. The New York Times wrote of it, "Mr. Cheung's shimmering score makes a persuasive case for the Orpheus myth as part of a global collective consciousness." In addition, his music has been performed by the Orchestre Philharmonique de Radio France, Chicago Symphony Orchestra (MusicNOW series), Minnesota Orchestra, Ensemble Linea, Le Nouvel Ensemble Moderne, wild Up, Musiques Nouvelles, Atlas Ensemble, Orchestra of the League of Composers, Taipei Chinese Orchestra, Orchestre National de Lorraine, Orchestre National de Lille, eighth blackbird, Dal Niente, the New York Youth Symphony, and the San Francisco Symphony Youth Orchestra. More recently, he has written new works for the Escher and Spektral Quartets, violinist Jennifer Koh, flutist Claire Chase, oboist Ernest Rombout, and pianists Gilles Vonsattel, Shai Wosner, and Joel Fan.
The recipient of a 2016 Guggenheim Fellowship, he has also received awards from the American Academy of Arts and Letters (Charles Ives Fellowship and Scholarship) and ASCAP, and first prize in the Sixth International Dutilleux Competition (2008), as well as a Rome Prize from the American Academy in Rome (2012). He has also received commissions from the Koussevitzky and Fromm foundations.
Cheung's music has been programmed at international festivals such as Ultraschall (Berlin), Cresc. Biennale (Frankfurt), Présences (Paris), impuls (Graz), Wittener Tage, Tanglewood, Aspen, Mostly Mozart, Transit (Leuven), Heidelberger Frühling, Helsinki Festival and Musica Nova Helsinki, Centre Acanthes, Musica (Strasbourg), and Nuova Consonanza (Rome).
"Finding this elusive middle path, between compositional rigor and organic musical result, is what I believe makes Anthony's music so enticing. It somehow swerves the vector of linear music history while at the same time recollecting the remarkable traditions that precede it. It is a mesmerizing glimpse of our future that animates us because it so bewitchingly misremembers our past."
Three portrait discs have recently appeared: Cycles and Arrows, with the Spektral Quartet, ICE, Atlas Ensemble, and soloists (New Focus, 2018), Dystemporal, with the Talea Ensemble and Ensemble Intercontemporain (Wergo, 2016), and Roundabouts, with the Ensemble Modern and Frankfurt Radio Symphony Orchestra (Ensemble Modern Medien 2014). His music and performances have also appeared on New Focus Recordings, Tzadik, and Mode. His music is published by EAM/Schott (PSNY edition), Editions Alphonse Leduc, and in self-published editions (ASCAP).
As a performer and advocate for new music, he co-directed the Talea Ensemble from its founding in 2007 until 2017, performing as a pianist and serving as Artistic Director. With Talea, he performed extensively in the US and abroad as a specialist of new music, and helped to curate programs, conferences, and festivals. As a pianist, he has worked with leading composers such as Pierre Boulez, Stefano Gervasoni, Tristan Murail, Hans Abrahamsen, Iancu Dumitrescu, Julian Anderson, Steve Lehman, Steve Coleman, and Chou Wen-Chung.
As a writer and scholar, he has completed a dissertation on György Ligeti (on the Hamburg Concerto, 2010), as well as articles on contemporary music for both specialists and a general readership. Research interests include notational aesthetics, jazz improvisation and transcription, musical semiotics and topoi, and microtonality and alternate tunings. These are also subjects that continue to have a decisive influence on his creative work.
Anthony Cheung received a BA in Music and History from Harvard and a doctorate from Columbia University, where he taught and also served as assistant conductor of the Columbia University Orchestra. His primary composition studies were with Tristan Murail and Bernard Rands, and he has studied additionally at the Tanglewood Music Center, Aspen Music Festival, Domaine Forget, Fontainebleau, and Centre Acanthes, working with many leading composers. His primary piano studies were with Robert Levin and Paul Hersh. He was a Junior Fellow at the Harvard Society of Fellows, and taught at the University of Chicago from 2013 to 2020. He is currently an Associate Professor of Music at Brown University.