---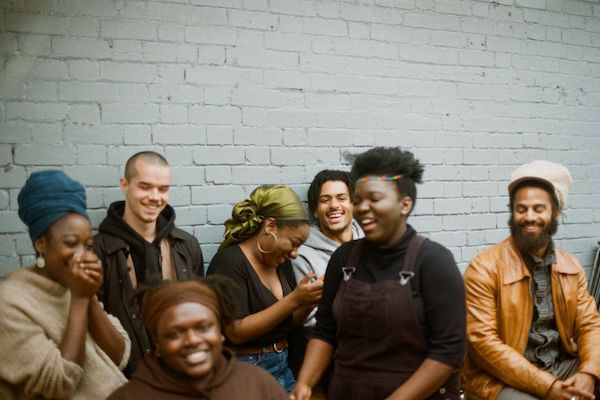 Kokoroko
channel the greats of West Africa through a jazz-rooted approach, building on the foundations laid by Fela Kuti, Tony Allen and Ebo Taylor; they lace interrelated influences together into a soul shaking, horn fueled sound. They draw from the music they grew up with, the echoes of Afrobeat and highlife heard in melodies, drum patterns and harmonised vocals.
London has long been a hotbed for experimentation for music from West Africa, and it's into this global-local story that we can situate London's newest afrobeat innovators: Kokoroko. In the 40's World War Two veteran Ambrose Campbell and his West African Rhythm Brothers, were enticing Soho music lovers with sweet palm wine sounds. The following decade, a young Fela Kuti (and his Koola Lobitos outfit with drummer Tony Allen), would jam with Campbell, and the seeds for his global Afrobeat revolution were sown.
The band's name is an Urhobo – a Nigerian tribe and language – word meaning 'be strong'. Sonically living up to their name, Kokoroko are an all star band featuring leading lights from the London jazz community. Powered by seismic horn section (Maurice Grey, saxophonist Cassie Kinoshi, trombonist Richie Seivewright), guitar (Oscar Jerome), keys (Yohan Kebede), drums (Ayo Salawu) and percussion (Onome Edgeworth); Kokoroko are on a mission to fashion new languages using the medium of afrobeat.
"This is not idle music!" says Sheila Maurice-Grey, reflecting on the rich history of sounds that have inspired the band. Whether it's the social commentary, the political stance of acts like the Black President, or the high power energy of afrobeat nights: the music is teeming with a potent energy the band want to propel forwards, London style. Make no mistake, this is not a band interested in performative tributes or pastiche. For Maurice Grey, part of the drive behind their creative impulse to is ask: "what does this music sound like for my generation?"
"We love this music and want other people to love it the way we do", shared Edgeworth. Aside of the primacy of love for the music, a subtext of the bands creation was a sense of alienation at London's thinning pool of afrobeat and highlife nights – particularly of black listeners and players. "We don't want this music to die", he added.