---
Biographie Maciej Obara Quartet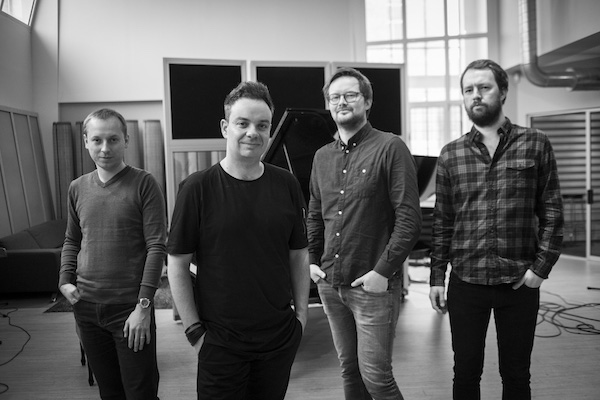 Maciej Obara
is a Polish saxophone player and improviser, characterised by his discernible phrasing and powerful sound.
Obara is a musician who has consequently developed his own musical language from the very beginning of his career, and, despite collaborations with artists from Japan, USA and Europe, his main focus remains his original quartet with Dominik Wania on piano, Ole Morten Vaagan on double bass and Gard Nilssen on drums. The members of the band represent a narrow group of European jazz musicians who consciously and uncompromisingly avoid musical literality, and create their own clearly distinguishable sound.
The most recent album, "Unloved", is Obara's ninth original recording, and will be released in Autumn 2017 on the prestigious Munich record label ECM. Released recordings and live concerts at the most important jazz festivals in the world have built well-deserved and unmistakeable brand of the saxophonist.
Whilst still at the Music Academy, Obara established his first trio with Maciej Garbowski on bass and Krzysztof Gradziuk on drums, going on to win the competition for the young bands and recording two albums ("Message from Ohayo" and "I can do it"). This powerful debut attracted the first positive reviews from the Polish jazz community.
In 2008 Obara received an invitation from the legendary and world-renown trumpet player Tomasz Stańko. Together they performed with the project "New Balladyna Quartet" and recorded the music to the "Terminal 7" spectacle. It was in Stanko's band that Obara met his musical soulmate, the distinguished pianist Dominik Wania. This friendship has significantly influenced their further musical development.
Initially, Obara's artistic interests leaned towards the contemporary jazz from the East Coast of the USA. He invited Antoine Roney for a tour in Poland, and travelled to New York in order to record the new material with musicians centred around the artistic and pedagogical community of SIM – School for Improvised Music. As a result, two more recordings were released with the support of cultural institution Ars Cameralis Silesiae Superioris - "Three" with John Lindberg on bass and Harvey Sorgen on drums, and "Four" with Ralph Alessi on trumpet, Mark Helias on bass and Nasheet Waits on drums.
Obara's next step was the enlargement of the original line-up of the band, inviting Dominik Wania and creating the quartet which recorded his fifth album, "Equilibrium", opening a new stage of Obara's musical career, based on a distinctly more tonal concept and complex compositions. The album received positive reviews and Obara become a recognisable musician on Polish jazz scene.
In 2012 Obara was selected to join the group of ten most talented musicians from Europe that took part in the project The Five: Europe, the professional development scheme produced by Serious in the UK, who also produce the London Jazz Festival. Take Five: Europe brought together some of the most talented emerging jazz musicians from France, Holland, Norway, Poland and the UK.
Participation in this project was a turning point in Obara's career for many reasons, leading not only to performances at some of Europe's most significant jazz festival (London Jazz Festival, North Sea Jazz Festival, Molde International Jazz Festival, Jazztopad and many others), but mostly to the artist's cooperation with the Norwegian artists – bass player Ole Morten Vaagan and drummer Gard Nilssen. After Take Five: Europe he established his first permanent international quartet, which includes the above mentioned musicians as well as the pianist Dominik Wania.
This very quartet turned out to be Obara's longstanding priority - this new sound and resulting possibilities becoming the main inspiration of the saxophonist.
During the following years the quartet performs concerts in the most prestigious venues such us Jazz at Lincoln Center NY, Jazz Standard NY, Porgy & Bess in Vienna, Cotton Club Tokyo as well as at festivals like London Jazz Festival, Tokyo Jazz Festival, Jarasum Intl Jazz Festival, Vancouver Jazz, Ottawa Jazz Festival, Molde Jazz Festival, Festiwal Jazztopad, Izmir Jazz Festival, or New Haven Jazz Festival.
During this time the band recorded three albums for the Polish record label ForTune ("Live at Manggha", "Komeda" and "Live in Minsk Mazowiecki").
At the beginning of 2017 Maciej Obara received an invitation from Manfred Eicher to record an album for the most prestigious record label in the world – ECM. As a result, a new recording titled "Unloved" is being released in September 2017, which includes compositions by Maciej Obara with an exception of one piece by Krzysztof Komeda.