---
Vince Gill & Paul Franklin
---
Biographie Vince Gill & Paul Franklin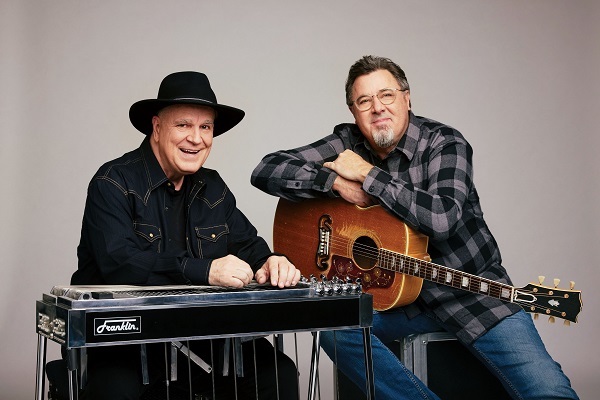 Vince Gill
One of the most popular artists in modern country music, Vince Gill is famous for his top-notch songwriting, world-class guitar playing and warm, soaring tenor, all wrapped up in a quick and easy wit. Gill achieved his big breakthrough in 1990 with "When I Call Your Name," which won both the Country Music Association's (CMA) Single and Song of the Year awards as well as a Grammy for Best Country Vocal Performance, Male. Since then, Gill has won 17 additional CMA Awards, including Song of the Year four times – making him the most-awarded artist in that category in CMA history, and a total of 22 Grammy Awards, his most recent one for Best Country Solo Performance – "When My Amy Prays." The Academy of Country Music has conferred on Gill eight awards, including its Home Depot Humanitarian Award and the Career Achievement Award.
A gifted songwriter, Gill's compositions earned him the prestigious BMI Icon award in 2014, and entry into the Nashville Songwriters Hall of Fame in 2005.
In 2007, Gill was inducted into the Country Music Hall of Fame, and in 2012 he was honored with a star on the Hollywood Walk of Fame which was placed in cement right next to his wife Amy Grant's star. In 1991, Gill was invited to become a member of The Grand Ole Opry, a position he treasures. He continues to perform on that historic stage on a regular basis.
Throughout his career he has released 20 albums, sold over 30 million albums, and charted 45 singles.
Known for his many collaborations, Gill has made guest appearances on more than 1000 albums, and has performed and/or recorded with artists such as Barbra Streisand, James Taylor, Sting, Emmylou Harris, Diana Krall, Jimmy Webb, Bruno Mars, Willie Nelson, Dolly Parton, and George Jones. His collaborative efforts also include albums he has produced for Amy Grant, Ashley Monroe, The Time Jumpers and Wendy Moten.
Always considering himself a musician above all else, Gill has over the years been a part of some iconic bands including Pure Prairie League, The Cherry Bombs, and The Time Jumpers. In 2017 Vince was asked to join the Eagles on the road and continues to be a part of that historic band's tour.
Gill's current album, the critically acclaimed OKIE, is his most personal album, as he sings about his wife in prayer, about kindness and forgiveness, about his heroes in death, and about his own loves, joys, and regrets.
Paul Franklin
began playing steel guitar at age 8. Taking lessons from a Hawaiian guitar master, he quickly progressed and when pedal steel guitars came about, he got one immediately.
Paul was already gigging in local clubs at 11, and a member of the Musician's Union. Soon calls came to the house asking for a pedal steel player for sessions in the thriving local music scene.
Not only were Pop, Motown and Jazz popular, but the "Hillbilly Highway" of Southerners heading North to build cars fueled a burgeoning Country music scene.
Paul got his first taste of national success as a teenager on Gallery's "It's So Nice To Be With You", a #1 hit single. He also guested on Parliament's "Country Boy" track and worked with Motown producer Dennis Coffey (of instrumental hit "Scorpio" fame).
The pedal steel was being embraced by Country music, and Nashville was the place for this young prodigy to be, so he headed to Tennessee as a senior in high school to join Barbara Mandrell's band at the invitation of her father, Irby. He also toured with Dottie West, Lynn Anderson, and Donna Fargo.
Session steeler Pete Drake hired Paul to play on jingles and a few recordings. Franklin joined Jerry Reed's band and recorded solo albums of original pedal steel instrumentals and Jazz standards. A long stint with Mel Tillis' Statesiders playing classic country and honky-tonk with an excellent road band was next.
After leaving Tillis, his studio career took off and he was featured in many of the albums of the 1980's-2000s. In 1991 he took a call from Mark Knopfler that led to playing on The Notting Hillbillies album and eventually with Dire Straits, touring the world and recording On Every Street with them.
In recent years, besides his busy studio schedule, Franklin is a member of Vince Gill's touring band and holds down the pedal steel seat with the Time Jumpers who showcase Western Swing and classic Country every Monday night at a local Nashville club.