---
Biographie Robbie Robertson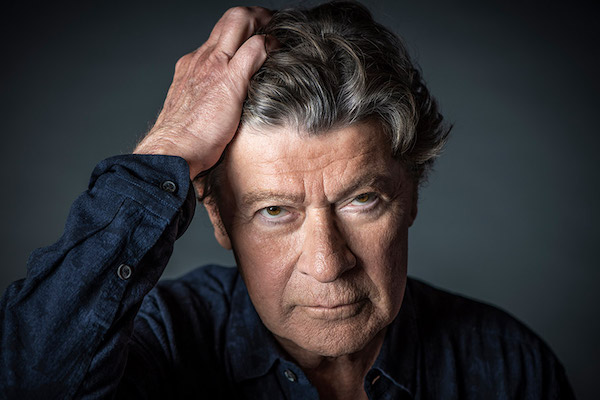 Robbie Robertson
has a long history as an American popular music innovator, and he was one of the premier songwriters of the rock era of the late 1960s and early 70s. Born in Toronto, Canada, the son of a Jewish father and Mohawk mother, Robertson was exposed to Native music and country music as a child. He learned guitar and wrote songs from an early age, and in 1958 at the age of 15 joined the Hawks, the backup band for rockabilly star Ronnie Hawkins. Robertson and the Hawks stayed with Hawkins until 1963, when they began working on their own and soon came to the attention of Bob Dylan. He hired them as the supporting band for his legendary 1965–1966 world tour, when he literally "electrified" the folk and rock worlds by going electric. Robertson and his band mates—Levon Helm, Rick Danko, Garth Hudson, and Richard Manuel—quite literally provided the electricity for Dylan's influential new sound.
Robertson and the other musicians subsequently renamed themselves "The Band" and became one of rock's seminal acts. They made a series of influential records, starting with 1968's Music From Big Pink and the following year's masterpiece, The Band. Many of The Band's best songs—most written by Robertson—featured evocative examinations of American mythology and lore. The Band dissolved on Thanksgiving Day, 1976 following an all-star concert filmed by director Martin Scorcese and later released as The Last Waltz. The film was re-released in 2002 and is considered one of the great rock performance films and documentaries of the era.
After the breakup of The Band, Robertson pursued a successful career in the 1980s, writing film scores for such films as "Raging Bull" (1980), "King of Comedy" (1983), and "The Color of Money" (1986). He also produced and starred in a film called "Carney" (1980) which featured Jodie Foster and Gary Busey. Robertson returned to making albums in 1987 with a self-titled solo album, and in 1990 with an album about New Orleans called Storyville.
In 1994, Robertson returned to his roots, teaming up with a number of talented contemporary Native American artists loosely called "The Red Road Ensemble" to produce an album for a television documentary series. The album, Music for The Native Americans, was a milestone, for it brought to light for a mass audience a new musical genre: contemporary Native American music. The album allied Robertson's considerable songwriting, production, and performance talents with the work of several other prominent Native American artists, including female vocal trios Ulali and Walela, performers Jim Wilson, Dave Pickell, and Douglas Spotted Eagle, and a Canadian First Nations band called Kashtin.