---
Julian Jacobson & Mariko Brown
---
Biographie Julian Jacobson & Mariko Brown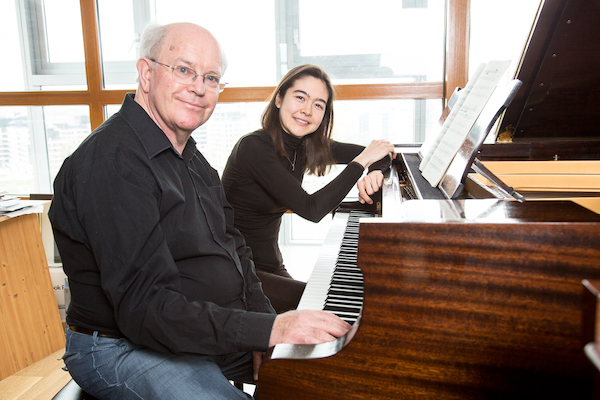 Julian Jacobson
studied piano and composition from the age of seven with Lamar Crowson and Arthur Benjamin, subsequently studying at the Royal College of Music, Queen's College Oxford and privately with Louis Kentner. He enjoys an international career as soloist, chamber musician with many prominent artists, and teacher, appearing in over 40 countries and making annual visits in recent years to Australia and the Far East. He has been soloist with several of the principal British orchestras under conductors such as Sir Simon Rattle, Jane Glover and Tamás Vásáry, as well as appearing in most of the leading UK festivals. He has been particularly acclaimed for his performances of the Beethoven Sonatas, of which he has given eight complete cycles, most recently at The Forge, Camden Town (2011-12). In 2003 he performed the entire cycle in a single day in aid of the charity WaterAid, an event which attracted worldwide media coverage and which he repeated in October 2013 in St Martin-in-the-Fields. He has recorded for Meridian, Hyperion, Chandos, Decca Argo, Continuum and other labels. Julian Jacobson is a Professor at the Royal College of Music and Birmingham Conservatoire, and also Guest Professor at Xiamen University, China.
Mariko Brown
Anglo-Japanese Mariko Brown began her piano studies with Martyn Dyke, with whom she performed regularly including at the Fairfield Halls, Croydon, as well as for many outreach community projects. She made her first concerto appearance age nine under Dr.Ruth Gipps, subsequently going on to study at the Guildhall School Junior Department with Professor Joan Havill where she won the prestigious Lutine Prize. This led to concerto appearances at the Barbican Hall and St.Giles Cripplegate as part of the City of London Festival. During this time she also took up composition with Gary Carpenter, receiving a prize for her Oboe Sonata. She was awarded the Principal's Prize on graduation from the Junior department and went on to continue her studies at the Senior Department, with both teachers and also Simon Bainbridge, graduating in 2000. Her Piano Sonata, commissioned and performed by Helen Reid, in 2004, was premiered at Bridgewater Hall, Manchester. She has also been Musical Director for productions at the Arcola Theatre, London and Eye Theatre in Suffolk.
A dedicated teacher, Mariko taught for many years at Junior Guildhall and currently teaches at the Yehudi Menuhin School.