---
London Philharmonic Orchestra & Ben Gernon
---
Biographie London Philharmonic Orchestra & Ben Gernon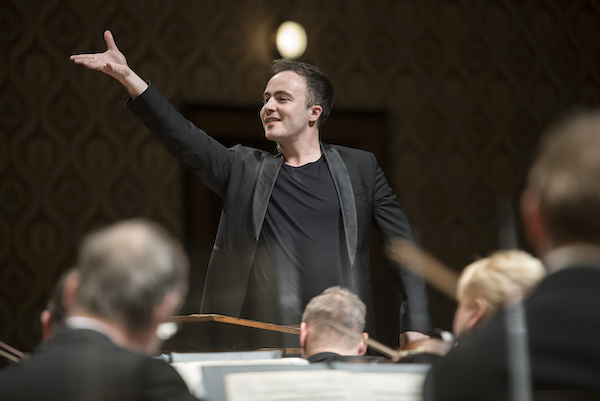 Ben Gernon
studierte Tuba und Dirigieren an der Guildhall School of Music and Drama in London. Zu seinen wichtigsten Lehrern zählen Sir Colin Davis und die Dirigentin Sian Edwards.
Im Anschluss an sein Studium nahm Ben Gernon 2012 an der renommierten Donatella Flick LSO Conducting Competition teil und errang den zweiten Platz. Als erster Preisträger des Nestlé and Salzburg Festival Young Conductor's Awards 2013 zog er internationale Aufmerksamkeit auf sich. Als Assistent von Gustavo Dudamel beim Los Angeles Philharmonic konnte er in der Saison 2013 | 2014 weitere wichtige Erfahrungen sammeln und wurde 2016 von dem Orchester zu einem gemeinsamen Gastauftritt in der Hollywood Bowl ans Pult geladen. In der Saison 2014 | 2015 wurde Ben Gernon u. a. für Studioaufnahmen mit dem BBC Symphony und dem BBC National Orchestra engagiert und stand ein Jahr später bereits am Pult aller BBC Orchester.
Sein Erfolg zeigt sich in den zahlreichen Debüts der letzten Jahre, etwa beim Orchestre Philharmonique du Luxembourg, New Japan Philharmonic, Vancouver Symphony Orchestra, National Philharmonic of Russia, Philharmonia Orchestra, de Royal Philharmonic Orchestra, City of Birmingham Symphony Orchestra, Royal Stockholm Philharmonic, Swedish Radio Symphony und bei den Hamburger Symphonikern.
Im Januar 2017 wurde Ben Gernon zum Principal Guest Conductor des BBC Philharmonic Orchestra in London ernannt. Diese Position ist er zu Beginn der aktuellen Spielzeit antreten.
Als Operndirigent hat Ben Gernon im Rahmen der Glyndebourne Touring Opera Aufführungen von Mozarts ›Don Giovanni‹ geleitet. Mit Mozarts ›Le nozze di Figaro ‹ debütierte er unlängst an der Oper Stuttgart.