---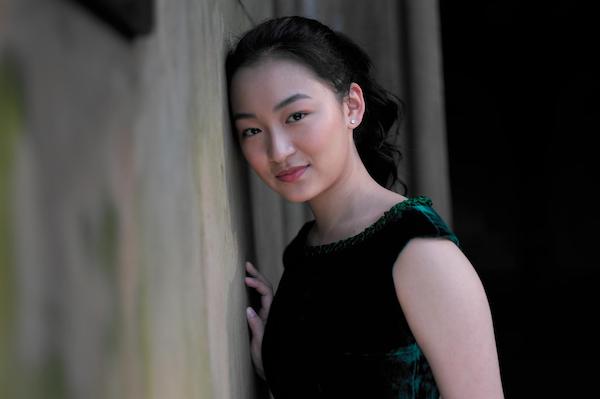 Ziyao "Chelsea" Guo
Chelsea was born in 2001 in New York City, and is attending 9th grade at Darien High School in Darien, CT.
At age 8, she was invited to perform at the U.S. State Department after winning the 1st place at the 24th Annual International Young Artist Piano Competition in Washington D.C. The recording of her performance was featured on WQXR's "Young Artists Showcase" hosted by Robert Sherman. At age 9, Chelsea performed Mozart's piano Concerto No. 23 in A Major with the Tianjin Symphony Orchestra in China, under Mr. Cao, Ding , the chief conductor of Shanghai Opera House . She has also won top prizes in many regional competitions including: CMTA Piano Competition (2008), American Fine Arts Festival (2008), Schubert Club Piano Competitions (Bach Award, Chopin Award, and Schubert Award, 2009 &2010), Young Pianist Competitions of New Jersey (2010), Audrey Thayer Competition (2010), American Protégé (2011), and Piano Teachers' Congress of New York Competitions (2010, 2012), etc. She has also performed in prestigious concert halls like Weill Hall in Carnegie Hall (2010, 2011, 2012) and Historique du Bon Pasteur (Montreal, Canada).
At age 11, Chelsea has made her way to the world class stages for young pianists. She was one of the 31 semifinalists of the 2012 Gina Bachauer International Junior Piano Competition in Salt Lake City, UT, chosen from over 300 hundreds young pianists (11-13 yr. old) through ten live auditions around the world. In the 13th Ettlingen International Competition for Young Pianists in Germany in August 2012, Chelsea competed with 41 young finalists of age 15 and under, and was awarded "Special Commen dation for Young Talents." In 2014, Chelsea attended Eppan Junior Academy in Eppiano, Italy, where she, together with seven other young pianists of 18 years and under selected internationally, took master classes with Prof. Andrea Bonatta and gave public concerts. At the Academy, Chelsea was awarded the Eppan Junior Prize. Chelsea will be featured by NPR's (National Public Radio) "From the Top" on Nov. 1, 2014.
Chelsea had her first solo recital at the First Congregational Church of Darien in May 2012. In Nov. 2012, she became the first junior pianist that "the Silvermine Artists Series" has present ed with a solo recital over its past 29 years as a professional organization that promotes rising American musicians. (Concert was canceled due to Hurricane Sandy). In the spring of 2013, Chelsea performed the Beethoven Piano Concerto No. 2 in Bb Major with the New Britain Symphony-Connecticut Virtuosi Orchestra under the baton of Mr. Adrian Sylveen. In the springs of 2013 and 2014, she has been presented with solo recitals by " T he Pletman Concert Series" in Stratford, CT. On March 29, 2014, Chelsea gave her "Thank-you Recital" at the First Congregational Church of Darien, CT.
Chelsea has participated in Schlern International Music Festival in Italy (2013, 2014), the Ishikawa Music Academy in Kanazawa, Japan (2013), and Aspen Music Festival and School (2014), where she performed in many concerts, studied with Choongmo Kang, Tamas Ungar, Yin Zheng, Piotr Palecncy, and Eguchi Fumino. She has also taken master classes with Paul Badura-Skoda, Nikolai Lunganski, Vadim Monstyrski, Arthur Greene, and Baruch Meir.
Chelsea is currently a student of Prof. Choongmo Kang and Prof. Hae-Jeon Lee at the Precollege of the Juilliard School. She studied piano with Mrs. Svitlana Fiorito in Stamford for seven years.