---
Tarun Balani feat. Sharik Hasan, Tiziano Bianchi, Alex Pinto & Joshua Crumbly
---
Biographie Tarun Balani feat. Sharik Hasan, Tiziano Bianchi, Alex Pinto & Joshua Crumbly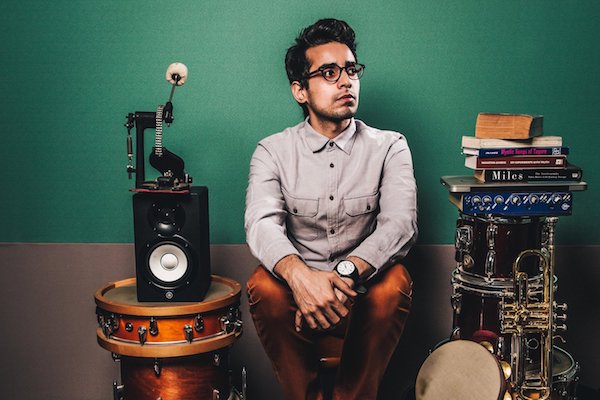 Tarun Balani
is a drummer, composer, percussionist and music educator living in New Delhi, India. In 2012, Tarun released his debut record "Sacred World", said to "point to the future of jazz in India." (Time Out, India). In 2014, Balani released his second record "Live at Teatro Bismantova, Italy" with Italian trumpeter Tiziano Bianchi.
Playing music through high school and after, Tarun was a member of Indian bands including Incognito, Advaita and Artistes Unlimited. When he was 18 years old, Tarun attended Drummers Collective in New York City, an experience that drew him forever to jazz. The raw instinct of the music united him with the form, and inspired him to study at Berklee College of Music in Boston a few years later. At Berklee, Tarun focused on performance and composition. His teachers Ralph Peterson Jr. and Jamey Haddad had great influence on Tarun's drumming. He was also the first Indian student at Berklee selected to be part of the Berklee Global Jazz Institute where he was mentored by Danilo Perez, John Patitucci, Joe lovano and George Garzone.
It was the dedication and collaborative experiences of writing, playing and composing during this period of his life that gave shape to the Tarun Balani Collective as a group, comprising of musicians of diverse backgrounds.
In 2011, Tarun and his brother Aditya Balani, also a musician (guitar player and composer), founded Global Music Institute in New Delhi. The first of its kind in India, the Institute aims to promote musical diversity in India, with an emphasis on national and international collaboration in faculty for teaching and performance.
In 2016 Tarun Balani is determined to deliver yet another fearless, imaginative, and an heartfelt set of music with his upcoming record "Dharma" featuring a brand new line up. The Tarun Balani Collective comprising of Tiziano Bianchi, Joshua Crumbly, Sharik Hasan, Alex Pinto and Tarun Balani recently recorded their latest album, "Dharma" in Brooklyn, New York. The album is set to release in 2016. Tarun's previous records include Sacred World (2012) and Live at Teatro Bismantova Italy (2014) recorded with Italian trumpeter, Tiziano Bianchi.
Tarun's music is driven by a restless desire to be a holistic artist, inspired by his Indian roots and synthesized into his work. An inward and spiritual experience for Tarun, music has had a very special impact on his life, in finding his voice through the drums, and then in building a career in performance and teaching.