---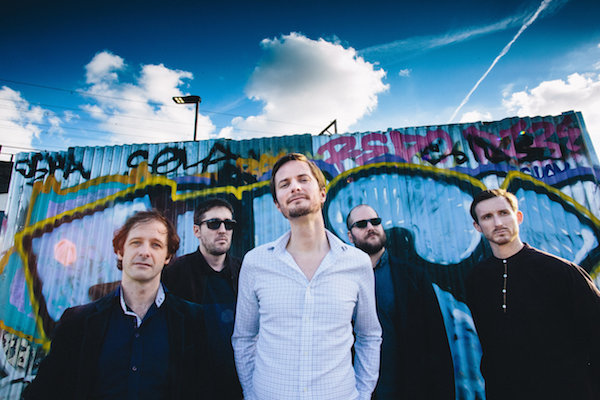 Ant Law
was born in Jeddah, Saudi Arabia, where he lived until the age of 16. From a young age he was exposed to early blues and rock 'n' roll, as well as Arabic music. He began playing piano and guitar around the age of 8. Throughout his teens he gravitated towards the guitar. A history teacher gave him a video of Stevie Ray Vaughan playing live at the El Mocambo, which was a huge influence, along with videos of Guns 'n' Roses, Queen, and later on Joe Satriani and Steve Vai. Other than the classical piano training, his only formal schooling in music was a scholarship at Berklee College Of Music, Boston. This he says was crucial because he heard gospel music and gospel drummers for the first time, and lots of Latin American music. The scholarship was completed in the middle of a Physics degree he was reading at Edinburgh University. It was whilst studying the degree that he became obsessed with jazz and played his first jazz gigs. By this point he had discovered and started to use Perfect 4ths tuning for the guitar. In a case of convergent evolution however, other players (like Stanley Jordan and Tom Quayle) had also discovered and were using this same tuning. Allan Holdsworth has said that if he could start again, he would tune this way. Ant wrote a book introducing the tuning entitled "3rd Millennium Guitar" which is published by Mel Bay.
After completing the degree he concentrated on make a living playing guitar, eventually moving to London and immersing himself in the scene there. He also lived in NYC for a season to study with his heroes Ari Hoenig, Ben Monder, Adam Rogers, Lage Lund, Gilad Hekselman, Johannes Weidenmueller, Tim Miller and others.
"This British guitarist challenges his listeners. And he succeeds. The album is required listening for connoisseurs."…Jazz Special (Denmark)
Law is one of the UK's most distinctive guitarists and this album will further enhance his reputation as both a musician and a composer"…The Jazz Mann
"Scarily proficient. A voice to heed"…Jazzwise
"Terrific and highly accomplished."…The Jazz Breakfast
Michael Chillingworth
leads his own quartet featuring pianist Ivo Neame and in addition to his long established role in Ant Law's quartet Michael has worked with many of the top UK jazz musicians including Kit Downes, Jim Hart, Stan Sulzmann, Gareth Lockrane, Julian Siegel, and John Taylor.
Ivo Neame
is a leading British jazz pianist and composer. In addition to leading his own bands he is a member of several European jazz groups including Phronesis and the Marius Neset Quintet. He is a Professor of Jazz Piano at the Guildhall School of Music and Drama
Tom Farmer
is best known as the bass player in the award-winning quartet Empirical but has also recorded and toured with many UK and international musicians including Anoushka Shankar, Andre Canniere and Reinier Baas.
James Maddren
comes from a musical family and in 2004, while still at school, he took lessons from Jim Hart. From 2005 he studied jazz percussion at the Royal Academy of Music. He was a member of the National Youth Jazz Orchestra in the mid-2000s and when he graduated in 2009, he received the Principal's Award for Outstanding Studentship. From 2009 he was on the trios of pianists Gwilym Simcock and Kit Downes . He has played since the late 2000s in various British jazz groups.