---
Biographie The Manhattan Transfer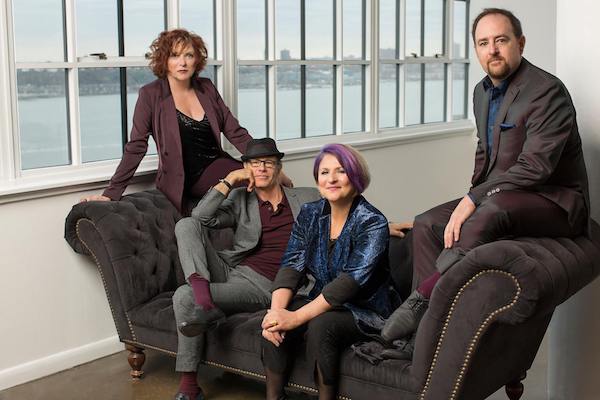 The Manhattan Transfer
remains a cornerstone for great pop and jazz hits, a legacy that the group has cemented since their first recording 41 years ago. The legendary quartet has been awarded 10 Grammy Awards of 20 nominations and has been inducted into the Vocal Group Hall of Fame. Trist Curless has now officially become a member of the group, joining Janis Siegel. Alan Paul, Cheryl Bentyne, all of whom are conscious of maintaining the integrity and artistry left by founding member Tim Hauser who passed away in 2014.
The Manhattan Transfer was born when Tim Hauser was paying his bills by driving a New York City cab while aspiring to form a harmony vocal quartet that could authentically embrace varied musical styles, and still create something wholly unique in the field of American popular song. Through driving a taxi, he met the next members of the legendary group — Laurel Massé and Janis Siegel. Alan Paul, who was appearing in the Broadway cast of "Grease" at the time, was recommended as the additional male voice and the four became The Manhattan Transfer on October 1, 1972. Cheryl Bentyne joined The Manhattan Transfer in 1979, replacing Laurel.
In 1974 the group began performing regularly throughout New York City at Trude Heller's, Mercer Arts Center, Max's Kansas City, Club 82, and other cabaret venues. By the end of the year they were the number one live attraction in New York City. They were signed to Atlantic Records and released their self-titled debut in 1975. The second single, a remake of the gospel classic "Operator," gave the group their first national hit.
1979′s Extensions earned The Transfer another smash with "Twilight Zone/Twilight Tone." The vocal remake of the classic "Birdland" became recognized as the group's anthem and earned them their first two Grammy Awards. In 1981, they became the first group ever to win Grammy Awards in both Pop and Jazz categories in the same year.