---
Biographie Mischa & Lily Maisky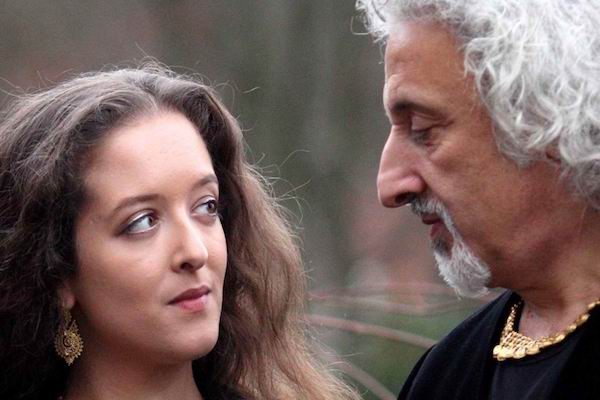 Mischa Maisky
Born in Latvia, educated in Russia, after his repatriation to Israel, Mischa Maisky has been enthusiastically received in London, Paris, Berlin, Vienna, New York and Tokyo, along with the rest of the major music centres.
He considers himself to be a citizen of the world: "I'm playing an Italian cello, with French and German bows, Austrian and German strings, my daughter was born in France, my oldest son in Belgium, the middle one in Italy and the youngest one in Switzerland, I'm driving a Japanese car, wear a Swiss watch, an Indian necklace and I feel at home everywhere where people appreciate and enjoy classical music."
As an exclusive Deutsche Grammophon artist, during the last 25 years he has made well over 30 recordings with such orchestras as Vienna and Berlin Philharmonic, London Symphony, Israel Philharmonic, Orchestre de Paris, Orpheus, Chamber Orchestra of Europe and others.
One of the highlights of his career was the year 2000 - it was mainly devoted to a worldwide Bach tour which included over 100 concerts! In order to express his deep admiration for this great composer, Mischa Maisky has recorded Bach's solo suites for the third time.
His recordings have enjoyed worldwide critical acclaim and have been awarded the prestigious Record Academy Prize in Tokyo five times, the Echo Deutscher Schallplattenpreis three times, Grand Prix du Disque in Paris and Diapason d'Or of the Year as well as the coveted Grammy nominations.
Truly a world-class musician and regular guest at most major International Festivals, he has collaborated with such conductors as Leonard Bernstein, Carlo Maria Giulini, Lorin Maazel, Zubin Mehta, Riccardo Muti, Giuseppe Sinopoli, Vladimir Ashkenazy, Daniel Barenboim, James Levine, Charles Dutoit, Mariss Jansons, Valery Gergiev and Gustavo Dudamel and his partnerships have included artists as Martha Argerich, Radu Lupu, Nelson Freire, Evgeny Kissin, Lang Lang, Peter Serkin, Gidon Kremer, Yuri Bashmet, Vadim Repin, Maxim Vengerov, Joshua Bell, Julian Rachlin and Janine Jansen to name just a few.
Lily Maisky
was born in Paris, moving to Brussels soon after. She began playing the piano at the age of four, with Lyl Tiempo, also studying with Hagit Kerbel, Ilana Davids and Alan Weiss. Lily was a pupil at the "Purcell School of Music" from 2001 till 2005 where she also studied jazz piano. She has received master classes and musical advice from renowned artists including Martha Argerich, Dmitri Bashkirov, Joseph Kalichstein, Pavel Gililov and Vitalij Margulis to name a few.
Concert appearances have taken her throughout Europe as well as the Far East, and she has been invited to many of the great festivals such as the Verbier Festival, Progetto Martha Argerich in Lugano, the Edinburgh Festival, Maggio Musicale Fiorentino, Bergamo-Brescia, the Beijing Piano Festival, the Franz Liszt festival in Austria, Julian Rachlin and Friends in Dubrovnik, Rencontres de Bel Air in France, Gstaad Festival, the Schlesswig-Holstein Music Festival, the Berlin Festival as well as the English Chamber Orchestra Music Cruise. Lily has performed concertos under the batons of maestros Leonard Slatkin, Thomas Sanderling, Gerd Albrecht, Daniel Raiskin, Alberto Veronesi and Charles Olivieri Munroe, amongst others. She has also performed solo and ensemble works in such prestigious venues as the Royal Festival Hall in London, Vienna's Concerthaus, Munich's Prinzregentheatre, Hamburg's Leiszhalle, Berlin's Konzerthaus, Venezia's La Fenice, Bonn's BeethovenHalle, Tokyo's Suntory Hall, Rome's Teatro Olimpico, Moscow Conservatory, Saint Petersburg Philarmonie, New York's Carnegie Hall, Seoul's Performing Arts Center, Athens Megaron and Buckingham Palace among many others.
Lily features on several Deutsche Grammophon and EMI recording releases, and has been frequently broadcasted on European and Asian radio and television. Her latest release is for Avanti Classics with Grammy Award winning Violinist Philippe Quint. She has a predilection for chamber music and forms a regular duo with Mischa Maisky, as well as the Maisky trio with her brother. She has also performed with such artists as Julian Rachlin, Janine Jansen, Dora Schwarzberg, Renaud Capuçon, Chantal Juillet, Sergey Krylov, Martha Argerich, Nicholas Angelich, Frank Braley, Gérard Caussé as well as Alissa Margulis, Hrachya Avanesyan, Geza Hosszu-Legocky, Boris Andrianov, Isztvan Vardai, Alexander Mogilevsky, Orfeo Mandozzi, Alena Baeva, Boris Brovstyn and the Szymanowski Quartet.