---
Ljuba Bergamelli, Divertimento Ensemble & Sandro Gorli
---
Biographie Ljuba Bergamelli, Divertimento Ensemble & Sandro Gorli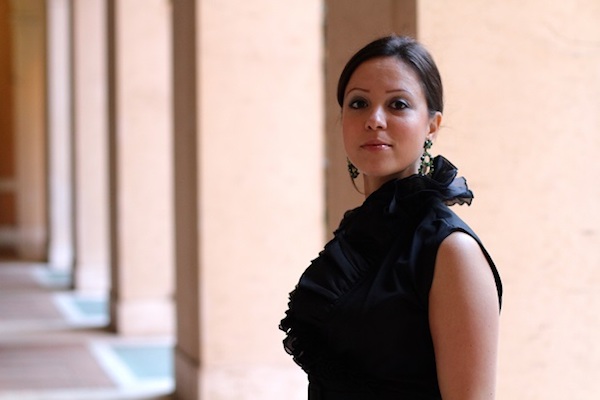 Ljuba Bergamelli
has begun her singing studies with Luisa Castellani. She earned her Master's Degree in Voice at the Giuseppe Verdi Conservatory in Milan with Margaret Hayward where she also obtained the Contemporary Chamber Music Master's Degree with great honours studying with Daniela Uccello.
She currently works with Marinella Pennicchi and Nicholas Isherwood. She followed master-classes with Dalton Baldwin, Françoise Ogéas, Karl Kammerlander.
She sings with such artists as Bruno Canino, Giovanni Sollima, Dimitri e Vovka Ashkenazy, Ensemble Nuovo Contrappunto, Texture Ensemble, Divertimento Ensemble. She has performed in important festivals such as La Biennale di Venezia, MilanoMusica, Festival Cinque Giornate per la Nuova Musica a Milano, Oratorio del Gonfalone a Roma, Teatro Stabile di Verona, Casa de Cultura de Girona, Associazione Filarmonica Umbra, BergamoMusicaFestival GaetanoDonizetti, GubbioSummerFestival, Bicentenario del Conservatorio di Milano, Opening the Cage in Malta, Istituto Italiano di Cultura di Parigi, among others.
In 2012 she sang the Fourth Symphony by Gustav Mahler under the baton of Vladimir Ashkenazy with the Orchestra della Radio Svizzera Italiana in Lugano.
She has recorded an homage to John Cage with Bruno Canino and Antonio Ballista for Rai3 Italian Television and some of Wolf's Lieder for his 150th birth's anniversary on RaiRadioTRE.
Particularly involved in contemporary music, she has sung world premieres by Vittorio Montalti, Pasquale Corrado, Luca Antignani, Federico Gardella, Daniele Ghisi, Mariana Ungureanu.
She has recently made her debut at the Biennale di Venezia 2013 singing Vittorio Montalti's chamber opera"L'arte e la maniera di affrontare il proprio capo per chiedergli un aumento". She has also played the role of Criside in Bruno Maderna's Satyricon in Milan, with Divertimento Ensemble.
She has been chosen by Nicholas Isherwood to be part of his vocal ensemble VOXNOVA Italia, that has made its international debut in January 2014 in Los Angeles singing Stimmung by K. Stockhausen.
As performer, she has done many works involving music, acting and dance theatre such as the Rite of the Springs (Festival MiTo) and Ivresses ( Conservatorio Verdi Milano).
She continually works with her father at the piano and her brother at the cello, and she is also engaged in a jazz project with Gianluigi Trovesi at sax and Umberto Petrin at the piano.
She has been invited to lecture at the 57th edition of the Biennale di Venezia about contemporary vocal techniques.