---
Riccardo Pisani, Ensemble Arte Musica & Francesco Cera
---
Biographie Riccardo Pisani, Ensemble Arte Musica & Francesco Cera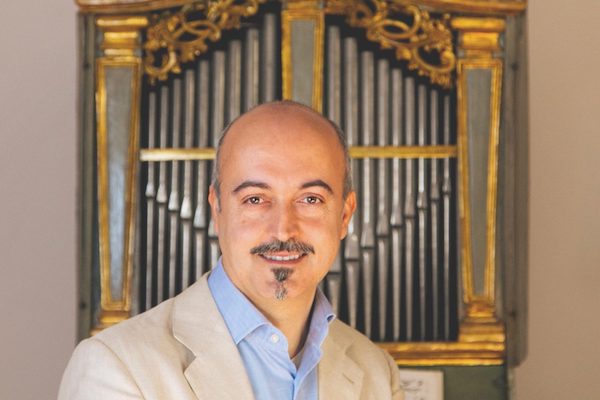 Riccardo Pisani
Born in Rome, Riccardo Pisani is graduated with honor in Renaissance and Baroque Singing from the Conservatory of Santa Cecilia in Rome where he studied with Sara Mingardo. In 2000-2003 he was a puer cantor of the Cappella Musicale Pontificia "Sistina" and he began his vocal studies with Claudia Nizza. Interested in Baroque and chamber music vocal repertoire he attended several specialisation courses with René Jacobs, Victor Torres, Rinaldo Alessandrini, Furio Zanasi, Alfredo Bernardini, Alessandro Quarta.
In 2012 he was awarded a special prize at the International Competition of Sacred Music. In 2013 he took part in Ambronay Baroque Academy directed by Leonardo García Alarcón, with the role of Apollo in Monteverdi's Orfeo. In 2014 he was selected as Orfeo (title role) by René Jacobs for the Professional Formations of the Royaumont Foundation. Then started an increasingly intense concerts activity, in particular distinguishing at international level in various monteverdian roles (Orfeo, Ritorno di Ulisse in Patria, Combattimento di Tancredi e Clorinda) and in the baroque repertoire, especially Italian.
Riccardo has sung with renowned groups such as La Venexiana (Claudio Cavina), Concerto Romano (Alessandro Quarta), Concerto Italiano (Rinaldo Alessandrini), Cappella Mediterranea (Leonardo García Alarcón), Cantar Lontano (Marco Mencoboni), Mala Punica, Tasto Solo, Arte Musica, De Labyrintho, Il Canto di Orfeo and with conductors such as Jonathan Webb, René Jacobs, Federico Maria Sardelli, Diego Fasolis, Carlo Ipata, Pedro Memelsdorff and Francesco Cera. He recorded for Ambronay Éditions, Glossa, Outhere Music, Brilliant Classics, Bottega Discantica, Armonia Universal e Melos Antiqua, Dynamic and for the radios Vatican Radio, Deutschlandfunk and ORF. He performed at prestigious festivals including: Utrecht Early Music Festival, Rheingau Musik Festival, Bach Akademie Stuttgart, Festival dei Due Mondi Spoleto, Resonanzen at Wiener Konzerthaus, DeSingel Antwerpen, Festival d'Ambronay, Sagra Musicale Umbra, Misteria Paschalia in Krakow, Urbino Musica Antica, Sagra Musicale Malatestiana, Festival Van Vlandeeren, Festival Monteverdi Vivaldi, Schwetzinger Festspiele, Rheinvokal, MA Festival Bruges, etc.; as well as in prestigious theaters and concert halls: Kölner Philharmonie, Kiev Philarmonie, St. Petersburg Philarmonie, Teatro dell'Opera di Roma, Teatro del Maggio Fiorentino, Opéra de Reims, Bozar in Bruxelles, Opéra de Vichy, Teatro Verdi di Pisa, Concertgebouw and Muziekgebouw in Amsterdam, Grande Auditorio en Centro Cultural de Belém, Chapelle Royale de Versailles, Auditorium TAP of Poitiers, etc.
Riccardo Pisani sang the operas Il ritorno di ulisse in Patria and l'Orfeo by Claudio Monteverdi, La Dafne by Marco da Gagliano, L'Arianna By Monteverdi/Cavina, il Girello by Jacopo Melani, L'Empio punito by Alessandro Melani, l'Orfeo dolente by Domenico Belli, La Calisto by Francesco Cavalli and Dido and Aenes by H. Purcell. In 2019 he released his first solo album dedicated to Giulio Caccini for the label Brilliant Classics.
Francesco Cera
was born in Bologna, Italy, and studied organ and harpsichord under Luigi Ferdinando Tagliavini and later with Gustav Leonhardt at the Amsterdam Conservatory. He is now one of Italy's leading early music specialists. Francesco Cera's distinctive interpretation can be heard not only in his approach to early keyboard instruments, but also in Baroque vocal and instrumental music. He has performed as a soloist in important international festivals and on historical organs through out the whole of Europe.
Francesco Cera specialises in voice and vocal music, and directs the Ensemble Arte Musica, with whom he performs Italian music covering the period from Gesualdo's madrigals to 18th century cantatas. His recordings of 17th century harpsichord and organ music (the complete works of Rossi, Merula, Storace and Valente for label Tactus), were highly acclaimed by the most important music magazines such as Goldberg, Amadeus, Répertoire and Diapason. Francesco Cera has recorded Sonatas by Domenico Scarlatti from the manuscript dated 1742, and took part in the performance of the complete Scarlatti Sonatas at the Flanders Festival in Gent. Francesco Cera was a member of the ensemble Il Giardino Armonico and frequently performs with the ensemble I Barocchisti directed by Diego Fasolis, with whom he has recorded four concertos for harpsichord by J. S. Bach (recently issued by Arts).
Ensemble Arte Musica
Francesco Cera founded and directs the Ensemble Arte Musica. Their interpretation is characterised by a new and unconventional approach to Baroque vocal repertoire, although in the light of historical evidence. The singers in the Ensemble are chamber music and opera soloists, and the instrumentalists perform with Il Giardino Armonico and I Barocchisti. The ensemble's first recording (Tactus label) of unpublished sacred music by the 17th century composer Giovanni Paolo Colonna was widely acclaimed by the critics. The ensemble made their concert debut at the Flanders Festival in Bruges in 1997. Their next CDs included the Fourth Book of Madrigals by Carlo Gesualdo, and the Lamento di Arianna and Scherzi Musical composed in 1632 by Claudio Monteverdi. In 2002, the magazine "Amadeus" featured their CD of unpublished Cantatas and Sonatas by Domenico Scarlatti. 2006 saw the issue of their CD "Ghirlanda Sacra", a collection of motets for solo voice by Monteverdi and other composers working in Venice at the beginning of the 17th century. The Ensemble Arte Musica has performed at important music festivals through out Europe, such as the Istituzione Universitaria dei Concerti in Rome, Bologna Festival, Milano Arte Musica, Les Gouts Reunis in Lausanne, Linzner Schloss Konzerte, Festival van Vlaanderen, Tage fur Alte Musik in Brandenburg, Le feste di Apollo in Parma, Festival Cantar Lontano, Festival Luci e Tintinnii in Colle di Val d'Elsa and Festival Galuppi in Venice.