---
Robert Plant & Alison Krauss
---
Biographie Robert Plant & Alison Krauss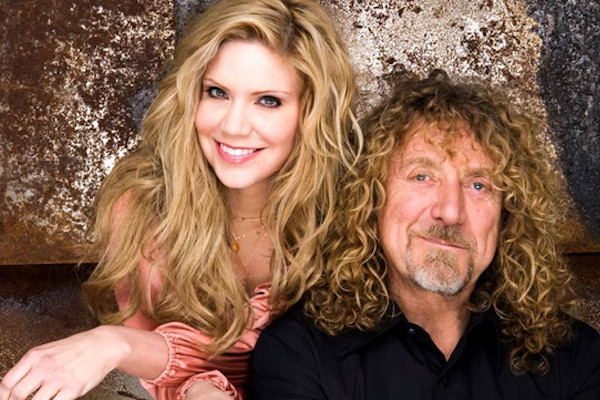 Robert Plant
For more than forty years, Led Zeppelin have continued to inspire generations with their groundbreaking blues-infused, guitar-driven rock 'n' roll. The biggest rock band in the world throughout their 12-year reign, they remain one of the most influential and innovative groups in music history.
With well over 200 million albums sold worldwide, their catalogue is one of the most enduring bodies of musical composition to come out of the 20th century, and it has influenced countless bands along the way. They had the biggest tours; the biggest sound; the biggest record sales; the biggest reputation.
Robert Plant enjoyed great success with Led Zeppelin from the late 1960s to the end of the 1970s. He developed a compelling image as the charismatic rock-and-roll front man, similar to those of contemporaries such as Mick Jagger of the Rolling Stones, Roger Daltrey of the Who, Jim Morrison of the Doors, and Freddie Mercury of Queen. With his mane of long blond curly hair and powerful, bare-chested appearance, Plant helped to create the "god of rock and roll" or "rock god" archetype. Although Led Zeppelin dissolved in 1980, Plant occasionally collaborated with Jimmy Page on various projects in later years, including forming a short-lived supergroup with Page and Jeff Beck in 1984, called the Honeydrippers. They released an album called The Honeydrippers: Volume One, and the band had a No. 3 hit with a remake of Phil Phillips' tune "Sea of Love", plus a follow-up hit with a cover of Roy Brown's "Rockin' at Midnight".
A powerful and wide vocal range (particularly evident in his high-registered vocals) has given Plant a successful singing career spanning more than 50 years. In 2008, Rolling Stone editors ranked him number 15 on their list of the 100 best singers of all time. In 2011, Rolling Stone readers ranked Plant the greatest of all lead singers. In 2006, Hit Parader magazine named Plant the "Greatest Metal Vocalist of All Time". In 2009, Plant was voted "the greatest voice in rock" in a poll conducted by Planet Rock.
Alison Krauss
Born in Champaign, Illinois, Alison Krauss grew up listening to everything from folk to opera to pop and rock music, but quickly fell in love with bluegrass when she began playing fiddle at the age of five. Shortly after, Krauss began entering fiddle contests. At the age of 14, Rounder Records signed her to her first record deal and she went on to release her debut solo album two years later. The accomplished bluegrass musician became a member of the Grand Ole Opry at age 21.
Since 1985, Krauss has released 15 albums including five solo projects; seven with her longtime band and musical collaborators, Union Station; and two collaborations with Robert Plant. She's sold more than 12 million records to date, and her honors, along with Union Station, include 27 Grammys, nine Country Music Association awards, 14 International Bluegrass Music Association Awards, two Academy of Country Music Awards, and two Gospel Music Association awards. In 2019, she received the National Medal of Arts, the highest honor given to artists by the United States government, and in 2021 she was inducted into the Bluegrass Hall of Fame. Her latest release, Raise the Roof, teams her once again with former Led Zeppelin vocalist Plant; it's the long-awaited follow-up to 2007's Raising Sand, which was certified platinum and won six Grammys, including Album of the Year and Record of the Year. Plant and Krauss will begin touring together in the summer of 2022.
Krauss frequently collaborates with artists from a wide range of genres, including Dolly Parton, Taylor Swift, Kenny Rogers, Emmylou Harris, Gillian Welch, Vince Gill, The Chieftains, James Taylor, Yo-Yo Ma, Johnny Mathis, Cyndi Lauper, Heart, Bad Company, and Phish. "Whiskey Lullaby," a duet she performed with Brad Paisley, won two CMA Awards in 2004.
In recent years, she has appeared on recordings by Leonard Cohen, John Prine, and Don Henley, and she has recorded and toured with Willie Nelson, whom she honored with a performance during the 2015 Gershwin Prize Tribute Concert. In 2020, she performed "Amazing Grace" with Andrea Bocelli on his Believe album, and in 2021, she appeared on Barry Gibb's Greenfields and (along with Rhiannon Giddens) joined Renee Fleming on a new version of Jackson Browne's "Before the Deluge" on Fleming's album Voice of Nature: The Anthropocene. She recorded with Def Leppard for the band's upcoming album. In addition, Union Station is in pre-production on a new album, their first since Paper Airplane in 2011.
Krauss has participated in numerous tribute projects, including albums honoring Kris Kristofferson, Laura Nyro, and Roger Miller. She has also produced albums for Alan Jackson, Nickel Creek, and the Cox Family. Some of these collaborators were formative for Krauss, and she lists influences including Tony Rice, Ricky Skaggs, Dolly Parton, Larry Sparks, the Cox Family, and Ralph Stanley.
Krauss has contributed songs to a number of films, including "Down to the River to Pray" in the cult classic film O Brother, Where Art Thou? and "You Will Be My Ain True Love" and "The Scarlett Tide" in the film Cold Mountain. She recorded "If We Don't" with Dolly Parton for the 2018 film Dumplin'. Krauss has provided the voice for several cartoon movie characters, including Bambi's mother in Bambi II and Annabelle in Annabelle's Wish, as well as the singing voice of Davey's girlfriend in the Adam Sandler movie Eight Crazy Nights.
Krauss's most recent solo album, 2017's Windy City, debuted at No. 1 on the Billboard Top Country Albums and Top Bluegrass Albums charts and received two Grammy nominations. In 2013, she performed at the Kennedy Center's "American Voices" festival that was created and hosted by Renee Fleming and also honored Dolly Parton and Paul Simon with performances during the Kennedy Center Honors. She has performed for three Presidents—George W. Bush, Bill Clinton, and Barack Obama.