---
Album info
Album including Album cover
I`m sorry!
Dear HIGHRESAUDIO Visitor,
due to territorial constraints and also different releases dates in each country you currently can`t purchase this album. We are updating our release dates twice a week. So, please feel free to check from time-to-time, if the album is available for your country.
We suggest, that you bookmark the album and use our Short List function.
Thank you for your understanding and patience.
Yours sincerely, HIGHRESAUDIO
1

Found Myself in a Country Song

03:36

2

Long Night Letting Go

03:04

3

Ain't That Something

03:28

4

Thinkin' 'Bout You

02:49

Total Runtime

12:57
Info for Ain't That Something

New Music Fridays continues to be something to look forward to each and every week. We genuinely appreciate country artists continuing to release music that we all love, during this unprecedented and chaotic time in our country. Last Friday, newcomer, Jaden Hamilton released two brand new songs entitled "Long Night Letting Go" and "Found Myself in a Country Song."
Both songs showcase Hamilton's unique perspective as a songwriter, as well as, his vocal ability. The Louisiana native has a knack for telling stories and delivering catchy lyrics. "Long Night Letting Go" is a sensual and vulnerable track, where Hamilton explores the intricacies of a dwindling romantic relationship. Although the singer did not co-write this tune, it's clear he knows what heartbreak feels like.
On the contrary "Found Myself in a Country Song" was co-written by Hamilton with fellow songwriters, Carlton Anderson and Matthew McVaney. This new jam is a fun and enticing ode to country music. It's relatable and embodies exactly how we all feel about music. After all, music is healing and feeling, and story-telling is at the heart of the genre.
"First time I cranked that Strait, I couldn't turn it down / On that front porch swing, blaring through the house / Amarillo By Morning, I can hear it now / First time I cranked that truck, I drove way too fast / Liked up a cloud of dust, had the radio blasting / Red dirt road, it made me who I am / I found myself in a country song"
Jaden Hamilton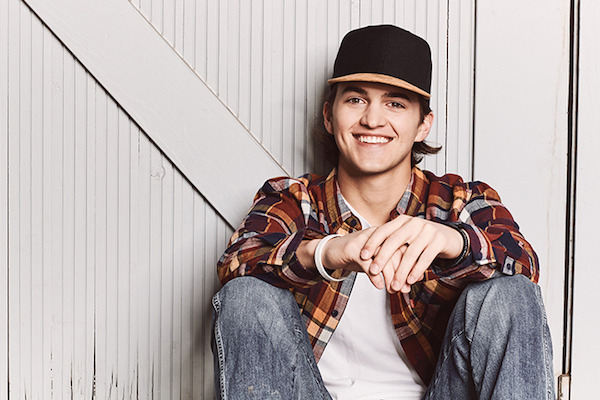 Jaden Hamilton
A native of Prairieville, Louisiana, singer-songwriter Jaden Hamilton grew up surrounded by the same sugarcane fields and tread-marked dirt roads heard in his lyrics. They were the backdrops to his earliest TikTok clips, which have garnered the entertainer nearly 330,000 followers and 3 million likes on the platform since he first posted a few months after his high school graduation. Today, his massive digital audience continues to grow, earning him more devoted fans with every new song and viral post.
Long before his success online, the self-taught musician was raised on a homestyle mix of hard rock and classic country. With a guitar-loving father and six siblings, he was exposed to an eclectic mix of artists, from Daughtry to Jason Aldean.
"My dad and me, we sort of got into [playing music] together," Hamilton recalls. "But he's more into rock, and I was more into country, so I kind of ended up doing my own thing." He toyed around on the living room piano, but after becoming the starting quarterback of his high school football team, athletics began taking up most of his spare time. When he wasn't picking plays on the field, he was picking out songs on guitar. Ultimately, it took a healthy dose of peer pressure to get him to show anyone his vocal chops.
"I kind of kept the artist thing quiet for a while," he recalls. "With football, I sort of thought, 'oh, I don't want to be that singer guy, too.' But then I sent a video to my buddies' group chat, and they were like, 'dude, you need to be posting that.'"
The first music clip he published on Instagram, a reworking of Ron Pope's "A Drop In The Ocean," raked up tens of thousands of views at viral speed. With more covers came exponential engagement, and by his senior year of high school, he had committed to pursuing a career as a recording artist. After two weeks enrolled at Louisiana State University, and faced with a decision to either finish college or accept an invitation from a pop producer to move to L.A., Hamilton went with option three and relocated to Nashville, Tennessee. After signing a management deal with Sean Pace who worked with Kane Brown in the early stage of his career, he began booking sessions up and down Music Row.
"'Slip On Back' was my first-ever official co-write," Hamilton recalls. "And it just came out. We put down the lyrics, Tawgs [songwriter-producer Thomas Salter] made the track, I sang it, he hit play, and it was basically finished. That was my first 'this is crazy' moment."
"Slip On Back," along with "Thing About Me" and the propulsive anthem, "Ride It Out," make up his aforementioned three-part debut, which arrived via Sony Music Nashville in March 2020. Going forward, the multi-platform innovator will continue to shape his sound and style in and out of the studio.
"It was all pretty natural," Hamilton says of his self-made success. "I just posted covers as I went and tried not to think too much about it. At the end of the day, I just want to be casual and laid back, because that's how I am in real life."

This album contains no booklet.