---
Album info
Album including Album cover
1

Brave New World

05:44

2

If I Would Ask You

04:59

3

Hope at Dawn by Hopatcong

03:34

4

Ampharoo

06:06

5

Roadside Picnic

05:21

6

Monday Starts on Saturday

05:30

7

Without Reservation

05:06

8

Farming

05:38

9

Tara's Song

04:55

10

Fairie's Song

05:55

Total Runtime

52:48
Info for Songs from a Dystopian Utopia

"I'm a Berliner," John F. Kennedy once chanted at the Brandenburg Gate. Of course, JFK could not have predicted on the cresting wave of the Cold War that this sentence could apply to his compatriot Chris Dahlgren even more comprehensively than to himself half a century later.
Growing up in Denver and Cincinnati, and then socializing in New York, the bassist and composer Chris Dahlgren was part of Anthony Braxton's close environment. The number of well-known jazz musicians with whom he went into the studio and performed with is so long that we don't even want to start the list here. The Big Apple was at his feet, but Dahlgren wasn't planting his roots down. He wanted to go and start again and moved from the Hudson to the Spree. In Berlin, too, he quickly became a creative scene driver, among others in the bands Johnny La Marama and Lexicon, as well as alongside Gebhard Ullmann. And then things took another turn and the passionate improviser and bassist started writing songs, singing and playing the guitar.
Under the title "Songs From A Dystopian Utopia" he's now presenting the second album of his band Dhalgren. It is a suite about dystopias and utopias, about abysses and the unexplored corners of ourselves, and it is also an album about Berlin. The first Dhalgren CD already described the nightly capital, but Dahlgren still remained on the surface. When he talks about Corner-Späti pensively, he makes the whole fascination audible and palpable, which surrounds him as an American in Berlin. On the new album, he now opens a hatch and descends from the nocturnal outside world into the black equinox of the underworld. The new songs are full of cobwebs, rat traps and ancient boxes that you better not open. And yet they are also beguilingly beautiful. Berlin has been sung about many times, but here a picture of the subterranean worlds under Kreuzberg, Friedrichshain and Mitte emerges that you don't hear every day.
On "Songs From A Dystopian Utopia" Dahlgren was influenced by older science fiction books such as Aldous Huxley's "Brave New World" or the novels by the Russian team of Arkady and Boris Strugatzki. "I love dystopian books," says Dahlgren. "Even the name of the band Dhalgren comes from the classic dystopian story of the same name by Samuel Delany, a masterpiece of 20th century American literature. That was the starting point. There are all the spiders and traps in the basement corners, but there is also a lot of beauty. In the end it's about the utopia of existence. I don't write happy music anyway, but in my genes there is Scandinavian melancholy. That's just my way of expressing the joy of life. "
This joy in life also consists in constantly rediscovering the power of existence. Around his 50th birthday, Dahlgren had temporary problems with his hands, could not play bass or any other instrument, and had to do other things. He had experimented with texts as a student. Instead of blowing tribulation, he started again to work with different text fragments. "I discarded certain things, combined others. It was like a huge puzzle with thousands of pieces. I was excited to see what shapes would result if I put these puzzle pieces together. When I was able to play again a little later, the lyrics were on my hook. I couldn't stop. I never made the decision to become a singer/songwriter. It had happened that way and there was no going back. I love playing bass and improvising, but the songs never let go of me. "
Chris Dahlgren has no master plan for his albums. The songs would write themselves, he was only the recipient. He describes his new CD as a house with various bizarre characters. "They talk to each other, but sometimes they only talk to the wall in their own special way. A strange party. Sometimes you lie on the floor and stare at the ceiling, then somebody offers you a glass of absinthe. "It is as if these stories were circling around him as he gave them to the best. Dahlgren has no specific mission or message in mind, but rather the poetic encounter of text and melody, the flow and the musicality of the words. As Lester Young always had in mind the text of the respective song in his improvisations, Dahlgren helps with the formulation of his lines the experience of musical improvisation. "Art," he postulates, "requires a certain degree of naivety and life experience."
In addition, there is self and external reflection, which is why he surrounds himself on the album with some very different musicians with whom he can scream in a whisper. First there is Sidney Werner, a very young bass player from Berlin. It is not easy for the accomplisher Dahlgren to hand over the bass part, but Werner is so far from and at the same time so close to his own view of life that he can fully trust the youngster. The 23-year-old Finn/German Arne Braun is on the guitar. Dahlgren has played with a variety of world-famous guitarists, but in Braun he sees one of the most flexible and adventurous string poets of the next generation. The same applies to 27-year-old vibraphonist and percussionist Evi Fillipou, who also has experience in chamber music. In contrast, the Austrian drummer and co-producer Alfred Vogel is an old handler, for whom the permanent crossing of borders has become an elixir of life for decades. In Dhalgren, résumés and life plans of very different colors come together, which complement each other magically and are pointedly rounded off by guests such as saxophonist Hayden Chisholm and singer Almut Kühne.
For Chris Dahlgren, taking responsibility means giving up responsibility. In this respect, "Songs From A Dystopian Utopia" is ultimately more utopia than dystopia. And whoever has the courage to open the box behind all the cobwebs in the far corner of the basement will raise a treasure full of grace and hope.
Chris Dahlgren, vocals, viola da gamba, acoustic guitar
Evi Filippou, vibraphone, percussion, backing vocals
Sidney Werner, upright bass, backing vocals
Arne Braun, electric guitar, backing vocals
Alfred Vogel, drums, percussion
Additional musicians:
Hayden Chisholm, alto saxophone (on track 7)
Almut Kühne, vocals (on tracks 8 & 10)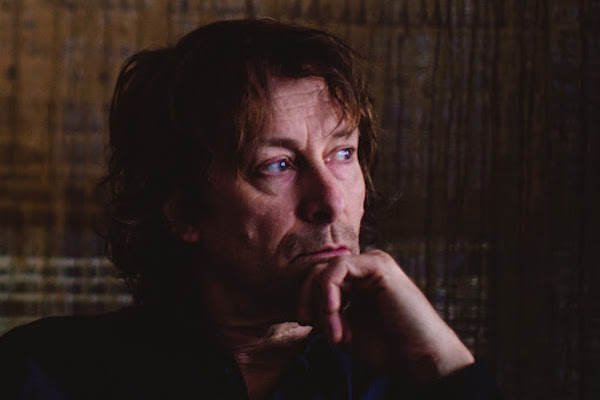 Chris Dahlgren
wurde am 13. November 1961 in New York geboren.
Seine musikalische Laufbahn begann er im Alter von 6 Jahren mit dem Violoncello und wechselte später zum Kontrabass.
Chris' früheste Improvisationsversuche auf dem Cello brachten ihm den Zorn seines Musiklehrers ein, der ihn anschrie: "Raus hier, Dahlgren – Du wirst niemals Musiker sein!"
1986 schloss er sein Studium im Fach Jazz am Cincinnati Conservatory of Music mit dem B.A. ab und 2003 machte er den M.A. in Komposition/Experimentelle Musik an der Wesleyan University. Er nahm Kompositionsunterricht bei La Monte Young, Anthony Braxton, Alvin Lucier und Christian Wolff und Bassunterricht bei Barry Green, Francois Rabbath und Dave Holland.
Als Hausbassist im Blue Wisp Jazz Club in Cincinnati/Ohio hatte er Mitte der 80er Jahre die Gelegenheit, den Jazz aus erster Hand kennen zu lernen, nämlich von einigen der größten amerikanischen Künstler, wie Herb Ellis, Red Rodney, John von Ohlen, Art Lande, Charles Tolliver und Joe Lovano. Zu dieser Zeit machte er sich in der Musikszene von Cincinnati einen Namen als Komponist und einzigartiger Bassist und Mitbegründer der Gruppe Ekimi. Es folgte die Gründung des Musiklabels Krysdahlark, mit dem er einige seiner Platten produzierte.
1993 kehrte er zurück in seine Heimatstadt New York und war 11 Jahre lang aktives Mitglied der Downtown-Musikszene, wo er mit seiner eigenen Band und verschiedenen anderen spielte und Aufnahmen produzierte. In dieser Zeit veröffentlichte er als Komponist und Improvisator viele seiner Werke auf Labels wie Koch Jazz, CIMP, Not Two, Between-the-Lines, Leo, ESP, darüber hinaus erschien er als Gastmusiker in zahlreichen Aufnahmen anderer Künstler. Von 2001 bis 2009 war er reguläres Mitglied des Ensembles von Anthony Braxton, einer der bedeutendsten Persönlichkeiten der Avantgarde-Jazz-Szene.
Ebenfalls seit 2003 lebt er in Berlin, wo er mit verschiedenen Bands auftritt, komponiert und mit großen europäischen Musikern, Komponisten und Künstlern zusammen arbeitet sowie Jazz-Ensembles an der Musikhochschule Hanns Eisler und am Jazz-Institut Berlin unterrichtet.
2006 begann Chris, Viola da Gamba zu spielen und führt dieses Instrument nun auch in die Welt der Improvisationsmusik ein. 2008 gründete er seine neue Band, LEXICON. Das Debütalbum erschien im März 2010 auf dem Label Jazzwerkstatt. Er tourt regelmäßig durch die ganze Welt mit seinem eigenen und anderen Ensembles.
Seine Arbeit als Komponist fand große Anerkennung in Form von zahlreichen Stipendien und Preisen, sowohl von staatlichen Organisationen wie dem National Endowment for the Arts, Ohio Arts Council und Headland Arts Center, als auch im Rahmen von Auftragsarbeiten für verschiene private Auftraggeber und Institutionen.

This album contains no booklet.