---
Album info
Album including Album cover Booklet (PDF)
I`m sorry!
Dear HIGHRESAUDIO Visitor,
due to territorial constraints and also different releases dates in each country you currently can`t purchase this album. We are updating our release dates twice a week. So, please feel free to check from time-to-time, if the album is available for your country.
We suggest, that you bookmark the album and use our Short List function.
Thank you for your understanding and patience.
Yours sincerely, HIGHRESAUDIO
1

Get Up

04:17

2

Up On This

05:37

3

Mustang

05:14

4

Fire Spirit

05:42

5

Arecibo

04:22

6

Right On Time

04:48

7

Starfish

05:02

8

Tenth Victim

04:49

9

Deep Green

06:29

10

Soul Party

05:50

11

Step It Up

04:34

Total Runtime

56:44
Info for Step It Up

Jeff Lorber Fusion, whose previous release Hacienda was praised for its "impeccable musicianship and deep grooves" by JazzTimes and its "funky, rollicking jams" by All About Jazz, returns on September 25, 2015, with Step It Up on Heads Up, a division of Concord Music Group. The fourth consecutive collaboration between GRAMMY®-nominated keyboardist/composer/producer Jeff Lorber and GRAMMY®-winning bassist/composer/ producer Jimmy Haslip since the two virtuosos reactivated Jeff Lorber Fusion five years ago, Step It Up features 11 new Lorber compositions, several co-written with Haslip. The longtime colleagues also co-produced the recording.
The title Step It Up, says Lorber, "reflects the music: optimistic, energetic and an attempt to 'step up' our game—our compositions, production and improvisation—to the next level. This record puts us back in a more familiar Jeff Lorber Fusion groove while we explore some new uncharted areas."
"We were motivated to find a new direction following Hacienda," adds Haslip. "That one was a full-on experimental recording. Step It Up is more inside the Jeff Lorber Fusion box but has some new and interesting twists."
Assisting the pair in creating those twists is a team of world-class musicians, including two former bandmates of Haslip's in the award-winning fusion band Yellowjackets: saxophonist Bob Mintzer and guitarist Robben Ford. Also lending a hand are drummers Ash Soan, Gary Novak and Vinnie Colaiuta; saxophonist Gary Meek and guitarists Michael Thompson and Paul Jackson Jr. David Mann provides horn arrangements and Lenny Castro percussion. The album was recorded primarily at JHL Sound in Pacific Palisades, California, with additional recording done at other studios in the U.S. and Europe.
As on all past Jeff Lorber Fusion releases, dating back to its 1977 self-titled debut, Step It Up effortlessly mines and merges elements from multiple genres, including jazz, funk, rock and R&B. The original Jeff Lorber Fusion took an extended hiatus in the early '80s, reemerging and recharging in 2010 with an updated approach that incorporates contemporary rhythms, technology and instrumentation. Prior to Step It Up and Hacienda, Jeff Lorber Fusion released Now Is the Time (2010) and Galaxy (2012), both also via Heads Up. But as they began working on what ultimately became Step It Up, Lorber and Haslip realized they were heading to some new places in their music.
"I'm always writing new stuff and I got together with Jimmy to play him some of the music I was working on," says Lorber. "My compositions were a bit diverse and Jim suggested focusing more. We came up with the idea of '70s modal jazz." Inspired by the classic recordings of such greats as Freddie Hubbard, Herbie Hancock, Lee Morgan, Joe Henderson and Weather Report, Lorber and Haslip followed their collective muse, drawing conceptually from the influential output of those legends but filtering it all through their own sensibilities—several of the co-written tunes developed directly out of bass parts Haslip had created.
"We eventually put a list of original tunes together that we thought made a statement and had this modal thread running through it," says Haslip. "We also have a modern approach to this and we wanted to make sure that there would be strong elements of excitement and uplifting melodic motifs."
"Jeff Lorber is one of those masters of the jazz field that has always found a way to have his fingers in many musical projects. He has been successful as both solo artist and with his work in the Jeff Lorber Fusion, which employs the talents of bassist Jimmy Haslip as co-producer" (Punchland)
"Step It Up, the fourth offering from the revamped Jeff Lorber Fusion, picks up almost exactly where 2014's Grammy-nominated Hacienda left off -- with a couple of twists. Keyboardist Lorber and bassist Jimmy Haslip co-produced the 57-minute, 11-track set of originals. The pair got help from their regular stable of sessionmen including guitarists Paul Jackson, Jr. and Michael Thompson, saxophonist Gary Meek, percussionist Lenny Castro, and a slew of drummers including Vinnie Colaiuta. There are also a couple of star guest appearances from Haslip's former Yellowjackets bandmates, tenorman Bob Mintzer and guitarist Robben Ford. The horn charts were expertly scripted by David Mann. Musically, this material harkens back to the mid-'70s; knotty funk, modal jazz, and the melodic invention of R&B are carefully balanced in a breezy, thoughtful, and spine-tingling presentation. "Mustang," one of two pre-release singles, comes right out of Grover Washington, Jr.'s Feels So Good/Mr. Magic period, with a very similar keyboard vamp and contrasting harmonic interludes in the bridge. Colaiuta's kit and Castro's congas create a hypnotic center around the melody before Mintzer's meaty tenor break turns left of center. "Arecibo," the first of two tracks to feature Ford on lead guitar, is feel- good jazz-funk. The interplay between keyboard tones, melodies, and chunky rhythmic vamps contrast beautifully with the guitarist's deep blues fills and solo. Ford and Mintzer also feature on "Soul Party," the other single. Mann's horn chart has a wider color palette thanks to Haslip's bassline presence. The tenor, Lorber, and the guitarist dialogue in a series of finger-popping cadences, taut funk breaks, and fleet solo moments. Everything in the mix comes back to swinging, meaty, in-the-pocket R&B. As smooth as Galaxy and substantial as Hacienda, this set offers the best of both albums but goes further in its imaginative lyricism and charts. The groove quotient on Step It Up is exceptionally high, refracted through the prism of focused, precise compositions." (Thom Jurek, AMG)
Jeff Lorber, keyboards, piano
Jimmy Haslip, bass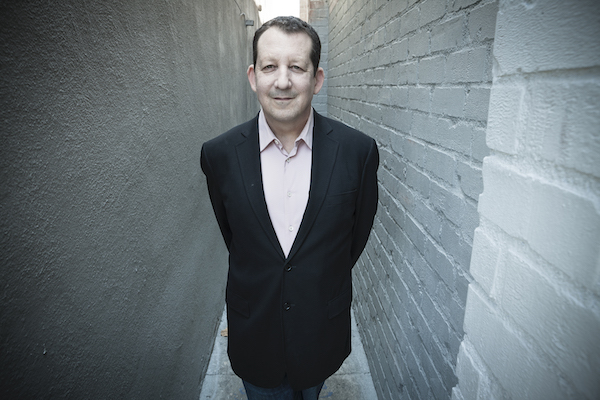 Jeff Lorber
By the late 1970s, trailblazing keyboardist/composer/producer Jeff Lorber had become a prominent figure in the new movement known as jazz fusion – a marriage of traditional jazz with elements of rock, R&B, funk and other electrified sounds. Lorber and his band, the Jeff Lorber Fusion, first honed their craft in the Portland, Oregon, club scene and rapidly expanded their reach to a national and international audience via a combination of complex harmonies, unconventional time signatures and compelling rhythms.
In subsequent years, Lorber dropped the term "fusion" from his billing as the movement evolved into what is currently known as contemporary jazz. Still, he continued to explore the innovative, improvisational potential of grafting other musical forms to the jazz idiom.
More than three decades after his earliest recordings, Lorber has come full circle. His new recording, "Galaxy", set for release January 31, 2012, on Heads Up International, a division of Concord Music Group, revisits a sound he helped pioneer. The album takes the experiment that he started with his last GRAMMY®-nominated CD, "Now is the Time", up a notch with 11 exciting and energetic new compositions performed by some of the biggest names in jazz today.
Lorber's music reaches a new level by crystallizing jazz, funk, and Latin rhythms with some killer melodies that will certainly translate to live performance. The first track, "Live Wire," blends a blistering house beat with extended solos by Lorber and Koonse and some amazing drum fills from Colaiuta. "Big Brother" moves into hip hop territory, similar to Jeff's grooving "Rain Dance," which became a huge hit for Notorious Big and Lil' Kim as "Crush on You." "Montserrat" sounds like a mixture of Sly Stone and Tower of Power, with super funky horn arrangements by Dave Mann. Obviously, a year spent touring together has made Lorber, Haslip and Marienthal into a tight unit, which is evident from this recording.
Stretching the envelope has been Lorber's strategy from the very beginning. Born in Philadelphia in 1952, Lorber began playing piano when he was just four years old. By his teen years, he had hooked up with several local R&B bands, but his tastes trended more toward jazz when he studied at Berklee College of Music.
After college, he relocated to Portland, Oregon, where he formed the Jeff Lorber Fusion. The group released their self-titled debut album in 1977, and quickly became one of the most popular acts in the jazz fusion scene, due in large part to relentless touring and a string of artistically daring and commercially successful recordings.
The entity formerly known as the Jeff Lorber Fusion became Lorber's solo career with the release of "It's a Fact" in 1982. After a brief but prolific stretch culminating with the highly successful "Private Passion" in 1986, Lorber took a break from recording his own material, opting instead to do session work and produce other artists. He resumed his solo career in 1991 with "Worth Waiting For", although he continued to produce for the remainder of the decade.
Lorber has been just as prolific and innovative in the new century as he was in the last, with recordings on Narada ("Philly Style", "Flip Side"), Blue Note ("He Had a Hat"), and most recently Peak ("Heard That").

Booklet for Step It Up