---
Album info
Album including Album cover
I`m sorry!
Dear HIGHRESAUDIO Visitor,
due to territorial constraints and also different releases dates in each country you currently can`t purchase this album. We are updating our release dates twice a week. So, please feel free to check from time-to-time, if the album is available for your country.
We suggest, that you bookmark the album and use our Short List function.
Thank you for your understanding and patience.
Yours sincerely, HIGHRESAUDIO
1

Free Your Mind

04:47

2

Time

01:55

3

Out The Window

03:30

4

No More

03:47

5

When I Say

02:29

6

Legs And Arms

07:23

7

Searchin'

03:02

8

Green Eyes

05:19

9

Still Tryin'

04:23

10

Only You

01:14

11

Reflections Of My Heart

06:32

12

I Thought About You

03:48

Total Runtime

48:09
Info for Love And Liberation

In the two years since Jazzmeia Horn bowed with her first album, the GRAMMY Award®-nominated A Social Call, she's been busy on the road, honing her vocal skills to a finely tuned level, writing songs of personal relevance and social message, and perfecting a fearless approach to improvisation and performance in general. The convergence of this drive and development has resulted in what is sure to be hailed as one of the most courageous recordings of 2019—Love and Liberation—filled with songs of daring musicality, emotional power, and messages of immediate relevancy.
Horn chose the title she did for her second album because, "Love and Liberation is a concept and mantra that I use consistently in my everyday life. For me the two go hand in hand and they both describe where I am in my life and career right now. An act of love is an act of liberation, and choosing to liberate—oneself or another—is an act of love."
Love and Liberation, scheduled for release on August 23, 2019 via Concord Jazz, marks a formidable leap forward for Horn as a singer, bandleader and songwriter, the result of an almost non-stop touring schedule that followed the release of her debut album and which benefitted her vocal chops as well as her band sound. "I have evolved," she says. "It's like I'm really understanding music in a different way."
"Once A Social Call was released in May of 2017, I hit the road and I am still on tour. The album literally came out two years ago. I'm really tired but grateful because I've had the opportunity to travel and practice and improvise night after night in a room full of people with some of the best musicians playing today. We'd experiment, using a trumpet player on a song one time and a saxophonist the next, or sometimes just drums and voice in the beginning of a song, trying out different combinations and ideas, challenging ourselves. This was worth more than gold to me—understanding how to utilize my instruments: my voice, my body, the band that I've hired."
Horn has substantial experience with all the A-list musicians on these tracks: pianists Victor Gould (her regular accompanist) and special guest Sullivan Fortner, tenor saxophonist Stacey Dillard and trumpeter Josh Evans, bassist Ben Williams, and drummer/singer Jamison Ross. Chris Dunn, who produced Horn's debut disc, is producer on this album as well.
Eight of the dozen new tracks are original tunes, a point of pride and significance for the 28-year old Horn: "All of these songs are about me and my experiences, but also as part of any young person's journey. The message they all share is that you just have to learn—about people, about relationships, about business, love, or whatever. They don't just tell one person's story, they tell many people's stories."
The songs on Love and Liberation comprise an impressive variety of styles, approaches, and feel—some with full band, some just voice and one instrument, even an a capella duet—each with a precise message to convey. There are songs that resonate with a powerful sense of African American identity, and others that speak with intention about her stature as a strong, independent woman. Still others deal with matters of love and attraction—with tenderness and humor.
"Some of these songs are very cute and fun," Horn admits. "But a lot of them are meditations and have deep meaning that people can listen to, to help free up their minds. People of all creeds and races, and even all generations because there's a lot of tradition in this music. My godfather gave me the best compliment when I played the album for him. He said, I'm really proud of you because this music sounds like what Ella [Fitzgerald] or Billie [Holiday] or Abbey [Lincoln] or Nina [Simone] would have evolved into."
Musically, Horn's compositions both breathe and bend jazz tradition, with tasteful touches of R&B and hip-hop, revealing a marked inventiveness and a love for a good melodic line. On Love and Liberation one can hear it on the opener "Free Your Mind" (a plea for more human interaction and less focus on digital media) and the coy yet firm "Time" (urging an avid suitor to take a breath and cool his jets), to the upbeat, off-kilter, rhythmic slam of "Out The Window" (warning of the other woman) and the intelligence and nuance of the a capella duet, "Only You" (weaving the inner words of two lovers as their thoughts connect, diverge and reconnect.)
Horn is quick to point out that she is constantly writing while on the road, and that many of the originals on Love and Liberation are not exactly new. "We've been playing 'Legs And Arms' for about a year now, and some, like 'Searching' goes back to 2013! We've also been doing 'Green Eyes' which is by Erykah [Badu] and then a bunch are brand spanking new."
The four covers on Love and Liberation are equally impressive, both in which tunes Horn chose to cover and how she approaches them, finding fresh takes on Jon Hendrick's "No More" (as clear and strong a statement on Horn's own philosophy of personal empowerment), Badu's "Green Eyes" (Horn's interpretation giving it a shot of gravitas with a more spiritual feel), Rachelle Farrell's "Reflection of My Heart" (a poignant vocal duet with drummer/singer Jamison Ross), and Jimmy Van Heusen/Johnny Mercer's "I Thought About You" (the sole classic standard of the set.)
Blessed with a fitting name for her chosen path—it was Horn's jazz-loving, piano-playing grandmother who chose "Jazzmeia"—the singer was born in Dallas in 1991, grew up in a tightly knit, church-going family filled with musical talent and started singing as a toddler. She attended Booker T. Washington High School for Performing and Visual Arts, known for launching such musical greats as Roy Hargrove, Norah Jones, and Erykah Badu. Her education included steering herself to the mentors who would guide her passion for jazz, like Bobby McFerrin, Abbey Lincoln, and Betty Carter.
In 2009, Horn moved to New York City to enroll in The New School's jazz and contemporary music program. An intense four years of training and performing followed, when she met many of the musicians who appear on her recordings, including Gould and Dillard. In short order, her talent began to be noticed. In 2013, she entered and won a Newark-based contest named for an initial inspiration—the Sarah Vaughan International Jazz Competition. In 2015, she won the Thelonious Monk Institute International Jazz Competition, the most coveted award a jazz musician can hope to attain. Part of her prize was a contract with Concord, which led to A Social Call and now Love and Liberation.
"Honestly, I'm way more excited now about Love and Liberation because this is mostly my original music," says Horn with palpable giddiness. "Don't get me wrong, I love A Social Call and all the acclamations were great—the reviews in Downbeat, The New York Times and London Times. But now I'm like, You guys don't really know what's coming. Boy, do I have something in store for you!" (Ashley Kahn)
Jazzmeia Horn, vocals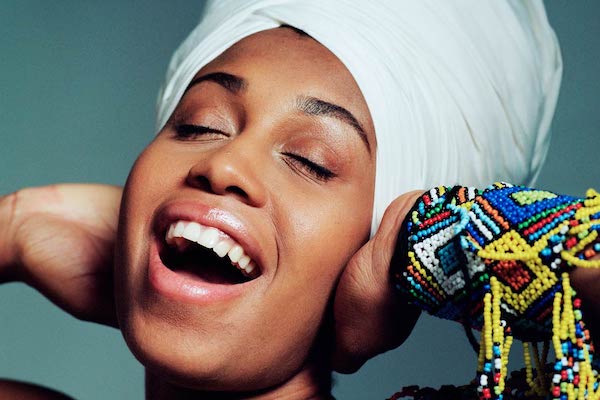 Jazzmeia Horn
Winner of the 2015 Thelonius Monk International Vocal Jazz Competition and 2013 Sarah Vaughan International Jazz Vocal Competition, Jazzmeia Horn has a name that speaks for itself capturing her very essence. Hailing from the great Dallas, Texas Jazzmeia has already earned a reputation in New York as a "Rising Star." With the ambition to pursue a solo career, Jazzmeia graced the New York scene in 2009 and earned her degree at The New School for Jazz and contemporary Music . It wasn't much later when she began to perform as a sideman with musicians Winard Harper, Junior Mance, Billy Harper, Lincoln Center Alumni Vincent Gardner, Delfeayo Marsalis, Mike LeDonne, Peter Bernstein, Johnny O'Neal, Vincent Herring, Kirk Lightsey, Frank Wess, and Ellis Marsalis.
Jazzmeia then began to appear in world famous jazz festivals and legendary jazz clubs such as Lenox Lounge, Bill's Place, The Apollo, The Blue Note, Dizzy's Jazz Club Coca­Cola, Minton's, The Jazz Standard, Smalls Jazz Club, Zinc, Jazz Gallery, Birdland, and The New Jersey Performing Arts Center. Her accolades include Downbeat Student Music Award Recipient 2008, 2009, and Best Vocal Jazz Soloist Winner 2010, The 2013 Betty Carter Jazz Ahead Program at The Kennedy Center­Washington D.C., The Rising Star Award for the 2012 Sarah Vaughan International Vocal Jazz Competition, Finalist for Mid­Atlantic Jazz Vocal Competition 2014, and The 2015 ­16th Annual Central Brooklyn Jazz Consortium's Young Lioness Award.
Currently, Jazzmeia is a teaching artist in The NJPAC Well's Fargo­Jazz for Teens Program and Jazz In The Schools Program in Newark, New Jersey. She appears in various clubs on the jazz scene nationally and internationally leading her dynamic group "The Artistry of Jazz Horn" which includes­ pianist, bassist, drummer, saxophonist, poet, dancer and herself­vocalist. Jazzmeia humbles her life and gift of music before God and says "I am thankful for the opportunity to play music professionally and have a deep desire to uplift the souls of others in need through my artistry in the spirit of music."
"A singer who stands apart from many of her peers because she takes on every song she sings so naturally. Jazzmeia is a performer for whom every word, gesture, and ornament becomes an expression of her total conviction and she completely comes alive in the moment" - London Jazz News

This album contains no booklet.