---
Album info
Album including Album cover
1

Fred

01:54

2

Sjellaus

05:31

3

Kråketinget

05:21

4

Varde

06:10

5

Draug

05:12

6

Fanden

07:23

7

Helgrind

04:08

8

Myling

03:50

Total Runtime

39:29
Info for Varde

After two years of writing and a wonderful week at Athletic Sound we're proud to present Varde.
Marekvist identify themselves as experimental folk music, but I'd dare to say that what these Norwegians play falls into much-much broader categories. Discarding all understatements, Solrenning is Scandinavian prog rock music (a term already much akin to RPI), in concentrated form. Apart from the really strong folk roots that many Scandinavian bands share (Ritual, Kerrs Pink, the mighty Änglagård etc.) their music also pays homage to the 70s Scandinavian bands. Fans of Trettioariga Kriget, Atlas, and Wigwam would enjoy the confident, vintage-sounding riffs, with some great grooves.
Marekvist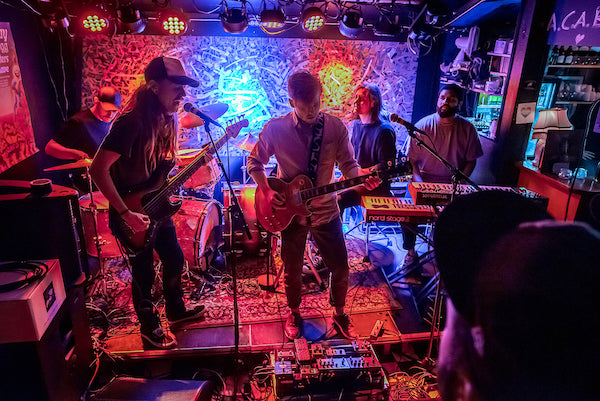 Marekvist
identify themselves as experimental folk music, but I'd dare to say that what these Norwegians play falls into much-much broader categories. Discarding all understatements, Solrenning is Scandinavian prog rock music (a term already much akin to RPI), in concentrated form. Apart from the really strong folk roots that many Scandinavian bands share (Ritual, Kerrs Pink, the mighty Änglagård etc.) their music also pays homage to the 70s Scandinavian bands. Fans of Trettioariga Kriget, Atlas, and Wigwam would enjoy the confident, vintage-sounding riffs, with some great grooves.
And connoisseurs of Scandinavian jazz would nod in approval of these musical soundscapes not unlike the more ambient disks from Terje Rypdal's legacy, or Sibelius' vast symphonies. Finally, Marekvist would not be out-of-place on the same stage as their extravagant compatriots Tusmorke or Swedish neighbours Agusa.
Marekvist's folkish part succeeds at passing between the "Scylla and Charybdis" of folk rock; between too upbeat beer-drinking feet-tapping songs and too buried-in-tradition music, that conservative ethno-orchestras sometimes overindulge in. The aim here (as I might vaguely guess) is not to recreate the music of yore, but to actually bring it onto modern ground and set it into the future.

This album contains no booklet.