---
Album info
Album including Album cover
I`m sorry!
Dear HIGHRESAUDIO Visitor,
due to territorial constraints and also different releases dates in each country you currently can`t purchase this album. We are updating our release dates twice a week. So, please feel free to check from time-to-time, if the album is available for your country.
We suggest, that you bookmark the album and use our Short List function.
Thank you for your understanding and patience.
Yours sincerely, HIGHRESAUDIO
1

Ain't No Mountain High Enough

02:28

2

You've Got What It Takes

02:55

3

If I Could Build My Whole World Around You

02:21

4

Somethin' Stupid

02:41

5

Your Precious Love

03:03

6

Hold Me Oh My Darling

02:47

7

Two Can Have A Party

02:14

8

Little Ole Boy, Little Ole Girl

02:41

9

If This World Were Mine

02:42

10

Sad Wedding

03:23

11

Give A Little Love

02:57

12

Oh How I'd Miss You

02:33

Total Runtime

32:45
Info for United (Remastered)
United was originally released in 1967 on Motown's Tamla Records label. The album produced four Top 40 Billboard chart hits including 'Your Precious Love', 'If I Could Build My Whole World Around You', and 'Ain't No Mountain High Enough', and 'If This World Were Mine' (which was released as the b-side to 'If I Could Build My Whole World Around You').
Of the numerous 'duet' albums Marvin Gaye recorded (including two other sets with Tammi Terrell), 1967's "United" was probably the most consistent and enjoyable of the group. Terrell was clearly the female partner with whom Gaye had the most chemistry and it showed throughout about two thirds of the album; the other third falling victim to Motown's typically lame efforts to attract a MOR white audience. At least on record the decision to put the two together was almost magical. Terrell didn't have the world's greatest voice, but she knew how to use her talents and she was a perfect partner for Gaye adding a sassy element to his cool, controlled performances. Co-produced by Harvey Fuqua and Johnny Bristol, the two producers had the insight to recognize that Gaye and Terrell would be best suited by an upbeat, soul-oriented sound. As a result they managed to keep Berry Gordy's affection for over-produced slop to a minimum. To their credit, Gaye and Terrell even managed to salvage some of the lesser material – 'You Got What It Takes' – were actually listenable. Unfortunately 'Somethin' Stupid' ('c'mon why would anyone even think about covering and Frank and Nancy Sinatra song?) and 'Sad Wedding' were simply too lame for anyone to save.
"United was the first of Marvin Gaye and Tammi Terrell's three LPs, and quite possibly the best of the lot. Harvey Fuqua and Johnny Bristol handled the productions and gave the photogenic duo a slightly harder edge than subsequent productions by Valerie Simpson and Nickolas Ashford. Three blockbusters -- 'Ain't No Mountain High Enough,' 'If I Could Build My World Around You,' and 'Your Precious Love' -- propelled the album to number 29 on the pop charts, the highest rating of any of the duo's LPs. Plus, you had treats like 'Little Ole Boy, Little Ole Girl,' a remake of Loe & Joe's little-known release on Fuqua's Harvey Records in 1962. 'Two Can Have a Party' grooves from start to finish and could have been the fourth hit, but Motown thought otherwise. I like the duo's rendition of 'Hold Me Oh My Darling,' a song Tammi first recorded on her solo album; the stuttering chorus and bass backing voice makes it unique. You won't find two better ballads than 'Give a Little Love' or the often-recorded 'If This World Were Mine'; written by Marvin Gaye, the starry-eyed proclamation has become an R&B standard, and rightfully so." (Andrew Hamilton, AMG)
Marvin Gaye, vocals, background vocals
Tammi Terrell, vocals, background vocals
Harvey Fuqua, background vocals
Johnny Bristol, background vocals
The Originals, background vocals
The Andantes, background vocals
The Spinners, background vocals
The Funk Brothers, all instruments
Produced by H. Fuqua, J. Bristol
Digitally remastered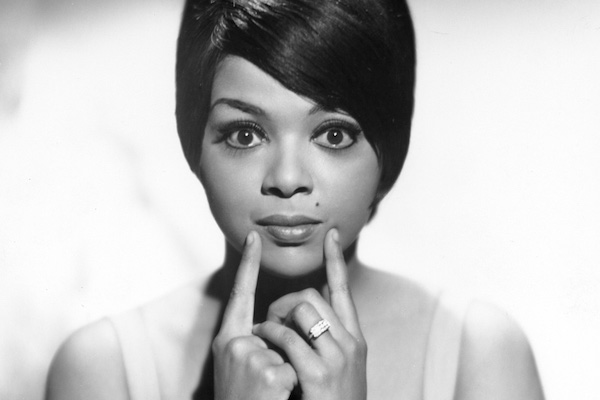 Marvin Gaye
Brilliant, enigmatic, and headstrong, Marvin Gaye was an innovator. In 2009, he would have been 70 years old, and it has been 25 years since his tragic death. But today Marvin remains as influential and exciting as ever: Rolling Stone recently named him one of the greatest singers of all time.
He was born Marvin Pentz Gay Jr. on April 2, 1939, in Washington, D.C., where he dreamed of singing before large crowds; he joined a co-founded a local doo-wop group, the Marquees, who were spotted by Harvey Fuqua, who made them his new Moonglows. Marvin arrived in Detroit on tour with the Moonglows and stayed, as did Harvey, and Marvin was signed to Motown just based on raw singing talent. He was also a songwriter, an OK drummer-and handsome as hell. He wanted to sing jazz, to croon Tin Pan Alley standards, but that didn't pan out. Motown founder Berry Gordy encouraged Marvin to sing R&B, and once Gaye sang the soulful (and autobiographical) "Stubborn Kind Of Fellow" in 1962, stardom enveloped him. The incendiary "Hitch Hike," "Pride And Joy," and "Can I Get A Witness" sold like crazy in 1963, and Marvin oozed silky sexiness on the 1965 classics "How Sweet It Is (To Be Loved By You)," "I'll Be Doggone" and "Ain't That Peculiar."
By 1968′s immortal "I Heard It Through The Grapevine," and on a series of electrifying duets with Mary Wells, Kim Weston ("It Takes Two"), and his ultimate singing partner, the ravishing but ill-fated Tammi Terrell ("Ain't No Mountain High Enough," et al), Gaye was a commercial force. He soon became recognized as an artistic one as well.
At decade's turn, Marvin seized full control of his output with the deeply personal, socially aware 1971 masterpiece What's Going On, which produced three hit singles: the title track, "Inner City Blues (Make Me Wanna Holler)" and "Mercy Mercy Me (The Ecology)." He defied expectations again with "Trouble Man," a 1972 hit single featured in his haunting, jazzy score of the movie of the same name. He zoomed to the top of the charts with his passionate Let's Get It On, while delivering a pop confection in Diana and Marvin, his duet album with Motown's queen, Diana Ross. I Want You, released in 1976, was another sensual masterwork, a meditation on obsessive love that was also No. 1. Marvin made his personal life public through his songs, and it was never more evident in 1978′s Here, My Dear, a sprawling double-album chronicling his divorce from Anna Gordy, Berry's sister. Even his No. 1 dance classic from 1977, "Got To Give It Up," a studio cut added to flesh out the double-LP Live At The London Palladium, was about the singer's reluctance to get loose on the dance floor.
Marvin left Motown in 1981, with the politically tinged album In Our Lifetime. He fled to London, then Belgium, where he created for Columbia Records "Sexual Healing," his first Grammy® winner. But another hit was not salvation from his demons. On April 1, 1984, one day before his 45th birthday, Marvin was shot to death by his father.
Marvin's influence reaches across the generations. He was rightfully among only the second group of artists honored with induction into the Rock and Roll Hall of Fame, in 1987. More recently, Marvin was No. 6 on Rolling Stone's list of the 100 Greatest Singers Of All Time. "Motown Week" on American Idol 2009 (Season 8) featured remaining contestants singing not one but two of Marvin's songs. His records-and his ringtones and his DVDs-are still going gold.
Tammi Terrell
Singer Tammi Terrell joined forces with the immortal Marvin Gaye to create some of the greatest love songs ever to emerge from the Motown hit factory; sadly, their series of classic duets -- "Ain't No Mountain High Enough," "Ain't Nothing Like the Real Thing," and "You're All I Need to Get By" among them -- came to an abrupt and tragic halt with her premature death. Terrell was born Thomasina Montgomery in Philadelphia on April 29, 1945; after winning a number of local talent contests, by the age of 13 she was regularly opening club dates for acts including Gary "U.S." Bonds and Patti LaBelle & the Bluebelles. In 1961, she was discovered by producer Luther Dixon and signed to Scepter. Credited as Tammy Montgomery, she made her debut with the single "If You See Bill," followed early the next year by "The Voice of Experience." After James Brown caught Terrell's live act, she was signed to his Try Me label, issuing "I Cried" in 1963 and also touring with his live revue. "If I Would Marry You" appeared on Checker a year later, during which time she also studied pre-med at the University of Pennsylvania.
While performing with Jerry Butler in Detroit in 1965, Terrell was spotted by Motown chief Berry Gordy, Jr., making her label debut with "I Can't Believe You Love Me." When subsequent outings "Come On and See Me," "This Old Heart of Mine (Is Weak for You)," and "Hold Me Oh My Darling" earned little notice, she was paired with Gaye, who previously recorded duets with Mary Wells and Kim Weston. His chemistry with Terrell was immediate and in 1967, they entered the pop Top 20 with the magnificent "Ain't No Mountain High Enough," the first in a series of lush, sensual hits authored by the husband-and-wife team of Nickolas Ashford and Valerie Simpson. "Your Precious Love" cracked the Top Five a few months later and in 1968, the twosome topped the R&B charts with both "Ain't Nothing Like the Real Thing" and "You're All I Need to Get By." The success of these later hits was nevertheless tempered by Terrell's off-stage travails -- after an extended period of severe migraine headaches, in 1967 she collapsed in Gaye's arms while in concert at Virginia's Hampton-Sydney College, and was diagnosed with a brain tumor.
Although the tumor forced Terrell to retire from performing live, she continued to record with Gaye even as her health deteriorated; however, as time went on, Valerie Simpson herself assumed uncredited vocal duties on a number of hits, including 1969's "Good Lovin' Ain't Easy to Come By" and "What You Gave Me." (For several other tracks, Gaye's vocals were added to pre-existing Terrell solo recordings.) In all, Terrell endured eight operations, ultimately resulting in loss of memory and partial paralysis; she finally died in Philadelphia on March 16, 1970. Gaye was so devastated by her decline and eventual passing that he retired from the road for three years; her loss also contributed greatly to the spiritual turmoil which informed his 1971 masterpiece What's Going On. At the time of her death, Tammi Terrell was just 24 years old. (Jason Ankeny, AMG)

This album contains no booklet.