---
Album info
Album including Album cover
Robert Schumann (1810 - 1856): Adagio and Allegro in A-Flat Major, Op. 70 for Horn and Piano:

1

Schumann: Adagio and Allegro in A-Flat Major, Op. 70 for Horn and Piano: I. Adagio

04:56

2

Schumann: Adagio and Allegro in A-Flat Major, Op. 70 for Horn and Piano: II. Allegro

04:55

Charles Gounod (1818 - 1893): Six Melodies for Horn and Piano:

3

Gounod: Six Melodies for Horn and Piano: No. 1 Larghetto bien Posé

05:07

4

Gounod: Six Melodies for Horn and Piano: No. 2 Andantino

02:19

5

Gounod: Six Melodies for Horn and Piano: No. 3 Andante

02:54

6

Gounod: Six Melodies for Horn and Piano: No. 4 Larghetto

04:43

7

Gounod: Six Melodies for Horn and Piano: No. 5 Andante Cantbile

03:30

8

Gounod: Six Melodies for Horn and Piano: No. 6 Andante ben Marcato

05:15

Richard Strauss (1864 - 1949): Concert for Horn No. 2 in E-Flat Major (Vers. For Horn and two Pianos):

9

Strauss: Concert for Horn No. 2 in E-Flat Major (Vers. For Horn and two Pianos): I. Allegro

08:35

10

Strauss: Concert for Horn No. 2 in E-Flat Major (Vers. For Horn and two Pianos): II. Andante

05:03

11

Strauss: Concert for Horn No. 2 in E-Flat Major (Vers. For Horn and two Pianos): III. Rondo Allegro Molto

05:33

Volker David Kirchner (b. 1942): Tre Poemi for Horn and Piano:

12

Kirchner: Tre Poemi for Horn and Piano: I. Lamento D'Orfeo

05:35

13

Kirchner: Tre Poemi for Horn and Piano: II. Danza D'Orfeo

02:30

14

Kirchner: Tre Poemi for Horn and Piano: III. La Gondola Funebre

05:32

Total Runtime

01:06:27
Info for Manu Scriptum

With their new album "Manu Scriptum" (from Latin: written by hand), Spanish hornist Adrián Díaz Martínez - professor of horn at the Musikhochschule Lübeck since 2021 - and his Japanese piano partner Ikuko Odai once again present an exciting concept album.
The album is inspired by the composers' manuscripts and their first sketches and ideas for their works. "Interpreting such first musical ideas" - writes Díaz Martínez - "is a particularly exciting task, because in this way you trace the original idea of these sounds."
Adrián Díaz Martínez was particularly inspired by a movement by Robert Schumann - represented on the album by the original version of his Adagio and Allegro op. 70 for horn and piano: "The first conception is always the most natural and best. The mind errs, the feeling does not."
In order to get as close as possible to this first stage in the creation of music, Ikuko Odai and Adrián Díaz Martínez embarked on a long and intensive search for information about manuscripts, old letters, books and materials often kept in secret drawers: "It was a fantastic journey. And also proved to be a wonderful gift to discover how the selected composers - Charles Gounod, Robert Schumann, Richard Strauss and Volker David Kirchner - thought, what and how they dreamed, loved and lived," says Díaz Martínez.
Adrian Diaz Martinez, horn
Ikuko Odai, piano
Ulrike Payer, piano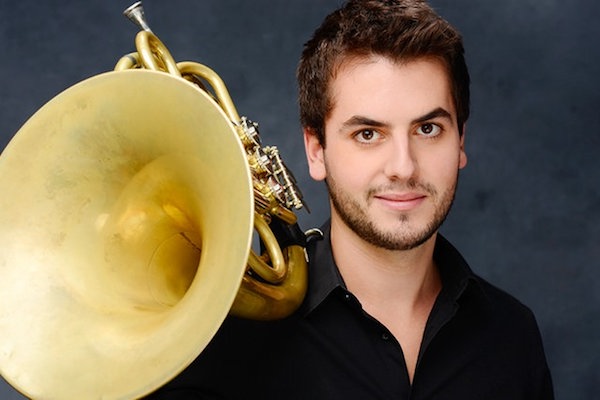 Adrian Diaz Martinez
Currently horn player in the Hamburg radio orchestra, the NDR- Elbphilharmonie Orchester, as well as a professor at the Hochschule für Musik in Hamburg.
The 26 year old hornist began his studies at the "Padre Antonio Soler School ", in San Lorenzo de El Escorial, Madrid. At a very early age he began to play with the youth orchestra of Madrid, and shortly after with the orchestra of the Schleswig-Holstein Musik Festival and the Gustav Mahler Jugend Orchester, where he would begin his international career.
Adrián completed his Bachelor and Master studies at the Musikhochschule für Musik "Hanns Eisler" Berlin, under mentorship of Professor Marie-Luise Neunecker.
He has played in orchestras, such as Konzertaus of Berlin, RSB Berlin, RTVE, Deutsche Symphonie Orchester, in the operas of Berlin and Hamburg, Bamberger Symphoniker, Mahler Chamber Orchester, etc., under the baton of directors like Alan Gilbert, Simon Rattle, Blomstedt, Sohkiev, Danielle Gatt among others, in the best halls of the world, from the Carnegie Hall in New York to the Suntory Hall in Tokyo, through the Concertgebouw in Amsterdam or the Wiener Musikverein.
In November 2017 he won the second prize and the audience prize in the renowned international horn contest "Citta Porcia" in Italy.
Adrián is one of the most demanded horn players of his generation and regularly participates in major festivals such as Zermatt in Switzerland, Mecklenburg-Vorpommen or Capella Andrea Barca, where he regularly works with artists such as Andras Schiff, Nils Mönkemeyer, Ramon Ortega, Veronika Eberle, Maximilian Hornung,...

This album contains no booklet.