---
Album info
Album including Album cover
I`m sorry!
Dear HIGHRESAUDIO Visitor,
due to territorial constraints and also different releases dates in each country you currently can`t purchase this album. We are updating our release dates twice a week. So, please feel free to check from time-to-time, if the album is available for your country.
We suggest, that you bookmark the album and use our Short List function.
Thank you for your understanding and patience.
Yours sincerely, HIGHRESAUDIO
1

Wassulu Don

03:38

2

Sira

02:57

3

Degui N'Kelena

03:54

4

Gniani Sara

03:43

5

Timbuktu

03:42

6

Sarama

03:38

7

Kanou

04:00

8

Demissimw

04:27

9

Kêlê Magni

03:35

10

Dily Oumou

04:32

11

Sabou Dogoné

03:46

Total Runtime

41:52
Info for Timbuktu

Sangare' is renowned worldwide for her vibrant and powerful music, which often features revolutionary messages about women's rights, tradition and poverty. In her 30 year career she has won numerous awards, counts among her many notable fans Alicia Keys and Beyoncé (who sampled the classic 'Diaraby Nene' for her 2019 Lion King release), and, for her tireless work on social progress and cultural development holds the prestigious titles of Goodwill Ambassador to the UN's Food & Agriculture organisation, Commander of the National Order of Mali and Chevalier of Culture in France.
"Music is within me," Oumou affirms. "Without it, I'm nothing, and nothing can take it away from me! I've put my life into this record, my whole life – this life in which I've known hunger, the humiliation of poverty and fear, and from which today, I draw glory."
'Timbuktu' is a stunning collection of songs, fusing her distinctive Malian sound and voice with elements of blues, folk and rock – resulting in a timeless body of work, free from borders and genres. Written and recorded in the US during coronavirus lockdowns, the album is the latest chapter in an unparalleled musical epic which has seen an artist born in the poorest districts of Bamako, Mali, become the greatest and most influential African singer alive, as well as a powerful feminist icon. Between the hometown pride exhibited in 'Wassulu Don', the quiet introspection of 'Degui N'Kelena', the amorous languor expressed on 'Kanou', the compassion in 'Demissimw' and the sadness and frustration in 'Kêlê Magni', many emotions nourish this record, with common threads of courage and optimism woven throughout. With 'Timbuktu', Oumou Sangaré demonstrates her endless talent, her passion and her wisdom, shining a light and leading the way for the world, through pain and strife, towards resilience, positivity and hope.
"This album is a tapestry of sound, a warp of the traditional Wassoulou rhythms and a weft of the roots of the blues from the Dobro to the slide guitar played by Pascal Danaë. However these passionate and impressionistic pieces affect you, there is no denying that the core of their strength lies in Oumou Sangaré's powerful voice, both as a writer and singer and as a proponent of women's rights. This will be a regular on my player for a long time." (Richard Hollingum, folkradio.co.uk)
Oumou Sangaré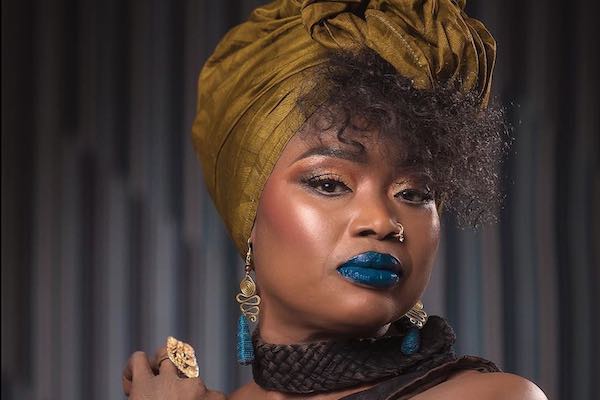 Oumou Sangare
was born in Bamako, Mali in 1969. When Oumou was two years old, her father took a second wife and emigrated to Côte d'Ivoire, leaving Oumou's mother, who was pregnant at the time, and their three small children. The struggle to keep the family afloat was the backdrop to Oumou's childhood. Oumou's mother was a singer and her main source of income was the 'sumu' (wedding and baptism celebrations organised by women) or 'street parties' as Oumou calls them. "My mother's still a fighter" says Oumou. "She brought up six children on her own, with no money. Sometimes all she could find to feed us with was wild herbs." Oumou accompanied her mother to the sumus from the age of five, and very soon was in demand in her own right. She thrilled in the atmosphere of these parties, fired in equal measure by her passion for the music and by her desire to help her mother out by earning a little extra cash. By the age of thirteen Oumou had become the family breadwinner. "That's what has given me strength in my life. It was a very hard childhood and it gave me an incredible character. I can face up to any obstacle".
"At the age of eighteen, Lamine Sidibe, the director of Mali's Instrumental Ensemble, spotted me singing in the street. After that, I joined Bamba Dembélé's 'Djoliba Percussion' band (which also included a young Toumani Diabaté), and went with them on a European tour. I was the youngest singer in the troupe but I managed to make a niche for myself. On stage, the audience would be asking for more. That's how I learned to have confidence in myself. I was singing songs from Coumba Sidibé's repertoire." Oumou credits Coumba Sidibé, Wassoulou's famous female singer of the 70s and 80s, for teaching her the values of purity, simplicity and vocal freshness.
Oumou's mother is from Wassoulou, the remote forest region in the south of Mali which boasts a rich and distinctive culture. For hundreds of years, until the beginning of the 20th century with French colonial rule, it was Mali's Wassoulou hunters who were the protectors of the villages, the providers of food, and the healers. Still today they occupy a special place deep in the Malian psyche. Their music, played on a special six string harp, is believed to have magic powers that can protect hunters and tame even the most dangerous of animals. Wassoulou hunters' music was very different from the prevailing griot-based music of the dance bands. It had strong, hypnotic dance rhythms and in contrast to the Mandé griots, whose lyrics focus more on the wealthy and the powerful, Wassoulou the lyrics talk about more general aspects of life. Oumou's vision from the outset was to bring the power and charm of this music into her own songs. "When I got back to Bamako I formed my own band, with a flute-player, a percussionist and a kamele ngoni (youth's harp) player. Then I appeared on ORTM (the national Malian Radio and Television Broadcasting Authority). The next day, an admirer sent me a brand new Yamaha Dan motorbike! That gave me the confidence to keep singing and follow my path"
Around this time she came into contact with the bass player and arranger Ahmadou Ba Guindo, leader of the legendary National Badema dance band which played traditional music on modern instruments. (Following his death in a car accident in 1991, Oumou paid tribute to Ahmadou Ba Guindo in the magnificent 'Saa Magni', which features on her album Ko Sira ('Modern Marriage'), released by World Circuit in 1993). Ahmadou gathered a group of musicians around Oumou including Aliou Traore who played western violin (and who had studied music in Havana, Cuba as a cultural exchange student) and the guitarist, Boubacar Diallo, who had also played in the National Badema. At the core of the group was a young Wassoulou kamele ngoni player named 'Benego' Brehima Diakite who has remained Oumou's main musical collaborator to this day. Oumou believes that "Today Benego is really the best player in the world, even of all time."
In 1989, after some persuasion – wary of the pitfalls that could await her if the album was not successful -, she recorded her first album Moussoulou ('Women'). It was recorded in Abidjan with arrangements by Ahmadou Ba Guindo and released on the 4th of January 1990, and it took West Africa by storm. She was 21 years old. Her songs talked openly about subjects that no one had dared express before in public in this fundamentally conservative society and caused endless debate amongst the Malian population. The album's messages were powerful - encouraging women to seek personal freedom to be themselves and have dignity, warning against the wrongs of polygamy and forced marriage and even covered the taboo subject of female sensuality, such as in her stunning hit song "Diaraby Nene" (the Shivers of Passion). This was all the more remarkable because of her chosen idiom - a slightly modernized version of the traditional, rural music of the enigmatic and mysterious Wassoulou hunters, delivered with a funk-driven pulse.
The true impact of 'Moussoulou' is still hard to gauge. The release of this cassette with its striking, deceptively simple and direct sound rocketed the previously unknown Oumou Sangare to huge fame and notoriety and its unprecedented success meant it provided a non-stop, all-enveloping soundtrack to Bamako's homes, markets, shops, cars and buses.
The cassette was brought to the attention of Nick Gold of World Circuit Records by Ali Farka Touré, and Gold witnessed the phenomenon during a trip to Bamako in 1991. "You couldn't escape that music. And you didn't want to. It was everywhere. As soon as you left a café where they were playing it, the baton was taken up by a passing car and then the next market stall. I spent that week in Bamako hearing Oumou wherever I went. And I mean EVERYWHERE."
Later that year World Circuit released 'Moussoulou' internationally to great acclaim and she has continued to record for the label ever since. Oumou has enjoyed a long and illustrious career, touring internationally and becoming recognised as the greatest female African star of her generation. She is known as the "songbird of Wassoulou" and an ambassador for the music of Mali, quite an achievement for an output of just five extraordinary albums in a twenty-year career.
Through records like 'Ko Sira' and 'Worotan' (meaning 10 kola nuts – the price given by a groom's parents in exchange for a bride), Oumou has continued to sing about the issues close to her heart, encouraging better conditions for women in society. After becoming a mother herself, she also focuses on her desire to defend children who are in difficult circumstances.
During the last twenty years she has noticed a lot of changes. "Mali has developed considerably. Today, the female population outnumbers the male. Women now play a greater role in Mali's development. It is hard for a country to move forward without its women. We have to have freedom of speech, the freedom to express ones self, to love and to choose a husband. Democracy is working. The people of Mali are free. As an artist, I am also free to say what I think."
She fights fiercely against female circumcision. "I think the country has made progress regarding female circumcision. When it was decided to abolish the practice, people were singing in the streets. The law is respected now. I think people are aware of the problems it causes. And I opened the way, to a certain extent. A lot of people now ask me for advice. The women of Mali and other African countries still continue the fight. I've shown them what they can do. I always encourage them, and I provide an example. I've sung hard to support them. My fight has always been positive, otherwise I would have quickly been discouraged. And I get a lot of support these days: 'We're with you!'"
At home in Bamako, where Oumou has remained very close to her audience, greeted and recognised wherever she goes, there is an air of natural sincerity about her that is completely genuine. "I feel relaxed here, I don't need security. I'm friends with everyone. People are always stopping me for a chat. My fans look after me," she explains, laughing, as if to ward off the inaccessible image of a star of her calibre. "I'm not allowed to make mistakes here in Mali. It's what dictates my career abroad. It's also why I take my own sweet time. I once sang on the soundtrack to Oprah's film 'Beloved'. That gave me some ideas. I would love to make a film. I'd like to play the kind of woman that would set a good example. It would be a childhood dream taken care of, for me."
Although she may have a superstar status at home, she never forgets where she came from, or the virtues of a humble background. In October 2003 she was appointed as global Ambassadress of the Food and Agriculture Organisation of the United Nations (FAO), a role that forms part of the FAO's struggle against famine. She also plays an active role in Mali's Mother and Children Association, donating millet, milk and rice to mothers in need. She believes it is the duty for those who are 'born under a lucky star' to provide for others less fortunate than them.
In recent years she has been focusing on setting up in business. The Hotel Wassulu was built in response to the Malian government's appeal to provide more hotel accommodation for visitors to the Africa (football) Cup of Nations, which was hosted in Bamako in 2002. However, Oumou also finds it useful for accommodating the large groups of visitors and friends from abroad that she meets on her travels, from New York to Paris. "I gave it that name because I wanted Wassoulou to be engraved in the memory of all Malians and it made me proud to be able to help create jobs for people"
Oumou created an initiative in 2006 to import cars from China. "I make the most of my fame. My name sells things. With Oum Sang, I launched my own brand of car. The President of Mali was so pleased that he even came to a special opening ceremony of the car showroom to cut the ribbon!"
In the Bamako market places, you can even find 'Oumou Sangaré Rice'. I don't make any money out of it, but I help make sales of Malian rice. People like to have my name on the things they need. I've also got my own farm in Baguineda, near the river, about forty kilometres from Bamako. The main crops are oranges, mandarins and a lot of maize.
But her business activities don't stop her from singing. This naturally energetic woman is sometimes away performing for three months without a break. She appears almost all over Africa, from Morocco to South Africa, by way of Nigeria and Burkina Faso. And when she's at home in Bamako, if she's not being asked to perform at private ceremonies, she'll be found singing at the Hotel Wassulu at the weekends. Oumou also continues to perform at selected dates around the world.
In 2003 she promoted the release of the 2CD collection simply titled 'Oumou', a retrospective look at her career to date. The album features 12 of the best tracks from her first three World Circuit albums, plus 8 tracks previously unreleased on CD (including 6 tracks from the best-selling Mali cassette 'Laban'). The tour included an incredible performance at WOMAD that was hailed by critics as one of the best in the festival's history. 2004 found her performing at "Global Divas" in a show that also featured Tracey Chapman at the Hollywood Bowl in the US. That year was rounded off with an amazing, live duet on French TV with the multi-Grammy winning R&B superstar Alicia Keys. This year she is invited to perform at Harvard University's celebrations to mark the 60th year since the Universal Declaration of Human Rights. In 2009, as well as headlining at the Segou festival in Mali, she will be coming to Europe for a series of dates.
On stage her natural presence, huge charisma, irrepressible energy and joie de vivre is very much in evidence. Yet it's her voice that holds you spellbound. "Here in Mali, everyone knows the way instruments sound naturally. And singing, for me, is a natural truth. I've always known how to manipulate my voice. It's still the same after twenty years, even if I've often sung too much in my life, sometimes going on tour for two or three months without a break."
Oumou's latest album "Seya",(Joy) released in 2009,has taken around two or three years to come to fruition. "I choose my songs very carefully. I learn how to put them across first on the stage." Her music is bold, seductive, funky and vibrant, but it's her lyrics that open people's eyes. "For me, the lyrics are more important than the melody. I write almost all my own words. I also perform the classics of Malian tradition. I draw a lot of inspiration from what happens in society. As soon as I see or feel something, I write it down. I say what I want, and what I think, because I am a free woman. I believe that my music has had an impact on the life of African women." "It's true that when I sing it's joyful but in amongst that joy I always take the opportunity to slip in messages that educate my nation."
Oumou continues the battle to encourage equality between men and women and sings about universal themes in life such as love, death, destiny, respect for each other, hope and harmony, not forgetting a couple of light-hearted tunes about the fun things in life. "The track 'Seya' is about a girl who has a good time. She brings joy. It's dedicated to my tailors and my stylists and those that dye the cloth. I wanted to show the courage of Malian women. They radiate every colour on this earth. I go to them for my hand-printed outfits in 'bazin' and 'tissu wax' fabrics. I give a lot of my clothes away, I don't keep them." Which explains why you hardly ever see Oumou in the same outfit twice.
Standing almost six foot tall, she is an elegant and feminine woman, sure of her taste and with a huge love of fashion. In one day, Oumou might change her look several times. She delights in surprising people, one moment the American R&B star, the next a dynamic businesswoman, or then again a real Malian diva in her traditional boubou. She bursts out laughing. "I possess the art of metamorphosis. In a boubou or in jeans, I'm unrecognisable."
An icon and role model for modern women she is both keen to encourage and embrace new ideas through her music whilst at the time she holds a deep respect for tradition and those who came before her. In the late 1990s she sought out the reclusive Wassoulou music innovator Alatta Brouleye. It was Brouleye who provided the instrument that propelled Wassoulou music to its initial urban popularity with his creation of the kamelngoni in the 1960s. The instrument was an adaptation of the traditional donso ngoni and it became known as the youth's harp because of its popularity with the young and such was its break with tradition that it was initially banned in Wassoulou villages by the elder hunters. Oumou managed to persuade Brouleye into a Bamako studio in 1998 to record his only cassette shortly before he died. On the track 'Donso' on her latest album 'Seya' she uses the traditional donso ngoni in a song that pays tribute to her father with whom she was finally reconciled in 2002 on his return to Bamako.
Oumou is an artist who is proud of her country and its diverse cultures, now recognised and appreciated throughout the world. "Mali is a country of oral tradition, which explains why music and society here are part of each other. The 32 different ethnic groups here each have their own well-developed culture. They don't need each other to make good music, even though cross-fertilisation is always good. There should still be a lot more recognition for Malian music. I deeply respect each individual artist in Mali. Our potential is incredible. Mali and its music embody the symbol of a free and victorious Africa."

This album contains no booklet.