---
Album info
Album including Album cover Booklet (PDF)
Robert Schumann (1810 - 1856): Adagio and Allegro, Op. 70:

1

Schumann: Adagio and Allegro, Op. 70: I. Adagio

04:07

2

Schumann: Adagio and Allegro, Op. 70: II. Allegro

05:00

Fantasiestücke, Op. 73:

3

Schumann: Fantasiestücke, Op. 73: I. Zart und mit Ausdruck

03:00

4

Schumann: Fantasiestücke, Op. 73: II. Lebhaft, leicht

03:32

5

Schumann: Fantasiestücke, Op. 73: III. Rasch und mit Feuer

04:34

Fünf Stücke im Volkston, Op. 102:

6

Schumann: Fünf Stücke im Volkston, Op. 102: I. Mit Humor ('Vanitas vanitatum')

02:56

7

Schumann: Fünf Stücke im Volkston, Op. 102: II. Langsam

04:09

8

Schumann: Fünf Stücke im Volkston, Op. 102: III. Nicht schnell, mit viel Ton zu spielen

04:47

9

Schumann: Fünf Stücke im Volkston, Op. 102: IV. Nicht zu rasch

01:46

10

Schumann: Fünf Stücke im Volkston, Op. 102: V. Stark und markiert

03:16

Franz Schubert (1797 - 1828): Arpeggione Sonata in A minor, D. 821:

11

Schubert: Arpeggione Sonata in A minor, D. 821: I. Allegro moderato

11:37

12

Schubert: Arpeggione Sonata in A minor, D. 821: II. Adagio

04:06

13

Schubert: Arpeggione Sonata in A minor, D. 821: III. Allegretto

09:04

Total Runtime

01:01:54
Info for Loss & Love: Schubert · Schumann

In 'Schubert & Schumann: Loss & Love', cellist Adolfo Gutierrez Arenas and pianist Josu De Solaun touch on two perennial themes that pervade all human lives. The album is a very personal one: both artists have recently lost their parents, and during a pandemic we all turn to music more than ever to find solace and a reflection of our own feelings as those experiences of loss and love are intensified.
As the artists wrote of their parents in the album booklet: "We could not think of a better tribute than to transmit through music the deep and devastating pain with which their farewell left us, and at the same time the blessing and energy in the form of eternal love that they handed down to us, rendering them as immortal as this music because only true love can remove the transcendence and burden of death."
Ultimately, via the music of Franz Schubert and Robert Schumann, it is love that wins out, rendering this an album of catharsis and hope. Both composers understood these themes well, and treat them in this music, even obliquely, with sensitivity, passion, innocence and fervour; eloquently and exquisitely.
Schubert's 'Arpeggione Sonata', originally for the arpeggione, a hybrid between cello and guitar, includes a beautiful central "song without words" framed by an inventively melodic first movement and virtuoso finale. Schumann's 'Fantasiestcke' were originally for clarinet and piano and his 'Adagio-Allegro' was initially for horn and piano, but as cello works they find new meaning, ranging from tender expression to fiery energy. Clara Schumann played the piano at the premiere of Schumann's 'Funf Stcke im Volkston' (Five pieces in Folk Style) in the Leipzig Gewandhaus in December 1859, after Robert Schumann's death. The work is a kind of suite that opens "mit Humor" (with humour) and ends with an ardent "stark und markiert" (strong and marked) movement, constructed throughout with principles of variety and contrast.
Josu De Solaun received the ICMA Award (International Classical Music Award) for his album 'Fantasque' with the violinist Franziska Pietsch, another Odradek artist, while Adolfo Gutirrez Arenas's Odradek release of the complete Beethoven Cello Sonatas was praised in 'Pizzicato' magazine as "a multi-layered, inspired dialogue that never loses its tension and intensity", and by 'Das Orchester': "... perfectly depicts the iridescent voice weightings and permanent role changes of the two instruments There are numerous moments of great delicacy and fragility, then again we hear melting cantabile, exuberant giocoso, angular counterpoint, distinctly calm and distinctly fast tempos, in short: the whole spectrum of Beethoven's expressive worlds in unadulterated, clear colours."
Adolfo Guitierrez, cello
Josu de Solaun, piano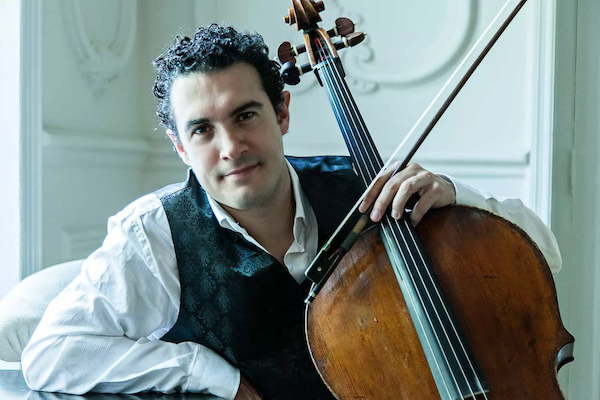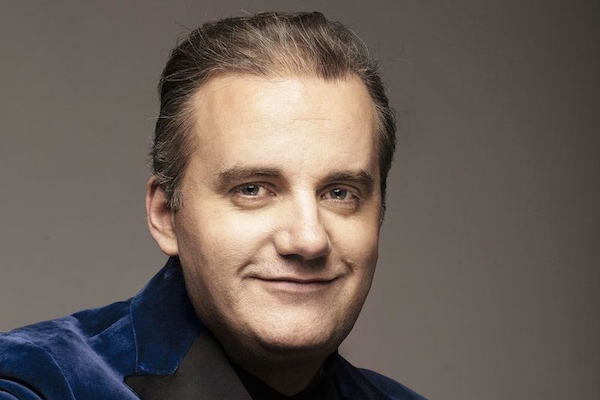 Adolfo Gutiérrez Arenas
was born in Munich of Spanish parents, where he first studied piano. At the age of 14, he began playing the cello; he graduated from the Reina Sofia School of Music and participated in master courses with cellists as János Starker and Ralph Kirshbaum. He received decisive impulses from Bernard Greenhouse, cellist of the legendary Beaux-Art-Trio and from Gary Hoffman. In 2002, he was awarded the Maurice Ravel prize of the Ravel Academy in Ciboure as soloist and chamber musician and began his international career.
In 2010, Adolfo Gutiérrez Arenas gave his debut with the London Symphony Orchestra at the prestigious concert series Ibermúsica in Madrid. Further engagements followed with the Royal Philharmonic Orchestra under Charles Dutoit and the Orquesta Nacional de España under Ton Koopman. He also performed with the London Philharmonic under Vladimir Jurowski and again with the Orquesta Nacional de España under Krzysztof Penderecki. He is a regular guest of all major Spanish orchestras. Invitations to North and South America led him to orchestras like the Fort Worth Symphony under Miguel Harth-Bedoya, the Sarasota Symphony under Anu Tali and the Orquesta Sinfónica Nacional de Colombia. He has collaborated with conductors such as Edward Gardner, Michael Tilson Thomas, Roberto Minczuk, Pablo González and Antoni Ros-Marbà. In 2021/2022, he will return to Germany to give several recitals and solo concerts, such as his debut with the Robert-Schumann-Philharmonie Chemnitz under Guillermo García Calvo.
Adolfo Gutiérrez Arenas has performed at major venues all over the world, such as the Concertgebouw Amsterdam, the Auditorio Nacional de Música in Madrid, the Ford Theatre in Los Angeles and the Palau de la Música in Barcelona.
He also is a devoted chamber musician and has appeared at festivals like the Schleswig-Holstein Music Festival, the Mendelssohn Festival of the Gewandhaus Leipzig, the Festival Música y Danza Granada, the Ravinia Festival and the Montreal Symphony Summer Festival with partners like Josu de Solaun, Gilles Vonsattel, Christopher Park and Alissa Margulis.
Among his recordings are works by Barber, Rachmaninov and Piazzolla. His recordings of Bach's six solo suites for cello and Beethoven's cello sonatas with the pianist Christopher Park (Odradek records, 2020) have been highly acclaimed. In 2019, his recording of all works for cello and orchestra by Dvořák with the Magdeburgische Philharmonie under Kimbo Ishii has been released on the label IBS Classical and also received enthusiastic reviews in Germany and abroad. He has just recorded cello works by Schubert and Schumann with pianist Josu de Solaun.
Adolfo Gutiérrez Arenas plays a cello by Francesco Ruggieri (Cremona, 1673).
Josu De Solaun
has been hailed by the international press for his "poetic sense of sound, artistic vision and brilliant virtuoso skills, entirely at the service of the works being performed." Nikolaus Frey, Fuldaer Zeitung. He is an extraordinarily prolific pianist-composer performing in many of the world's most celebrated halls as concerto soloist, chamber musician, solo piano recitalist and solo improviser and composer. He is also a published poet.
The opening of the 2020 – 2021 season featured his debut free improv concert, panDEMiCity, in León, in March 2021 – (recorded live for release in July 2021), as well as performances as concerto soloist with orchestras in Spain, Czech Republic and Romania. In 2021, he also received the prestigious ICMA Award (International Classical Music Award) for his recording of French violin Sonatas with violinist Franziska Pietsch. His latest solo album of works by Brahms and Schumann for the IBS Classical label has garnered excellent reviews. This summer he will record both Liszt Piano Concerti as well as Totentanz with the Moravian National Philharmonic.
First Prize winner of the XIII George Enescu International Piano Competition, Bucharest (also won by legendary pianists Radu Lupu and Elisabeth Leonskaja), the XV José Iturbi International Piano Competition and the First European Union Piano Competition, Spanish-American pianist Josu De Solaun has been invited to perform in distinguished concert halls throughout the world, including the Romanian Athenaeum, Bucharest, Teatro La Fenice, Mariinsky Theatre, The Kennedy Center Concert Hall, Carnegie Hall, Metropolitan Opera, London's Southbank Centre, Salle Cortot, Leipzig's Schumann Haus, Taipei's Novel Hall, Mexico City's Sala Silvestre Revueltas, Prague's Nostitz Palace, Academia de España, Menton Festival International de Musique, and all the major cities of Spain. He is the only pianist from Spain to win the Enescu and Iturbi competitions in their respective histories, and was recently invited to a private reception with the King and Queen of Spain at the Royal Palace after winning the coveted Bucharest prize. In 2019 he was given the title of Officer of Cultural Merit, a state decoration, by Klaus Iohannis, president of Romania.
Beginning at a young age, he has performed in France, Georgia, Italy, Russia, Ukraine, Canada, Germany, Japan, China, Bulgaria, the Czech Republic, Poland, the Netherlands, Mexico, Chile, and Switzerland as a recitalist, chamber musician, and concerto soloist, playing under conductors such as Constantin Orbelian, Ormsby Wilkins, Gheorghe Costin, Rumon Gamba, Romeo Rimbu, Ilarion Ionescu-Galati, Robert Houlihan, Karl Sollak, Marco de Prosperis, Alvise Casellati, Ovidiu Balan, Horia Andreescu, Radu Postavaru, Christian Badea, Bruno Aprea, Ramón Tébar, Justus Frantz, Francesco Angelico, Yaron Traub, Max Bragado, Paul Daniel, Ryan Haskins, Constantin Grigore, Theodore Kuchar, Jonathan Pasternack, Yuri Krasnapolsky, Alexis Soriano, Francisco Valero, Shinya Ozaki, Radu Gabriel Ciorei, Manuel Hernandez Silva, and Miguel Ángel Gómez Martínez, among others, as well with orchestras such as the Mariinsky Theatre Orchestra of Saint Petersburg, Orchestra Filarmonica la Fenice of Venice, George Enescu Philharmonic of Bucharest, Bucharest Radio Orchestra, Timisoara Philharmonic, Cluj Philharmonic, Oradea Philharmonic, Brasov Philharmonic, Ploiesti Philharmonic, Iasi Philharmonic, Targu Mures Philharmonic, Satu Mare Philharmonic, Orquesta Sinfónica de Bilbao, Orquesta de Valencia, Rudolf Barshai Moscow Chamber Orchestra, Sioux City Symphony Orchestra, Monterey Symphony Orchestra, Orquesta Sinfónica de Euskadi, Mexico City Philharmonic Orchestra, Janacek Philharmonic Orchestra, Real Filharmonia de Galicia, Orquesta Sinfonica de Galicia, Malaga Philharmonica Orchestra, Moravian Philharmonic Orchestra, Orquesta Sinfonica de la Region de Murcia, Spain's Radio and Television Orchestra (RTVE), American Ballet Theatre Orchestra of New York, Lviv Philharmonic Orchestra of Ukraine, and Bari Philharmonic Orchestra of Italy. His performances have been broadcast on Spanish National Radio and TV, Taiwanese National TV, Czech National TV, as well as on New York's WQXR, Princeton's WPRB, and Chicago's WFMT.
His repertoire includes rare piano concerti such as Leonard Bernstein's Symphony Nr. 2 "The Age of Anxiety", Giuseppe Martucci's 2nd Piano Concerto, Britten's Diversions, Hummel's A-Minor piano concerto, Constantinescu's Piano Concerto, as well as the complete concerti of Liszt, Rachmaninov, Prokofiev, and Bartok. He is also an avid improviser and frequently plays totally improvised solo piano recitals.
His creative voice is expressed in a large range of recordings including the incomparably virtuosic complete works for piano of George Enescu for the NAXOS Grand Piano label, Stravinsky's "Les Noces" with Joann Falletta conducting, two chamber music discs for the German Audite label, the live, improvised León recital and beloved piano music of Schumann and Brahms for the IBS Classical Label. Next season will feature the premiere of his own piano concerto and releases of new recordings of Haydn Sonatas, and Piano Trios, Enescu's Complete Chamber Music, plus a disc of Czech piano music. His volume of poetry in 2021 titled "Las Grietas" was published by EDICTORALIA.
Josu De Solaun is a citizen of Spain and the United States, where he earned his doctorate at the Manhattan School of Music. His two main musical mentors in New York were pianists Nina Svetlanova (a pupil of Heinrich Neuhaus) and Horacio Gutierrez, as well as composers Giampaolo Bracali and Salvador Chuliá (this last one in his native Spain) . He also studied chamber music with Isidore Cohen of the Beaux-Arts Trio, and piano privately with Albert Lotto and Edna Golandsky, both of which he considers fundamental influences in his approach. He resided in New York city from 1999 to 2019.
He currently resides in Madrid where he helped craft the entire performance curriculum to teach young artists from around the world at the Musical Arts Madrid academy, where he is also Visiting Professor.

Booklet for Loss & Love: Schubert · Schumann