---
Album info
Album including Album cover
I`m sorry!
Dear HIGHRESAUDIO Visitor,
due to territorial constraints and also different releases dates in each country you currently can`t purchase this album. We are updating our release dates twice a week. So, please feel free to check from time-to-time, if the album is available for your country.
We suggest, that you bookmark the album and use our Short List function.
Thank you for your understanding and patience.
Yours sincerely, HIGHRESAUDIO
1

Are You Ready

03:26

2

Total Destruction to Your Mind

04:24

3

Higher Ground

05:13

4

God Bless the Child

07:10

5

I Remember

05:34

6

Body Talk

05:22

7

Gypsy Woman

07:03

8

I Just Want to Make Love to You

04:04

9

Love, Peace, Happiness

03:13

10

What the World Needs Now Is Love Sweet Love

05:29

11

Mercy Mercy Me (The Ecology)

04:03

12

Let the Rain Fall On Me

06:27

13

Let There Be Peace On Earth

04:37

Total Runtime

01:06:05
Info for Power Of Peace

About five years ago guitarist Carlos Santana ran into a singer he has revered since hearing the original version of "Twist and Shout" in 1962: Ron Isley, of the legendary Isley Brothers. That meeting resulted in the new album, Power of Peace. Maurice DuBois went to St. Louis to talk with the stars of the new album: Ron Isley and his wife, Kandy Johnson Isley; Ernie Isley and his wife, Tracy; and Carlos and Cindy Blackman Santana.
Led by the legendary Ronald Isley on lead vocals and the album's main producer/arranger Carlos Santana on lead guitar, rhythm guitar, percussion and background vocals, Power of Peace covers songs first made familiar by the Chambers Brothers ("Are You Ready" "Love, Peace, Happiness"), Swamp Dogg ("Total Destruction to Your Mind"), Stevie Wonder ("Higher Ground"), Billie Holiday ("God Bless the Child"), Eddie Kendricks ("Body Talk"), Curtis Mayfield ("Gypsy Woman"), Muddy Waters/Willie Dixon ("I Just Want to Make Love to You"), Dionne Warwick/Jackie DeShannon ("What the World Needs Now is Love Sweet Love"), Marvin Gaye ("Mercy Mercy Me - The Ecology"), Leon Thomas ("Let the Rain Fall on Me") and Sy Miller and Jill Jackson ("Let There Be Peace on Earth"). Power of Peace also premieres a new song, "I Remember," written and sung by Cindy Blackman Santana.
"I feel a deep sense of gratitude, appreciation, and thankfulness. There is a spirit of creativity that came knocking and presented itself as a golden opportunity to do something with and for a supreme musician, who I consider to be the best in the world. Brother Ronnie Isley has been in the center of collective unity and harmony on the radio around the world since 1962 with 'Twist and Shout,' the song that the Beatles chose to invade America with. Like Michael Jackson, John Lennon, and Bob Marley, he's an iconic supreme of the highest order. Cindy and I feel very blessed to offer him this gift. From God, through us to you, for the world…Mr. Ronnie Isley." (Carlos Santana)
The Isley Brothers, vocals
Carlos Santana, guitar
Cindy Blackman Santana, drums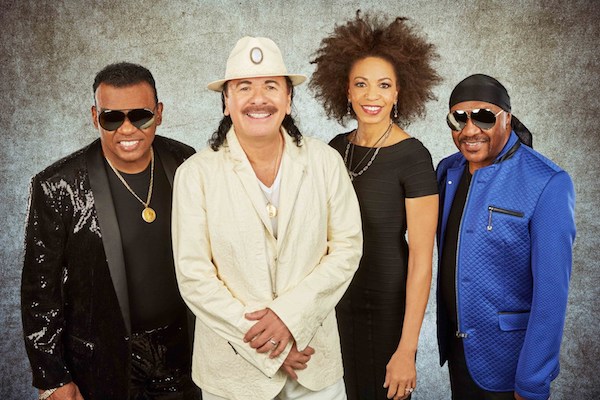 Carlos Santana
Delivered with a level of passion and soul equal to the legendary sonic charge of his guitar, the sound of Carlos Santana is one of the world's best-known musical signatures. For more than four decades—from Santana's earliest days as a groundbreaking Afro-Latin-blues-rock fusion outfit in San Francisco—Carlos has been the visionary force behind artistry that transcends musical genres and generational, cultural and geographical boundaries.
Long before the category now known as "world music" was named, Santana's ever-evolving sound was always ahead of its time in its universal appeal, and today registers as ideally in sync with the 21st century's pan-cultural landscape. And, with a dedication to humanitarian outreach and social activism that parallels his lifelong relationship with music, Carlos Santana is as much an exemplary world citizen as a global music icon.
Santana's star arrived in the era-defining late 1960s San Francisco Bay Area music scene with historic shows at the Fillmore and other storied venues. The group emerged onto the global stage with an epic set at the Woodstock festival in 1969, the same year that its self-titled debut LP Santana came out. Introducing Santana's first Top 10 hit, "Evil Ways," the disc stayed on Billboard's album chart for two years and was soon followed by two more classics — and Billboard #1 albums — Abraxas and Santana III.
Ever since, for more than forty years and almost as many albums later, Santana has sold more than 100 million records and reached more than 100 million fans at concerts worldwide. To date, Santana has won 10 GRAMMY® Awards, including a record-tying nine for a single project, 1999's Supernatural (including Album of the Year and Record of the Year for "Smooth"). In 1998, the group was ushered into the Rock and Roll Hall of Fame, whose website notes, "Guitarist Carlos Santana is one of rock's true virtuosos and guiding lights."
Among many other honors, Carlos Santana received Billboard Latin Music Awards' 2009 Lifetime Achievement honor, and, he was bestowed Billboard's Century Award in 1996. He has also been cited by Rolling Stone as #15 on the magazine's list of the "100 Greatest Guitarists of All Time"—"Santana's crystalline tone and clean arcing sustain make him the rare instrumentalist who can be identified in just one note." And, with the 2010 release of Guitar Heaven: The Greatest Guitar Classics of All Time, Santana joined the Rolling Stones as one of only two music acts in Billboard history to score at least one Top Ten album in each decade from the 1960s on. In 2013, Santana was the recipient of the 2013 Kennedy Center Honors Award.
Santana's new album Corazón (RCA/Sony Latin Iberia) due out May 6, 2014 is a collaborative effort with the biggest names in Latin music including ChocQuibTown, Lila Downs, Gloria Estefan, Fabulosos Cadillacs, Juanes, Ziggy Marley, Miguel, Niña Pastori, Diego Torres, Samuel Rosa of Skank, Cindy Blackman Santana, Romeo Santos, Soledad, Wayne Shorter, and more. This is Santana's first Latin music album of his iconic career. In April & May of 2014 HBO Latino & HBO Latin America will celebrate the release with multiple HBO specials through a two part TV event: a behind the scenes reality themed special called Santana: De Corazón and the airing of his mega concert and documentary Santana-Corazón: Live From Mexico, Live It To Believe It. Both specials include performances from the all-star line up that graces the album Corazón.
Beyond music, in the lifestyle and entertainment realm, River Of Colors (ROC) has enjoyed tremendous success with the Carlos by Carlos Santana and Unity by Carlos Santana brand names. Founded in 1997, ROC is dedicated to bringing products to market that embody the passion and integrity of Carlos Santana—and that are true to his distinctive style and taste. ROC's endeavors encompass products including shoes, handbags, headwear and sparkling wine, as well as signature musical instruments including electric guitars and hand percussion instruments. ROC products are distributed at better retail stores internationally. For more information, visit www.santana.com. The arc of Santana's performing and recording career is complemented by a lifelong devotion to social activism and humanitarian causes. The Milagro Foundation, originally established by Carlos Santana and his family in 1998, has granted more than five million dollars to non-profit programs supporting underserved children and youth in the areas of arts, education and health. Milagro means "miracle," and the image of children as divine miracles of light and hope—gifts to our lives—is the inspiration behind its name.
The Isley Brothers
formed in the early 1950s in Cincinnati, Ohio and today are considered one of the most important and influential groups of the last half-century. Though raised primarily on the sounds of gospel music, the family band went on to experiment and record under the genres of doo-wop, R&B, rock 'n' roll, soul, Motown, funk, quiet storm, disco, pop and hip-hop, all the while remaining true to their vision and voice. After leaving Cincinnati in 1957 for New York City, the group scored their first hit with the call-and-response classic "Shout" (now covered by countless bands across the country) and in 1962 reached true mainstream success with "Twist and Shout," which became their first Top 40 hit on both the pop and R&B charts. At the end of the decade, The Isley Brothers scored another phenomenally successful hit with "It's Your Thing" which earned them the 1969 Grammy Award for Best R&B Vocal Performance and lead into their 1970s rock-disco crossover period, rounded out by the addition of three new members. Their 1973 album, 3 + 3, featured the Latin percussive rock classic "That Lady" and went on to be certified gold, while the 1975 landmark album The Heat Is On showcased the political funk anthem ""Fight the Power Pts. 1 & 2." After some members branched out to form Isley-Jasper-Isley in 1984, the group carried on as a duo, and in 1992 was inducted into the Rock & Roll Hall of Fame. Continuing steadily after the success of 1996's Mission to Please, the group returned to the top of the charts with Eternal's 2001 hit, "Contagious." 2003 saw the gold certification of Body Kiss, and 2006's Baby Makin' Music peaked at No. 5. All in all, The Isley Brothers are of the rarest breed in the history of recorded music, maintaining a special and vital place for nearly fifty years.
Cindy Blackman Santana
is a virtuoso drummer whose artistry spans the realms of jazz and rock. As a bandleader and as a musician, Cindy is a sound innovator with a passion for pushing creative boundaries and exploring movement and change. She is as known for the nuances and colors she brings to her beats and fills as she is for the sheer power of her soulful playing. "Some drummers act, some react. Some keep time, others create it. Cindy Blackman Santana is among the few who can," writes Mike Zwerin for the International Herald Tribune.
"I think of playing as controlled freedom, and in jazz, especially, that's exactly what you have. I love it," says Cindy. "You know the forms of the songs, but you have the freedom to stretch over them. You want the music to grow and breathe, and you want to invite creativity from all the musicians. As you're going along, you can change the color, the feel, the mood in different ways, or go off the chart and open it up to something new. Controlled freedom is an incredible discipline in itself, requiring a lot of focus. Improvisation like that is art in its highest form."
Cindy has been creating magnificent musical time and space since the beginning of her career as a busking street performer in New York City in the '80s through the present day, touring the globe and making albums at the top of her game—including her latest, the critically acclaimed Another Lifetime (2010). In addition to collaborating onstage and in-studio with her own group—also known as Another Lifetime—she has toured and recorded with artists including Pharoah Sanders, Cassandra Wilson, Bill Laswell, Joss Stone, Joe Henderson, Buckethead, Don Pullen, Hugh Masakela, and Angela Bofill. From 1993 to 2007, she was also the drummer in Lenny Kravitz's band, through multiple world tours and hit albums. In 2010, she was part of the all-star line-up performing "Bitches Brew," a tribute to Miles Davis' seminal album staged at the San Francisco Jazz Festival and NYC Winter JazzFest.
More recently, Cindy has been sitting in with Santana on the road. "They have a great band vibe. It's nice to play with people who have grown together, built a sound together, and stayed together," she says. "When that happens, you can create so many different levels of communication. That's what they've done, and I love interacting with it." Cindy first played with Santana in spring 2010, when drummer Dennis Chambers had a previous commitment. They had first met several years earlier at a festival in Europe when Cindy was touring with Kravitz.
Electricity onstage generated chemistry offstage—Carlos proposed to Cindy during a July 2010 concert, and they married in December. Looking ahead, they will collaborate artistically as well, on projects that will no doubt reflect their shared passion for improvisation, and belief in the transcendent nature of music. "To me, music is completely spiritual, it's the way you connect with your higher self, with the universe," says Cindy. "It's also a way to share light with millions of people. They don't need to speak your language, have your beliefs, or be in the same place you are. The music speaks, it channels good energy, and makes a difference in people's lives. Carlos and I are both conscious of doing that."
On her own, Cindy is continuing to develop the heady jazz-rock fusion that she drives so powerfully on 2010's Another Lifetime. The tour de force album is a tribute to her mentor, the legendary drummer Tony Williams, and features reimaginings of eight songs from his seminal '70s group Lifetime, as well as three original tracks by Cindy. In its review, All About Jazz wrote, "Blackman's sonic explorations take jazz-rock beyond where the late drummer envisioned it when he was putting heads to bed with guitarist John McLaughlin, bassist Jack Bruce and organist Larry Young…Jazz-rock as performed by Williams, and now Blackman, is very much alive and well." The Guardian (U.K.) review called it "a firebreathing session," adding "the mad-axeman guitar and boneshaking drumming this style invites is certainly present…but Blackman balances it with tonal splashes of abstract colour."
"I loved everything about Tony's playing. He changed the sound of music several times with different tunings and configurations, and innovated with every limb," says Cindy—who first met Williams in her teens when he did a clinic at the drum shop near her home in Connecticut. "His attitude and bravado behind the kit was incredible, and his technique was impeccable." Another Lifetime was recorded on both coasts, with New York sessions featuring Mike Clarke, Doug Carn, and Benny Reitveld accompanying Cindy, and L.A. sessions including Vernon Reid, Patrice Rushen, Joe Lovano, and David Santos. Going forward, Cindy is planning to incorporate more of a vocal element into her music.
Cindy remembers first asking for drums when she was about five or six—"My mom says I was born hitting things and making rhythms," she says. She graduated from a toy drum kit to her first professional one at age 13, and went on to play in her high school band. She was living in New York just a few years later. Cindy took advantage of abundant opportunities to see legendary drummers perform live, including Max Roach, Al Foster, Jack DeJohnette, Roy Haynes, and Art Blakey, who became another of her major influences and mentors. Outside of the jazz realm, other greats she admires include Clyde Stubblefield (James Brown), John Bonham (Led Zeppelin), and Mitch Mitchell (Jimi Hendrix).
Her recording career began in the late '80s, and she has released albums with an acoustic ensemble—the Cindy Blackman quartet—as well as with her electric outfit. One she cites as among her favorites is 2000's Works On Canvas. "I like where the band was at that point, our sound was becoming really cohesive," she says. The review in Jazz Times noted that the album, "proceeds like an impressionistic suite in which she not only functions as the main rhythmic engine of the music, but also a magnificent colorist…Works on Canvas is an amazing portrait of one of this generation's most colorful drummers."

This album contains no booklet.