---
Album info
Album including Album cover
1

Way In

03:42

2

Life After Smile

04:58

3

Long Time No See

04:37

4

Get Going

05:43

5

Industrial Escape

09:37

6

Quite Evident

05:00

7

Tiptoe Cat

04:19

8

Explanation of a Lie

03:30

9

Save Your Space

04:50

10

Last Step to Lightness

03:37

Total Runtime

49:53
Info for Tales from the Edge

Guitar, drums and bass – sometimes it doesn't take more to create great music. The Berlin-based guitarist Marcus Klossek has been keeping his electric trio alive for 10 years now, and the new album "Tales from the Edge" was also recorded in the tried-and-tested line-up.
"It is the platform that lets me realize my songs," Klossek stated in a lapidary way. "For some reason, I keep returning to this formation. It is simply the ideal line-up for my compositions."
Klossek composed 10 new songs for the album, and most of them are slimly structured and live from a transparent sound. But Klossek is by no means a purist. "I've been trying to integrate other sounds for some time now," he stated. "Our bassist Carsten Hein contributes spacey effects in a completely improvised way in 'Industrial Escape'. He can provide quite a lot in that respect. For me, this is an important extension of the sound, including the fact that the guitar is not in the foreground all the time."
Klossek does not exclude his own instrument from the expansion of the range of sounds; his Fender Telecaster also breaks out from well-known timbres here and there. "I also incorporated some delay effects in 'Save Your Space'," Klossek said as an example. "I try to get away from sounding as dry as a typical guitar trio, and I like these echo effects and loops quite a bit."
The already mentioned Carsten Hein is still at his side. The bassist is just as at home in rock and pop as he is in jazz and has already worked with artists as diverse as Neneh Cherry, Ivy Quainoo, Mellow Mark and Kristiina Tuomi. Marcus Klossek appreciates him for many reasons.
"When I send him new pieces, Carsten always prepares meticulously," the guitarist stated. "He notices where his spots are and comes up with something for them. The pieces take more shape after two or three rehearsals, and he is a very important partner, because he thinks a lot. Many passages are also completely improvised, and I depend on his creativity there."
Derek Scherzer sits behind the drums, who is also a sought-after musician and has already played with Ken Norris, Herb Geller, Ulita Knaus, Roger Cicero, Don Friedman and Dusko Goykovich. He is of course essential for electric trio. "Derek is super important," Marcus Klossek emphasized. "He plays very vividly and is much more than just a timekeeper. He improvises with Carsten and me, but still keeps the sound from getting out of hand. He is good at reading notes and grasping the music, but above all he is a gifted improviser."
Together, the three musicians repeatedly set accents that let the vitality and freshness of Klossek's songs shine. The guitarist is a productive composer who can't precisely name from where his inspiration comes.
"I have some small ideas, but I don't even know where they come from," Klossek shrugged, but then related in more detail: "I then try to make a piece out of small melodies and chords. But I don't compose all the time, but instead do it in phases."
Only the album title was not chosen by chance by Klossek. "Tales From The Edge" illustrates something of the tension of the musicians, who fly over small abysses and large gorges like in a wire rope act – a tension that you don't even hear from the casual music of the trio, because they actually work together like clockwork.
They avoid crashes in the process, but they are always possible in principle. "The title expresses the adventure of improvisation," Klossek said, "in which you always take a certain risk, because it can also backfire."
Marcus Klossek, electric guitar
Carsten Hein, electric bass
Derek Scherzer, drums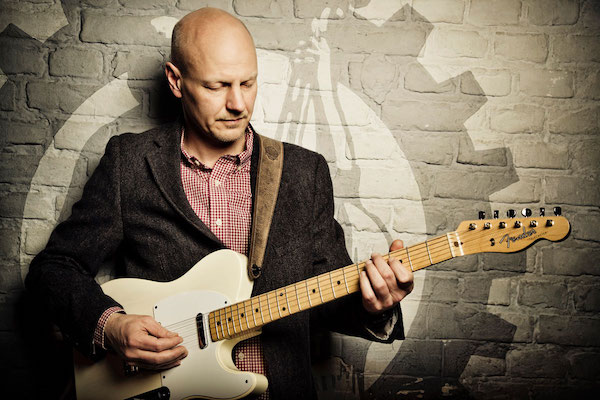 Marcus Klossek
belongs to that group of guitarists who play jazz on a Fender Telecaster - the original form of the electric guitar, so to speak.
A group in which any number of unmistakable individualists can be found, think of Ed Bickert, Bill Frisell, Mike Stern, Jim Campilongo or Jakob Bro.
Marcus Klossek is an established authority on the Berlin jazz scene who knows how to get to the point with his Electric Trio.
The brand new album "Time Was Now", his 8th release as a bandleader and the first for Double Moon/ Challenge Records is further proof of the guitarist's exceptional skills as a songwriter and storyteller.
Since his studies at the Amsterdam University of the Arts, Marcus Klossek has been touring countless club and festival marathons in Germany and Europe. He has also worked for many years as a sought-after lecturer for guitar, ensembles and workshops worldwide.
Along the way, his virtuoso playing has made him one of the busiest musicians with dozens of guest appearances on recordings of bands and projects in the German jazz scene.

This album contains no booklet.