---
Album info
Album including Album cover
I`m sorry!
Dear HIGHRESAUDIO Visitor,
due to territorial constraints and also different releases dates in each country you currently can`t purchase this album. We are updating our release dates twice a week. So, please feel free to check from time-to-time, if the album is available for your country.
We suggest, that you bookmark the album and use our Short List function.
Thank you for your understanding and patience.
Yours sincerely, HIGHRESAUDIO
1

Little Bones (2021 Remaster)

04:45

2

Twist My Arm (2021 Remaster)

03:57

3

Cordelia (2021 Remaster)

04:11

4

The Luxury (2021 Remaster)

03:40

5

Born In The Water (2021 Remaster)

03:26

6

Long Time Running (2021 Remaster)

04:23

7

Bring It All Back (2021 Remaster)

04:41

8

Three Pistols (2021 Remaster)

03:48

9

Fight (2021 Remaster)

05:59

10

On The Verge (2021 Remaster)

03:54

11

Fiddler's Green (2021 Remaster)

04:25

12

The Last Of The Unplucked Gems (2021 Remaster)

02:04

13

Ouch

03:14

14

Not Necessary

03:07

15

Montreal (Live)

03:49

16

Crack My Spine Like A Whip

03:17

17

Just As Well

02:39

18

Reformed Baptist Blues

03:30

19

Cordelia (Outtake)

04:13

20

Bring It All Back (February 1990 Demo)

04:50

21

Fiddler's Green (Alternate Version)

04:49

22

Fight (Outtake)

06:10

23

Born In The Water (Outtake)

03:30

24

Little Bones (Alternate Acoustic Version)

01:38

25

If You Lived Here (June 1990 Demo)

03:49

26

Angst On The Planks (Demo Version Of Cordelia)

03:22

27

The Last Of The Unplucked Gems (Full Length Version)

03:47

Total Runtime

01:44:57
Info for Road Apples (Remastered Deluxe Edition)

Newly remastered 30th Anniversary Edition: "Road Apples" is the second studio album by Canadian rock band The Tragically Hip. It was their first album to reach No. 1 in Canada. The album has been certified Diamond in Canada. The album contains the hit singles "Three Pistols", "Little Bones," and "Twist My Arm." During the Hip's last tour, in 2016, songs from this album were played live on a regular basis, featuring the above mentioned songs as well as "Long Time Running", "Last of the Unplucked Gems", "The Luxury", and "Fiddler's Green." References to many prominent figures were used, including Tom Thomson and Jacques Cousteau, as well as political situations in Sault Ste. Marie, Ontario. The track "Fiddler's Green" was written for Gord Downie's young nephew, who died during the writing of the album. Because of the personal nature of the song, the Hip did not play it live often, but they played it on a regular basis during their final tour.
The name of the album is an American slang term for horse droppings; with allusion to the fact that along the side of a road they can be found in shape and size of apples. The album's original working title was Saskadelphia, but this was rejected by the record label as likely to confuse listeners; however, the title was later reused for a 2021 EP of previously unreleased rarities from the Road Apples sessions.
With all tracks completely remastered in 2021 by Ted Jensen at Sterling Sound in Nashville, for the first time, fans will hear music from the band with all the grit, vibrancy, and passion of their original recordings, second only to being in the recording studio with them.
"The Tragically Hip have always taken a certain modest pride in their Canadian roots. The group wanted to title their third album "Saskadelphia," but the record label found it "too Canadian." The group then suggested Road Apples, local slang for frozen horse-droppings, and the record label, unaware of its meaning, liked it. Don't let the title fool you; Road Apples is some of the best of the Hip's best work. Recorded in New Orleans under the watchful eyes of producers Don Smith and Bruce Barris, Road Apples is a more polished effort than the group's previous two albums. Smith and Barris have created a cleaner, more efficient sound that complements lead singer Gord Downie's manic energy. Equally impressive is the work of guitarist Bobby Baker. The Southern twang on "Twist My Arm" as well as the raw power of "Little Bones" and "Long Time Running" illustrate Baker's skill and dexterity. The ballad "Fiddler's Green" is a pleasant departure and is as effective as any of the other tracks on the album. All in all, the straight-ahead roots rock of Road Apples is a perfect example of why the Tragically Hip are legends north of the 49th parallel. American audiences have yet to catch on, but they would be doing themselves a favor by not stepping aside Road Apples." (Jon Azpiri, AMG)
The Tragically Hip Digitally remastered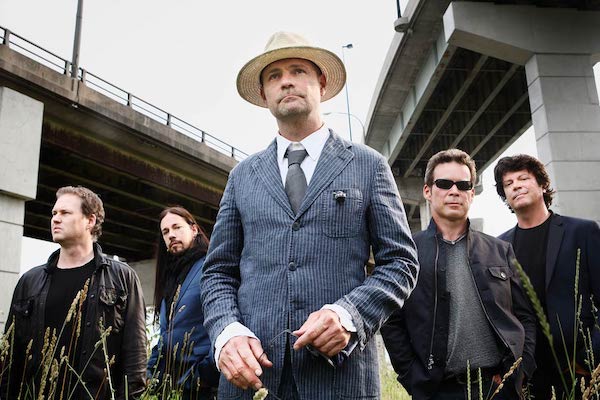 The Tragically Hip
Critically acclaimed for more than three decades, The Tragically Hip has been at the heart of the Canadian musical zeitgeist, evoking a strong emotional connection between their music and their fans that remains unrivalled in this country. A five-piece group of friends including Rob Baker (guitar), Gord Downie (vocals, guitar), Johnny Fay (drums), Paul Langlois (guitar) and Gord Sinclair (bass), who grew up in Kingston, Ontario, The Hip has achieved the enviable status of a band that enjoys both mass popularity with more than 8 million albums sold worldwide, as well as peer recognition through 16 Juno Awards - and the fourth-most ever for an artist – picking up their last two in for Group of the Year and Rock Album of the Year for Man Machine Poem. Their studio catalogue includes their self-titled debut album The Tragically Hip (1987), Up To Here (1989), Road Apples (1991), Fully Completely (1992), Day For Night (1994), Trouble At The Henhouse (1996), Phantom Power (1998), Music @ Work (2000), In Violet Light (2002), In Between Evolution (2004), World Container (2006), We Are The Same (2009), Now For Plan A (2012) and Man Machine Poem (2016). Through their career the band became a cultural touchstone in Canada; receiving the distinguished Order of Canada and even being featured on a set of postage stamps. The band's final concert in their hometown of Kingston, Ontario took place on August 20th, 2016 and was broadcast nationally on CBC to a record breaking audience of 11.7 million, the second highest audience ever in Canada.

This album contains no booklet.