---
Album info
Album including Album cover
1

Africa

04:46

2

Ain't No Sunshine

04:03

3

Ain't Nobody

04:31

4

Glamorous Life

03:47

5

I'll be Around

05:58

6

Mas Que Nada

04:45

7

Overjoyed

04:35

8

Until You Come Back to Me

04:17

9

Rhythm of the Night

05:50

Total Runtime

42:32
Info for Rhythm of the Night

2021 Latin Grammy Lifetime Award honoree and legendary Percussionist Pete Escovedo "Pops" is an artist who broke down the barriers between Smooth Jazz, Salsa, Latin Jazz and contemporary music. His name has been synonymous in the music industry for more than 50 years. Pete Escovedo is known worldwide for his live performances, session work and solo albums. He has recorded ten acclaimed solo albums, two albums with his daughter Sheila E., and the Latina Familia live album with Sheila E. and Tito Puente. Produced and arranged by son Peter Michael Escovedo, Rhythm of the Night is a collection of nine "Old School" Soul & R&B hits, re-arranged and transformed into an explosion of Latin Jazz articulated through a fourteen-piece Latin Jazz Orchestra.
Rhythm of the Nights features Simon Russell on "Ain't No Sunshine"; Sy Smith on "Ain't Nobody", "I'll be Around" and "Until You Come Back to Me"; Justo Almario on "Mas Que Nada"; Debi Nova (Best Latin Pop or Urban Album nominee at 2020 Grammy Awards) on "Rhythm of the Night"; Pop's son aclaimed producer Peter Michael Escovedo on "Overjoyed"; and his iconic daughter Sheila E. on her solo breakthrough hit "Glamorous LIfe", which peaked at number 7 the Hot 100 and also topped the dance charts for two weeks upon it's initial release. The video for the song would bring three MTV Award nominations for Best Female Video, Best New Artist, and Best Choreography. She also received two Grammy Award nominations for Best New Artist and Best Pop Vocal Performance Female.
"Pete Escovedo fell in love with Afro-Caribbean music as a young man and decided to follow his passion, founding a jazz sextet with family members that evolved into the iconic Chicano rock band Azteca in 1972. Five years later, Escovedo launched a solo career, unifying elements of jazz, salsa and Latin soul under the elegant groove of his timbales." - The Latin Recording Academy
Pete Escovedo, timbales
Peter Michael Escovedo, vocals
Sheila E., timbales
Juan Escovedo, congas
Jonathan Montes, keyboards
Oskar Cartaya, bass
Ray Obiedo, guitar
Arturo Velasco, trombone
Francisco Torres, trombone
Mike McGuffy, trumpet
Justo Almario, saxophone, flute
Sy Smith, vocals
Simon Russell, vocals
Debi Nova, vocals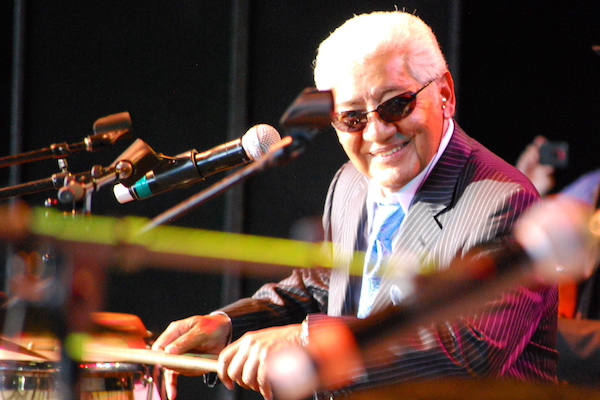 Pete Escovedo
Legendary percussionist Pete Escovedo is an artist who has broken down the barriers between smooth jazz, Salsa, Latin jazz and contemporary music. Working in the music industry for more than 50 years, Pete is known worldwide for his live performances, session work and solo albums.
As a young boy he would sit on the steps of nightclubs and watch musicians play. Music became his outlet. When he was 15 years old he began to also sketch and paint on wood or cardboard. Anything he could get his hands on, he would start to draw. His first instrument in school was the saxophone. It didn't take long to discover that this was definitely not his calling. He decided to try another instrument, bongos. The first bongo set was made out of coffee cans and tape, and he painted it himself. He was determined to play. Pete did not know that his love for music and art combined would change his life forever.
His brothers, Coke and Phil, joined Pete and formed The Escovedo Brothers Latin Jazz Sextet. They played all over town, carrying their own instruments on the bus to get to their next gig and earn their $50. They played in famous places like the Matador, Jazz Workshop, The Tropics and Basin St. West. The three brothers stuck together. After their late night gigs they would get something to eat and talk about music, traveling and being famous one day. Music was everything to them, it was their life.
Pete and Coke went on tour with guitarist Carlos Santana. Pops toured with Santana for three years, performing internationally and playing on the albums Moonflower, Oneness, and Inner Secrets. To have the amazing opportunity to play percussion with Santana was like a dream he would never forget but something in his soul was still struggling. Pete's vision grew bigger, and he needed to make a name for himself and for the music that kept playing in his mind. He finally decided that it was time to leave.
In the 1970s Pete and Coke Escovedo founded the band Azteca and recorded two albums for Columbia, a self titled album and Pyramid Of The Moon. They made a name for themselves, and accomplished their dream. From the 70s until now, Pete has performed and toured with many great and respected artists, such as Herbie Hancock, Mongo Santamaria, Bobby McFerrin, Cal Tjader, Woody Herman, Stephen Stills, Billy Cobham, Anita Baker, George Duke, Boz Scaggs, Andy Narell, Al Jarreau, Ray Obiedo, Dionne Warwick, Marlena Shaw, Barry White, Angela Bofill, Arturo Sandoval, Poncho Sanchez, Chick Corea, Dave Valentine, Najee, Gerald Albright, Prince and Tito Puente.
Pete Escovedo and his Latin Jazz Orchestra continue to break new ground when it comes to playing live music, bringing talented and well known musicians together to perform on stage. Their shows attract all ages, backgrounds and nationalities who come together to hear incredible music, the memory of which will last forever. He has recorded seven acclaimed solo albums, two albums with his daughter Sheila E., and the Latina Familia live album with Sheila and Puente.
Pete has been painting since the age of 15. Over the years he has created an amazing body of art work. All of his paintings and drawings consist of oils, acrylics, latex, enamels, pencil and crayons.
The iconic percussionist returns with a vibrant new live recording set for release on January 15, 2013 (international release dates may vary) on Concord Picante/Stiletto Flats Inc. (A special digital version released on September 25, 2012). Live From Stern Grove Festival includes daughter Sheila E., Dave Koz, Ray Obiedo and Arturo Sandoval.

This album contains no booklet.