---
Album info
Album including Album cover
1

Cherry Man

03:43

2

Acoustic Unity

03:54

3

Masakråke

04:31

4

Omkalfatring

02:34

5

Broken Beauty

05:08

6

Rat on a skateboard

03:05

7

Less Dense

04:52

8

Dancing Shadows

04:59

9

Bõtteknott

04:50

10

Elastic Circle

02:25

11

Jon

01:28

12

Skienselva

01:32

Total Runtime

43:01
Info for To Whom Who Buys a Record

Albums by saxophone, bass and drums trios include some of the classics of post-bop jazz. Sonny Rollins set the bar high with A Night At The Village Vanguard in 1957. Albert Ayler raised it even higher with Spiritual Unity in 1964. Those discs are tough acts to follow. Not for nothing was another of Rollins' 1957 albums titled Saxophone Colossus. As a conservatoire would judge it, Rollins had more technique than Ayler. But unlike Ayler, Rollins was never a team player. Even when accompanied by musicians as distinguished as Wilbur Ware and Elvin Jones, as he was at the Village Vanguard, he considered them accompanists rather than collaborators. They were there to provide a groove for his improvising genius and otherwise keep out of his way. Ayler approached music making from another direction. Co-operativism was his magic ingredient. In his bands, all the musicians were there on an equal footing. Never was this more true than on Spiritual Unity. Even when things were at their most dissonant and volcanic, the intensity of interaction between Ayler, Gary Peacock and Sunny Murray, the attentiveness with which each listened to what the others were doing, was key to making the album the masterpiece it is. A Night At The Village Vanguard, by comparision, is "only" a virtuosic tour-de-force by its leader. Intensity of interaction is also what makes To Whom Who Buys A Record special. The second studio album from Norwegian drummer Gard Nilssen's Acoustic Unity trio employs the same creative process as Spiritual Unity. The music is different but it reaches similarly giddy heights. Time will determine whether To Whom Who Buys A Record becomes a classic. Right now it rates as a milestone, probably even a masterpiece. Acoustic Unity's style celebrates tradition while revitalising it. Nilssen, bassist Petter Eldh and saxophonist André Roligheten share, for instance, Rollins' love of melody and rhythmic playfulness. They also share Ayler's ecstatic, cranked up, Dionysian fervour. Among the incidentals, Roligheten taps into Roland Kirk's legacy, blowing tenor and soprano simultaneously on two tracks. There are other echoes from history. The music moves between the exuberant and the reflective, the raucous and the mellifluous, the rugged and the delicate. Wherever it alights, it is balm for the soul. Acoustic Unity's studio debut, the acclaimed Firehouse, was the first occasion the trio came together. Four years and over a hundred gigs later, the connections between the musicians run deeper. "It feels like a perfect set-up now," says Nilssen. "It is not always easy keeping a lineup together for extended periods. But when you do, it takes the music higher." Nilssen is also a member of the jazz/rock hybrid Bushman's Revenge and the experimental jazz band Puma, two electric groups with a taste for high-voltage, high-impact, kick-out-the-jams workouts. He says an acoustic lineup offers unique possibilities. "It's about dynamics," says Nilssen. "With an acoustic lineup you can exploit the whole range of sounds and textures the instruments offer. You can really drill down into the nuances. Andrè and Petter know how to do that. They are always exploring new avenues. They are totally inspiring. They make me a better musician every time we play together." One of Acoustic Unity's cousins is New York drummer Tom Rainey's trio with saxophonist Ingrid Laubrock and guitarist Mary Halvorson. Each band has its own distinct character. But both deploy acute degrees of interaction and both have rejected the traditional demarcation line between "frontline" and "rhythm section" instruments. "Drummers were once looked at simply as timekeepers," says Nilssen. "But a more open and inclusive attitude exists today. The idea that you have a binary split between harmony and rhythm instruments is no longer tenable." It is noteworthy, though it may only be coincidence, that two of the most inventive units in modern jazz are trios led by drummers. Historically, drummers have been the leaders of a surprisingly small proportion of landmark bands. Prominent among them are swing's Chick Webb, hard bop's Art Blakey, spiritual jazz's Roy Brooks and fusion's Tony Williams. To whom Nilssen adds Elvin Jones' Jazz Machine, Paul Motian's Electric Be-Bop Band, Audun Kleive's Bitt and Joey Baron's BaronDown – bands that gave him a "big kick" when he was developing as a player. Acoustic Unity stands shoulder high with all those groups. In conclusion, it is worth noting the significance of the title To Whom Who Buys A Record. It is a play on the Ornette Coleman album To Whom Who Keeps A Record. Many people would say that Coleman's At The Golden Circle, Stockholm is among the handful of trio albums which are the equal of the aforementioned Rollins and Ayler discs. "We have a big love for Ornette's music," says Nilssen. "But that's not why we're alluding to that title. It's about supporting musicians by buying their records rather than downloading them for free or next to nothing. The current streaming model is not good for musicians or listeners. If musicians can't make a living, there will be less music around. Streaming is here to stay and it has possibilities, but the business model is destructive." It is certain that Coleman, who knew his worth as well as any musician, and who in his later decades did not get out of bed for anything other than an eye-wateringly high price, would agree. If 2019's streaming model is an existential threat to the making of albums such as To Whom Who Buys A Record, it is time to change it. Meanwhile, enjoy this treasure.
Petter Eldh, double bass
Gard Nilssen, drums
André Roligheten, saxophone, bass clarinet
Please Note: We offer this album in its native sampling rate of 48 kHz, 24-bit. The provided 96 kHz version was up-sampled and offers no audible value!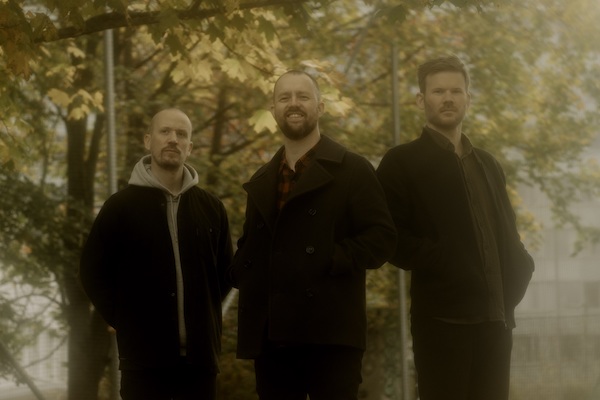 Gard Nilssen
is a drummer, composer, producer and bandleader from Norway that lives in Oslo. He is one of the most sought after and active drummers on the european jazz scene these days, traveling 200 days a year all around the world with his own bands like Gard Nilssen Acoustic Unity, Bushman´s Revenge, sPacemonKey, Amgala Temple, Ruby and Gard Nilssen Supersonic Orchestra.
Born and raised in a musical family consisting of nothing but drummers, there were no big surprise that the instrument of choice became the drums. Gard has his background from marching bands and big bands in his hometown Skien. He studied drums with his all time hero Audun Kleive before he moved to Trondheim where he got his master degree in jazz at the NTNU University of Jazz Music (2003-2009).
His drumming is described as; Energetic, creative, musical, groovy, fearless and dynamic with a technical surplus, and besides having recorded 70 records, he has played and toured with musicians and artists like:
Bill Frisell, Pat Metheny, Thomasz Stanko, Joshua Redman, Ambrose Akinmusire, Susanne Sundfør, Chris Potter, Django Bates, Bugge Wesseltoft, Axel Dörner, Jon Balke, Arild Andersen, Audun Kleive, Fredrik Ljungkvist, Morten Qvenild, Ola Kvernberg, Stian Carstensen, Håkon Kornstad, Ståle Storløkken, Stian Westerhus, Øystein Moen, Jørgen Mathisen, Even Hermansen, Rune Nergaard, Kristoffer Alberts, Johan Lindstrøm, André Roligheten, Thomas Morgan, Mike Stern, Andy Sheppard, Eirik Hegdal, Ole Morten Vågan, Petter Eldh, Goran Kajfes, Per "Texas" Johansson, Maciej Obara, Hanna Paulsberg, Anja Lauvdal, Kjetil Møster, Mats Eilertsen, Lars Horntveth, Ola Høyer, Gunhild Kristoffersen, Megan Kovacs, Thomas Johansson, Kit Downes, Lage Lund, Dominik Wania, Mathias Eick, Lasse Marhaug, Erlend Slettevoll, Oscar Grönberg, Ellen Andrea Wang, Sivert Høyem, Billie Van, Hilde Marie Kjersem, Ingebjørg Bratland, Thea Hjelmeland, Thomas Dybdahl, Nicolai Eilertsen, Jonas Alaska, Rolf Erik Nystrøm, Miko Innanen, Jonas Kullhammar, Amund Maarud, David Wallumrød, Morten Myklebust, Jens Carelius, Jamie Saft and Ingebrigt Flaten among others.
He is also a member of Susanne Sundfør band, Maciej Obara 4tet, Cortex, Team Hegdal, Trondheim Jazz Orchestra and Thomas Dybdahl band.
In 2019 he was the "Artist In Residence" at the Molde International Jazz Festival.
In addition to that, he loves music in general and doesn´t care about genre at all. He´s a vintage drum freak to the bone and a vinyl collector that has his own record label called Gigafon.
André Roligheten
was born in Skien, Norway in 1985. He started playing the saxophone at the age of 8 and early on became interested in improvised music. Roligheten has studied to Bachelor at the Jazz Academy at NTNU in Trondheim, with teachers and mentors like John Pål Inderberg and Erling Aksdal. Now he recently finished his Masters degree in improvised music at the Norwegian Academy of Music in Oslo.
One of Rolighetens main projects is the duo "Albatrosh". After winning the prestigious Norwegian "JazzIntro" award in 2008, "Young Jazz Musicians of the year", Albatrosh has had busy years. In 2009 they released their critically acclaimed debut album, "Seagull Island" (InnerEar), as the cohesive press celebrated with solid rolls of the dice, and by the big Norwegian newspaper Dagbladet described as "perhaps the most exciting release in Norwegian elite jazz in many years". And John Kelman from All about jazz: "Roligheten and Dale manage to say much without ever resorting to excess. A fine debut from a duo with a bright future, Seagull Island doesn't just suggest great promise; it delivers on it as well." In 2010 they released their second album "Mystery Orchestra with Grenager & Tafjord", featuring cellist Lene Grenager and horn player Hild Sofie Tafjord. This album received great reviews as well, and the Norwegian newspaper Dagsavisen ranked it to be the best Norwegian jazz record of 2010. At North Sea jazz 2009 they took part in the European Jazz Competition, and won the prestigious 1st prize "Best Band". Jury chairman, Maria Schneider said: "Most original, great interplay and amazing improvisation, effective and colorful compositions paired to amazing improvisation." This meant radio play across Europe as well as a dedicated concert at North Sea Jazz 2010.
During "Young Nordic Jazz Comets 2008", the jury awarded Roligheten with the Soloist Prize "because of his virtuous technique and his dynamic play. Especially his technique combined with the ability to improvise in very tight arrangements made the choice. He is disciplined – in control – and plays with an impressive rhythmic and melodic combination. He is a young talent!"In 2009 André went on a Europe tour with European Jazz Orchestra conducted by Peter Herbolzheimer, where he played with some great fellow musicians from 20 countries all over Europe. Some of Rolighetens other current projects are "Team Hegdal", fellow saxophonist Eirik Hegdals new quartet (Hegdal, known from a.o. Trondheim Jazz Orchestra with Joshua Redman). Terje Mosnes wrote in the Norwegian Newspaper Dagbladet about the first record: "..sparkling solos and swinging hard drive, and two saxophonists that ardent each other to the most "harmolodical" deeds I can ever recall hearing from Norwegian musicians."The record ("Volume 1″) was also awarded this year's record of 2010 by the Norwegian magazine Jazznytt.
André is also playing with Trondheim Jazz Orchestra (TJO). At Molde Jazzfestival 2010, he played with TJO ́s project with Ståle Storløkken (Super Silent) and the legendary Norwegian rock group Motorpsycho.
Roligheten has also played and worked with musicians like: Andrew D ́angelo, Theo Bleckman, Django Bates, John Edwards, Paul Lovens, Axel Dörner, Robin Hayward, Raymond Strid, Bugge Wesseltoft, Mathias Eick, Ola Kvernberg, Paal Nilssen-Love, Per Zanussi.
André have played on festivals like Molde Jazzfestival, Kongsberg Jazzfestival, Oslo Jazzfestival, Norh Sea Jazz, Münster Jazz, Süd Tyrol Jazz, 12 Points, Dølajazz, Nattjazz, Jazzfest, Maijazz, Soddjazz, Vossajazz. And done several tours in Scandinavia, Germany, Poland, Czech, Slovenia, France, Italy, China and USA.
Petter Eldh
was obsessed with Jazz, Classical, Soul, Reggae, Swedish folk music, Middle-Eastern and Hip Hop at an early age and collected vinyl since the age of 7. He initially played the guitar before switching to what became his primary instrument, the double bass. Early influences such as Charles Mingus, Anders Jormin, Charlie Haden, Charlie Parker, A Tribe Called Quest, Monica Zetterlund, Samla Mammas Manna, Aretha Franklin and Earth Wind & Fire have guided his diverse output as a musician.
Long-standing collaborations include the following erratic and progressive forces: Django Bates Beloved (ECM records), Enemy (Kit Downes/James Maddren), Jameszoo, Otis Sandsjö (Y-Otis), Lucia Cadotsch Speak Low, Hayden Chisholm, Gard Nilssen, Peter Bruun, Christian Lillinger, Benoit Delbecq, Jonas Kullhammar and Kaja Draksler. As a producer he has remixed work by Jaga Jazzist - The Shrine (Brainfeeder), Jameszoo – Flake (Brainfeeder), DLW - Repurposing DLW (Plaist), Andromeda Mega Express Orchestra – Vula (Afterhours), Speak Low (Enja) and releases his own music on his own imprint Galatea Records and the Finnish label WeJazz Records where he's releasing albums with his band KOMA SAXO & Y-Otis.
His latest album is called Projekt Drums vol.1 and was released by Edition Record in September 2021. It features drummers like Eric Harland, Savannah Harris, Richard Spaven among others.

This album contains no booklet.