---
Album info
Album including Album cover
I`m sorry!
Dear HIGHRESAUDIO Visitor,
due to territorial constraints and also different releases dates in each country you currently can`t purchase this album. We are updating our release dates twice a week. So, please feel free to check from time-to-time, if the album is available for your country.
We suggest, that you bookmark the album and use our Short List function.
Thank you for your understanding and patience.
Yours sincerely, HIGHRESAUDIO
1

Domino

03:27

2

80's Movie

03:51

3

Losers Look Like Me

03:29

4

Roman Candle

04:07

5

Guns and Roses

03:37

6

Alanis

04:26

7

Phantom Feelings

03:52

8

Psychopath

03:28

9

Outrun Me

03:47

10

Want

03:32

11

Fall In Love With Me

03:15

12

Meet Somebody

03:19

13

27 Club

03:43

Total Runtime

47:53
Info for Psychopath

Morgan Wade is ready to raise the curtain. Currently situated as one of Nashville's fastest rising and most critically acclaimed young stars, hailed by some of the world's most respected publications, from Rolling Stone to New York Times, as a once-in-a-generation talent, thanks in great effect to Reckless, her stunning 2021 Thirty Tigers/now Sony Music Nashville debut album, the now 28- year-old -- the same person who not long ago felt as if she "didn't have anything," -- now finds herself eager and ready to reveal herself to her ever-growing legion of dedicated fans like never before. To hear Wade tell it, it's time to peel back layers of her psyche and let people in.
"I realised the more authentic you are and the more you pour yourself into your songs, and most importantly if you're being honest, people will connect to that," Wade explains of her highly personal motivation when crafting Psychopath, her second full-length studio album, due on Aug. 25 via Sony Music Nashville and a no-holds-barred meditation of an LP that dives deep into life's oft- twisted path to the present. "I want every song to get the credit it deserves."
On the heels of a multi-month headline tour, one that saw emotionally invested sellout crowds hanging on Wade's every lyric, Wade now delivers an astounding 13-track LP crafted with the help of some of Nashville's most extraordinary musical talents, from A-list songwriters (Julia Michaels, Natalie Hemby, Liz Rose, Lori McKenna, Ashley Monroe, Angaleena Presley) to studio musicians and, of course, her longtime producer- guru/song whisperer Sadler Vaden.
A relentless writer, Wade had penned what would become the album's exquisite title track and lead single as far back as the weeks leading up to Reckless' release. A one-take meditation on "being so engrossed in someone, it's like "What the hell was I doing before I met you? I don't even fucking know!" Wade describes 'Psychopath' as "probably as close to a country song as it gets on the record." Don't let the title fool you: "When you look at the title, you don't assume that's a love song. But it is," she says with a smile. "I kinda dig that."
It's easy to lose sight of how Wade's life has shifted in only a few short years. And yet even as an unsigned upstart singer-songwriter from Floyd, Virginia, back when her singular goal was to book that next live show, when she was just waiting for that one opportunity to showcase her musical wares to the world, Wade already had it all.
Morgan Wade's abilities have long been undeniable: that raw and unflinching voice anchored by a perfect tinge of twang; the rare ability to pen honest portraits of some of life's most precious and painful and unpredictable moments; an onstage vulnerability that so seamlessly breaks down the wall between fan and artist.
With the success of Reckless, Wade openly admits she felt a certain pressure leading into Psychopath, not least because Reckless had exceeded even her wildest expectations. "If my debut record wouldn't have done anything, then it wouldn't have mattered," she says. "I would have just gone back to the drawing board and continued. But now, there was a lot of pressure to get this next record out."
Despite wanting to share new music with her fans as quickly as possible, Wade says she tried her best not to internalise the outside pressures when penning her new material over the past two years. It was principally important, she says, that she stay true to the songs and not let the fear of being vulnerable hold her back. In due time, the songs started coming fast and furious. Wade realised she was penning some of her most forthright and honest material yet.
She excitedly describes one fabulous writing session with the brilliant pop-mastermind songwriter Michaels that resulted in 'Phantom Feelings'. "You found someone, I'm still accepting that's it not me," Wade sings on the acoustic-anchored mournful musing of coming to terms with losing someone and ultimately moving on. "All our words we've ever said are bouncing off the ceiling/I try not to, but I still have phantom feelings."
One of the most intriguing songs on Psychopath is undoubtedly 'Alanis'. An ode to Alanis Morrisette, one of Wade's self-professed musical heroes, the raw and unabashedly real tune is as much a nod to the sexist walls Morrissette broke down in the music industry as to the musician's songs. "I know how to be brave/Keep the demons away/All because of you," Wade confesses under chugging electric guitar.
"As an artist, you really have to sit back sometimes and look back at the women who have really changed the world for us and allow us to now do our thing," says Wade, who has drawn comparisons to Morrisette for both women's emotional rawness take-no-prisoners attitudes. "Alanis opened that door. I can't imagine how hard that was coming on the scene for her. As amazing as it probably felt to be so open and vulnerable, that shit is hard. Especially when you have the world watching and judging what you're doing."
And then there's the revealing 'Losers Like Me', written along with '27 Club' in a last-second burst of creativity in the days leading up the recording sessions for Psychopath, the unflinching cut hears Wade assessing in real-time where she sits in her life and, most interestingly, how it compares to some of her closest family and friends. "We wouldn't turn out nothing like our moms/I didn't, but I wish I did," she sings at the track's outset.
Reflecting on the song, Wade gets personal. "Sometimes life can be a little hard," she explains. "I'm gone and busy and I don't have a family to come back to. I'm not married, I don't have kids. When I get off tour, I get home and it's quiet. Which is hard for me. I look at my cousins and my friends and I see them married and settled down. And sure, they look at what I have as really cool, and while it is, it can still be difficult. Now, as I get older, I realise if I was half the woman my mom is, I'd be doing really fucking good. It's funny how things work. The things you didn't think you wanted you start to want. It's about growing up and wanting the best of both worlds. It's that internal struggle."
Now, as she eagerly awaits listener's reactions to Psychopath, Wade is nothing if not thrilled that above all she has remained decidedly true to herself despite all the monumental changes in her life. "Regardless of what people say about Psychopath, I'm proud because I feel like it showcases where I'm at currently," she says proudly. "I have no choice but to be authentic. And I have to feel what I feel. And right now, I'm really feeling the music."
Morgan Wade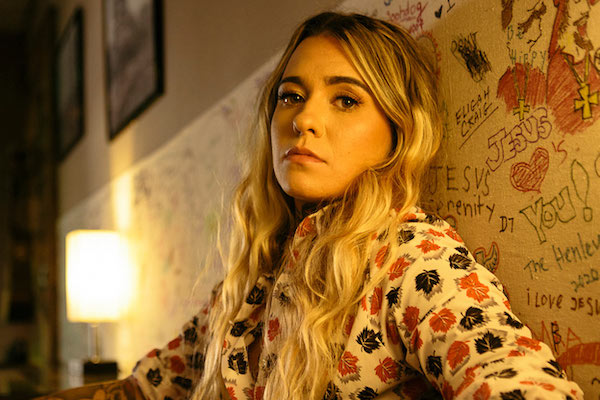 Morgan Wade
has never sounded like anybody else, and for a long time, she thought that meant her songs were just for her. "Honestly, I think that was really good for me," she says. "It made me think, 'Alright, well, I'm not going to sing for anybody else––but I'm singing for myself.'" Since then, Wade has figured out that when you grow up in Floyd, Virginia, where bluegrass sustains everyone like the Blue Ridge Mountain air but you hear other sounds like pop and punk in your own head, singing for yourself is the way to become the artist you were always meant to be.
Produced by Sadler Vaden––Jason Isbell's longtime guitarist and an acclaimed solo artist in his own right––Wade's full-length debut Reckless is a confident rock-and-roll record that introduces a young singer-songwriter who is embracing her strengths and quirks as she continues to ask questions about who she is––and who she wants to be. Her voice, a raspy soprano that can soothe liltingly or growl, is on brilliant display. "I feel like the last couple of years have been me trying to figure out where I fit in, who I fit in with, and what's going on," Wade says. "I'm almost four years sober, so a lot of the friends I had, I don't really hang out with anymore. When I wrote these songs, I was going through a lot, just trying to figure out who I am."
Now living in Damascus, Virginia, about two hours east of where she grew up, Wade remains connected to the roots that raised her, even as she stretches. "All these bluegrass players would get together out in the streets and play music together," she says of her little hometown. "My grandfather would go up there every Friday night, and I'd go up there with him and my grandma. I remember falling asleep on their laps, just sitting up there, listening to music." When Wade began to write her own songs, country radio was dominated by svelte voices like Shania Twain and Faith Hill––and Wade couldn't hear herself in any of them.
"I'd write songs but didn't tell anybody about it," Wade says. "It was like some kind of secret. Even as a kid, it was what I liked to do: I'd go off into my own little world and write songs and stories."
Wade was 19 and in college when she first performed in public: an open mic in Floyd, backed by a band she had cobbled together via Craigslist. She loved the stage––and soon, her secret writing and singing became a public––and beloved––soundtrack. Wade began touring with her band, the Stepbrothers, and generated a grassroots following and high-profile attention––including that of Vaden.
Asked how she feels about the head-turning voice she used to hide, Wade is characteristically honest, self-deprecating, and insightful. "I still go through moments. I was in the studio two weeks ago and I thought, 'Can I actually sing? Is everybody just mocking me right now?'" She laughs a little and sighs. "I think it just takes a while. After spending all those years feeling like you weren't good enough, it takes time to rewire your brain––to know hey: You really do have a good voice."
Today, with Reckless in tow, Wade is ready for her voice to be heard. "This is different than anything I've ever done before," she says of the record. "It's opened up a bunch of different lanes––and I'm proud of it. A lot of the songs are about figuring out what the hell I'm doing." She pauses and grins. "Maybe record number two will be a little bit more about knowing who I am."

This album contains no booklet.