---
Album info
Album including Album cover
I`m sorry!
Dear HIGHRESAUDIO Visitor,
due to territorial constraints and also different releases dates in each country you currently can`t purchase this album. We are updating our release dates twice a week. So, please feel free to check from time-to-time, if the album is available for your country.
We suggest, that you bookmark the album and use our Short List function.
Thank you for your understanding and patience.
Yours sincerely, HIGHRESAUDIO
1

Happy Single

03:05

2

Warm Embrace

02:55

3

Back To Casablanca

03:00

4

Don't Blame Me

03:10

5

Silence

03:16

6

10 Years Old

03:51

7

Mike And Richie

03:20

8

Hello Spain

04:20

9

Monsters On The Ceiling

04:19

10

Elio

02:02

Total Runtime

33:18
Info for Zebra

Auf seinem zweiten Blue-Note-Album "Zebra" beweist der Sänger, Mundharmonikaspieler und Gitarrist Charles Pasi, dass er sich partout nicht in eine stilistische Schublade stecken lässt.
Als in Frankreich vor ein paar Jahren bekannt wurde, dass Charles Pasi einen Plattenvertrag von Blue Note erhalten sollte, war die Jubelstimmung in der Szene groß. Denn Pasi, der in seiner Heimat gerne mit dem quirligen Briten Jamie Cullum verglichen wird, schrieb damals ein Stück Musikgeschichte. Als erstem französischen Sänger (und Mundharmonikaspieler) war es ihm gelungen, bei dem renommierten US-Jazzlabel unterzuschlüpfen. Und mit seinem Debütalbum "Bricks" machte Pasi auch sofort klar, dass er die Vorschusslorbeeren redlich verdient hatte. Es war ein Album von eleganter Intensität und sich ständig verändernden Klangfarben (stilistisch changierend zwischen Jazz, Blues, Pop und Soul), das zugleich ausgefeilt arrangiert und doch auf das Wesentliche reduziert war. Jetzt legt der 37-Jährige mit "Zebra" sein zweites Album nach, an dem er zwei Jahre lang gearbeitet hat, während er mit dem Repertoire von "Bricks" kreuz und quer durch die ganze Welt tourte.
Der Titel des Albums kommt nicht von ungefähr. Das Zebra ist ein außergewöhnliches Tier, das Forschern noch heute Rätsel aufgibt. Auf der Suche nach Nahrung und Wasserstellen legt es oft immense Strecken zurück. Vielleicht kann sich Charles Pasi deshalb so gut mit ihm identifizieren. Denn er selbst ist ähnlich ruhelos, stets auf der Suche nach neuer Nahrung, um seinen kulturellen Appetit zu stillen. Und noch etwas anderes verbindet ihn mit dem Zebra: beide gelten als nicht domestizierbar. Dies alles mag erklären, warum Charles Pasi seinem zweiten Album für Blue Note den Titel "Zebra" gab. Dass er wie das Zebra auch im Stehen schläft, darf dagegen bezweifelt werden.
"Ich wollte eine 'wilde' Platte machen, ganz ohne Demos und Proben", erläutert Pasi das Konzept des Albums. "Ich habe Musiker zusammengetrommelt, die ich respektiere, von denen ich aber einige nicht persönlich kannte und die nie zuvor miteinander gespielt hatten. Wir trafen uns einfach im Studio, um herauszufinden, was passieren würde, mit all den Risiken und der Spannung, die damit verbunden sind. In einem Zeitalter, in dem Produzenten das Zepter in der Hand haben, wollte ich einfach nur Musiker spielen hören. Ich wollte weg vom Trend zum Metronomischen. Heutzutage ist alles zu durchdacht. Es ist, als ob wir nicht mehr länger das Recht hätten, Fehler zu begehen. Oder uns Missgeschicke zu leisten. Wir verschwenden unser Leben für einen einzigen Track. Das ist eine Schande!"
Die zehn neuen Songs, die allesamt aus Pasis Feder stammen, sind von wirklich wunderbarer Vielfalt. Mal kommt er wie in "Happy Single" cool groovend und soulig daher, dann wie in "Warm Embrace" bluesig-poppig. Zu den Highlights des Albums gehören auch noch das ebenso lakonische wie witzige "Hello Spain", das leicht Dylanesk angehauchte "Monsters On The Ceiling", die sublime Ballade "Silence" und das mit einem schleppenden Reggae-Rhythmus unterlegte "Don't Blame Me".
Charles Pasi, Gitarre
Joseph Champagnon, Gesang
Antoine Holler, Gitarre
Cyril Atef, Schlagzeug
Vincent Peirani, Akkordeon
Fred Dupont, Orgel, Keyboards
André Baille Barrelle, Moog-Bass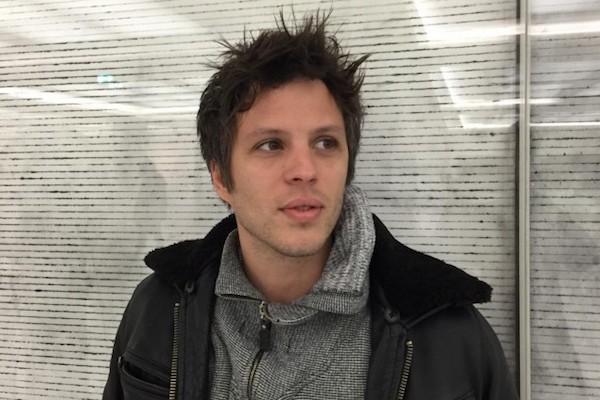 Charles Pasi
ist einer dieser jungen Künstler, denen einfach alles zu gelingen scheint und nicht umsonst wird er als aufsteigender Star der französischen Blues/Jazz-Szene gehandelt. Aufgewachsen in Paris, verbrachte der Franco-Italiener viele Jahre seiner Kindheit und Jugend auch auf der anderen Seite des Atlantik. Dort kam er unvermittelt mit der Musik von Künstlern wie Miles Davis, Otis Redding, Ray Charles oder Bob Dylan in Berührung, die von Anfang an seine musikalische Identität prägten und bis heute zu seinen Vorbildern zählen. Die ersten eigenen musikalischen Schritte unternahm Charles Pasi ab seinem siebzehnten Lebensjahr in einem Gospelchor. Zur gleichen Zeit entdeckte er auch die Mundharmonika für sich, die neben der charismatischen rauen Stimme zum Markenzeichen seiner weiteren musikalischen Karriere werden sollte. Dabei wandte er sich entgegen aller Einwände seiner Umwelt diesem vermeintlich angestaubten Instrument zu und holte dessen Sound mit seiner einzigartigen Spielweise in die Gegenwart. Der so eingeschlagene musikalische Weg erwies sich dabei als höchst erfolgreich und mündete im Jahr 2006 in seinem ersten Album Mainly Blue. Wie der Titel unschwer erahnen lässt, ist die Grundfarbe seines Debüts das Blaue, der Blues, dessen traditionellen Wurzeln Pasi mit seinen melancholischen und intimen Texten zwar treu bleibt, aber dennoch mit vitalen Melodien auf der Mundharmonika, die weit über die Blues-Harp-Standards hinaus gehen, auffrischt.
Mit dem Nachfolgealbum Uncaged (Digital Release, Single: 11.05., Digital Release, Album: 11.05., Physisch, Album: 25.05. bei Believe) zeigt Charles Pasi, dass er auch musikalisch gerne Grenzen überschreitet und stilistisch in keine Schublade mehr passen möchte. Seine groovenden Arrangements vereinen unzählige Einflüsse von Rock über Funk und Soul bis hin zu HipHop und Ragga zu einer farbenfrohen Mischung, wobei es ihm und seiner Band dennoch gelingt den Blues-Hintergrund stets präsent zu halten. Hierbei wird den Zuhörern unweigerlich klar, dass die Musik von Charles Pasi für die Live-Performance auf der Bühne gemacht ist, wo der charismatische Endzwanziger seine stärksten musikalischen Momente hat, wie er bereits auf unzähligen internationalen Festivals und zahlreichen Clubshows unter Beweis stellen konnte.
Nachdem er in Frankreich kaum noch stoppen ist, macht sich Charles Pasi daran auch den Rest Europas mit seiner modernen und energetischen Musik zu überwältigen, was ihm bestimmt spielend gelingen wird.

This album contains no booklet.