---
Album info
Album including Album cover
1

Out the Sun

02:43

2

Never Mine

04:45

3

Man on Wings

05:04

4

Wild

04:31

5

Mending

03:54

Total Runtime

20:57
Info for Mending

Frida Touray is an undiscovered gem – an artist who, with the release of her debut EP 'Mending', will capture the hearts and minds of audiences who love music that melts in your mind, that provokes emotions you weren't even aware of and of music that creatively captivates in every nerve on your body. She is without doubt an artist of the future that will command your attention.
Right from the first click of the retro-sounding tape machine on the Out the Sun, you know the direction Frida wants to take you in. It's authentic and honest and she wants to make her story immediately clear right from the beginning; "I think it's about a girl who breaks her own heart". 'Mending' is deeply personal release that shows herself at her most vulnerable, capturing the essence of who she is and how she sees the world.
For Frida, this new music represents a new start with a new focus on her music, determined to show who she is. And it doesn't take much convincing: the music's emotive brilliance is immediately engaging and absorbing. It's an EP about honouring relationships that didn't turn out the way they had intended, about breaking free and being your own person. Each song acts as a snippet of life as she aims to create timeless music, not influenced by what's cool or trending. These are heartfelt, emotional songs of love and life that come straight from her own lived experiences.
"Mending is about a journey through love and relationships. How you evolve through them and how sometimes, painful and intense they can feel when everything feels unaligned. How messy and beautiful they can be. For me, it was a creative choice to be as honest and vulnerable I could be, without thinking about it having to be edgy or cool sounding. I really wanted softness in this music, and I wanted that softness to represent healing in the subject matters and stories that I'm telling. Each song is an honouring of the relationships I have formed over the years, regardless of their journey, how they began or ended and the title track 'Mending' is one I wrote as a reminder to myself of my own healing, my route to forgiving myself for any mistakes I made when I felt lost and out of my power. To take accountability but freeing yourself in the process." – Frida Touray
For fans of Lianne la Havas, Frida Touray's name and voice will be familiar having worked with her since 2015. For others, her name may be unknown but she's not new to this game, having toured and recorded with some of the music industry's most recognisable artists including Liam Gallagher, Ed Sheeran, Ellie Goulding , NAO, Cinematic Orchestra and Laura Marling. Recently she appeared on Goldie's recent track 'Lost' along with Tom Misch, and she has also written and performed with Jordan Rakei on the single 'Signs', which was later re-released with a feature from Common. Frida Touray has put in the hard work – now it's her time to step into the limelight ! It's this new EP, produced by Chris Hyson with co-production from Yves Fernandez, that marks a significant shift in her focus as an artist in own right, ready to build an audience of her own.
Frida Touray, vocals
Daniel See, drums
Alex Haines, guitar
Yves Fernandez, bass
Joe Webb, piano
Samuel Crowe, Wurlitzer (on Mending)
Chris Hyson, synthesiser
Russell Smith, lap steel guitar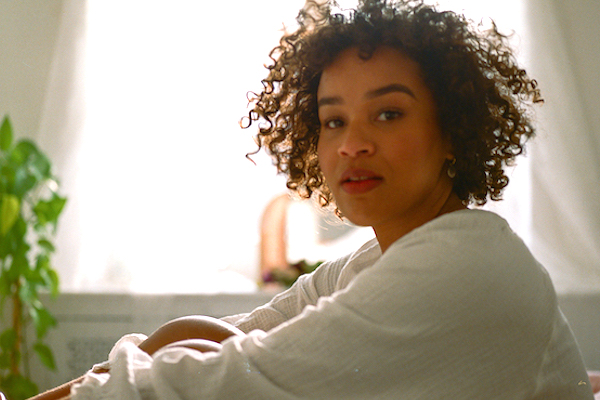 Frida Touray
Starting out her career as a session vocalist and songwriter for globally renowned artists including Lianne La Havas, Laura Marling, James Bay and Jordan Rakei, Swedish born artist Frida Touray is ready to spread her wings and fly solo. This project is the result of years gathering inspiration from a creatively diverse career living and working on the London music scene. Frida is also the lead singer of genre-bending, sonic explorers Native Dancer which has its foundation heavily in Jazz. In this new solo project, Frida merges her roots in Soul, RnB, Blues and Spoken word Poetry with melodies and timbre that speaks to her native country Swedens affinity for melancholy and lyrical storytelling, particularly in the folk music tradition.
With a heartwarming tone, vulnerable vocal delivery and deeply personal perspective this music makes you reflective and turn inward all the while feeling embraced by the sounds of beautifully picked guitar lines, lush acoustic pianos and organic percussion.

This album contains no booklet.