---
Album info
Album including Album cover
I`m sorry!
Dear HIGHRESAUDIO Visitor,
due to territorial constraints and also different releases dates in each country you currently can`t purchase this album. We are updating our release dates twice a week. So, please feel free to check from time-to-time, if the album is available for your country.
We suggest, that you bookmark the album and use our Short List function.
Thank you for your understanding and patience.
Yours sincerely, HIGHRESAUDIO
1

The Hill

02:46

2

Church Boots

02:58

3

Bass Pro Hat

02:56

4

Anything Cold

02:47

5

Angels

03:34

6

Half Of Me

03:03

7

Bring The Bar

03:29

8

Paradise

03:09

9

Death Row

03:51

10

Mama's Front Door

02:43

11

Slow Down Summer

03:36

12

Simple As A Song

03:22

13

Us Someday

02:24

14

Somebody Like Me

02:50

15

Where We Started

03:02

Total Runtime

46:30
Info for Where We Started

Arena-packing superstar Thomas Rhett has 18 multiplatinum and gold-certified #1 hits, 12 billion streams, and the longest current active streak of consecutive #1s in the format. He has been honored with 8 ACM Awards, 2 CMA Awards, 5 GRAMMYS, plus trophies from CMT Music, Billboard and iHeartRadio.
Where We Started, Rhett's sixth studio album, is a return to his mix of uptempo, transcendent romance and sonic trailblazing as Country's resident good-life philosopher.
Inspired by his return to the road after time off tour during the pandemic, Where We Started features a number of guest spots including Katy Perry on the title track, along with collaborations with Riley Green, Ashley Gorley, Josh Thompson, Tyler Hubbard, Russell Dickerson, and more.
"For me, getting into the entertainer headspace and back onstage was euphoria," said Thomas Rhett. "When you go a year and a half without it, then feel it for the first time again, it's the coolest thing in the world. That's really where my brain has been and where these songs came from—they're some of my favorite songs that I've ever been a part of."
He added, "I'm just enjoying life so much right now, getting to be a dad, collaborating with incredible artists, playing shows with my friends, and watching people smile from the stage. It has really filled my soul."
Produced by Dann Huff, along with co-producers Jesse Frasure and Matt Dragstrem, Where We Started features 15 songs, all co-written by Thomas Rhett with the exception of one, the opening track "The Hill," penned by Lori McKenna, Jordan Reynolds, and Emily Weisband.
A more introspective ballad, "Angels" addresses love and security in lyrics I ain't that type of guy that miracles wake up next to / For too long, I didn't know what I had but, dang, these days I do / If I make it to heaven, it'll be by hell / But one look at you and I'm back and offers a balance to the more uptempo "Church Boots."
"This album for me is one that I've had on repeat," said Rhett in the trailer for Where We Started. "Some of my favorite songs I've ever got to be a part of are on this album."
Thomas Rhett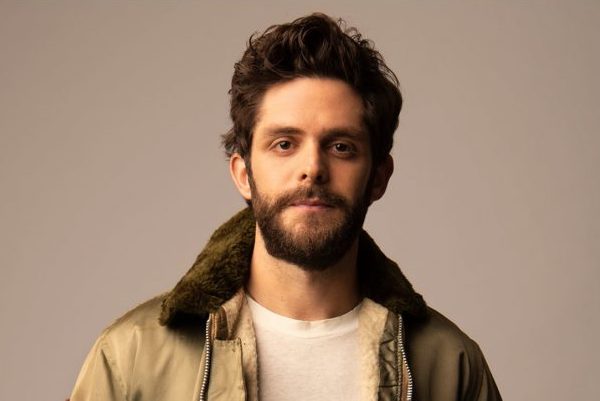 Thomas Rhett
scored his first No. one hit in 2013 with "It Goes Like This," introducing a sound that mixed the southern swagger of county music with pop hooks, R&B grooves, soulful strut, and the anything-goes attitude of rock. During the years since, he's become a husband. A father, too. And, thanks to eight chart-topping singles, a headliner of massive arenas. It's funny how life can change so much in such a short period of time.
Life Changes captures that whirlwind period. Recorded while Thomas Rhett and his wife, Lauren, were in the middle of adopting their daughter from Africa and awaiting the birth of their second child, it's the biggest, boldest-sounding record of his career, filled with songs that stretch his sound to new limits. Kicking off the album is "Craving You," a driving, danceable pop anthem filled with '80s-inspired production and guest vocals for Maren Morris. From there, Life Changes carves a path as wild and wide as his own career. There are coming-of-age country ballads, heartland rock & roll anthems, EDM-influenced pop tracks and R&B slow jams all wrapped together by the songwriting skills and elastic vocals of a frontman who's willing to shine a light on his own milestones and mistakes.
"I named the album Life Changes because my life has never changed this much in a short span of time," he says. "From seeing the success of a song like 'Die a Happy Man' to putting out my third album to going on my first headlining tour to having two children, both under two years old… I thought the title of the album was a good representation of what is happening in my life right now."
Much of the album's material was written on the road, while Thomas Rhett toured his way across America in support of his platinum-selling second record, Tangled Up. Released in 2015, Tangled Up marked a turning point in his career, spawning four Number One singles and one Grammy-nominated smash: "Die a Happy Man." A tender, personal song written about his wife, "Die a Happy Man" topped the charts for six weeks, earning awards from the CMA, ACM and Billboard Music Awards along the way. It was an eye-opening experience for Thomas Rhett, who'd rarely written something so intimate before. Although intensely autobiographical, "Die a Happy Man" still tapped into something widespread and universal, becoming the biggest hit of his career.
There's plenty of autobiography on Life Changes, too. Thomas Rhett sings about his own adolescence in "Sixteen," a nostalgic song about a teenager's desire to grow up…only to miss his teenage years once adulthood is finally reached. "No matter if you're 10 years old or you're 80 years old, I think you can always find an identity within the verses and choruses of that song," he says proudly. The album's title track tells a wider story, opening with his days as a struggling songwriter before moving through the various life changes — his marriage to his grade-school crush, the adoption of the couple's first daughter, the achievement of his lifelong musical dreams — that have unfolded since then. Both songs tell personal stories, but listeners can see their own lives reflected in Thomas Rhett's music. After all, who hasn't fallen in love as a teenager? Who hasn't looked back fondly on their high-school years? His stories are so compelling because they are our stories, too.
And like any great storyteller, he weaves a wide narrative on Life Changes, delivering the album from several different personas. He transforms himself into a 1950s crooner on "Sweetheart," a modernized doo-wop song inspired by his childhood trips to his grandparents' house, where he spent his afternoons listening to records by the Drifters and Carole King. "Leave Right Now" and "Marry Me" are two mid-tempo ballads underscored by big, booming beats. On "Drink a Little Beer" — a song written by his father, Rhett Akins, who contributes guest vocals to the track — he time-travels to the 1970s, back when country songs featured Telecaster guitars and phaser pedals. And on the retro "Kiss Me like a Stranger," he channels the soft-rock sounds of the Bee Gees and Hall & Oates, which he co-wrote with Jordan Reynolds and his high-school idol, Dave Barnes.
Reynolds and Barnes are just two of Thomas Rhett's collaborators on Life Changes. He co-produced the album himself — a first, with a hands-on approach to the album's layered arrangements — and he reached out to a number of new names and familiar faces for additional help. Guitar hero Dann Huff, who spent the '80s performing alongside Michael Jackson and other legends before transforming himself into a hit producer, joined him for the majority of the album. Jesse Frasure, co-producer and co-writer on much of Tangled Up had a hand in multiple new tracks including the current single "Unforgettable." Joe London, also with co-writer/producer credits on Thomas Rhett's sophomore effort and had a hand in writing its smash hit "Die A Happy Man," also returns as a co-producer and songwriter. Julian Bunetta, known for his work with One Direction and other pop acts, made multiple appearances, too, including co-writing and co-producting credits on Life Changes' chart-topping debut single "Craving You." Thomas Rhett teamed up with songwriters from across the country, working with L.A.-based hit makers one minute and fellow Nashvillians like Shane McAnally and Ashely Gorley the next. The goal was simple: to stretch his limits, widen his circle, and create the best music possible.
Life Changes owes much of that variety of Thomas Rhett's stage show, which has evolved and diversified since he first began touring.
"The more I started getting comfortable being me on stage, whether that means dancing or playing a Bruno Mars song in our set, the more it changed the way I wrote songs," he explains. "I want to continue making our concerts a fun place for all people, including people who wanna dance to love songs and people who wanna rock to rock songs. I just love having a mixture."
Variety. It's one of the key ingredients of Life Changes' powerful sound. From the EDM-inspired "Leave Right Now" to the feel-good, country-rocking "Renegades," Life Changes shines its light into every corner of Thomas Rhett's influences. It's an album for Millennials and Baby Boomers alike. For those who grew up listening to FM radio, as well as those who prefer Spotify playlists. And while several songs find Rhett proudly singing about his roots, it's also an album about moving forward. About growing, expanding, and chasing down new songs, creating the soundtrack for all of life's changes along the way.

This album contains no booklet.