---
Album info
Album including Album cover
I`m sorry!
Dear HIGHRESAUDIO Visitor,
due to territorial constraints and also different releases dates in each country you currently can`t purchase this album. We are updating our release dates twice a week. So, please feel free to check from time-to-time, if the album is available for your country.
We suggest, that you bookmark the album and use our Short List function.
Thank you for your understanding and patience.
Yours sincerely, HIGHRESAUDIO
1

Song for the Saints

03:38

2

Every Heart

03:54

3

Get Along

03:19

4

Pirate Song

04:18

5

Love for Love City (with Ziggy Marley)

03:49

6

Ends of the Earth

04:24

7

Gulf Moon

03:18

8

Island Rain

04:27

9

Trying to Reason With Hurricane Season (with Jimmy Buffett)

04:09

10

We're All Here

04:15

11

Better Boat (feat. Mindy Smith)

03:44

Total Runtime

43:15
Info for Songs for the Saints

In every artist's career, certain albums stand out as a significant piece of their soul. For Kenny Chesney, Songs for the Saintsis that album. Co-produced with Buddy Cannon, the 12 tracks mark a deep dive into "the places that save you.""So much has happened since I went off the road in 2016," Chesney explains. "Andallof it, in one way or another, has ended up on this record. It's special to me because of what it says – to me, and for me – about life, the world around us, how fragile it all can be and about somehow still finding the best parts of you, and moving towards them." Due July 27,Songs for the Saints marks the 8-time Entertainer of the Year's first album on Blue Chair/Warner Bros. Nashville. In many ways, this new home for his work mirrors the things that inspired this album."Leaving a place where I'd spent my whole career was both scary and exciting," Chesney concedes. "There's that rush of not knowing anything about how this company works, and digging in. But there's also a special thrill of being around people who truly understand what you're doing and who are excited to be part of this music. It's inspiring in all new ways when you have people match your own passion for the music."Recorded over the last several months, Chesney had a notion about what his record was going to be long before it galvanized intoSongs for the Saints. "I was at a turning point in my life on so many levels, and then Hurricane Irma hit the Virgin Islands.""But this album isn't about St. John, so much as it's about what happened toSt. John and all those islands you didn't see on the news," continues the man called "The People's Superstar" byThe Los Angeles Times."To just see the devastation and what that does to people is one thing, but then there's this courage and resilience people find…""This is not a literal record," he cautions, "but it is an album about the refuges we all have, how temporary life is and the way we navigate to better places, dig in and face the destruction. And sometimes, we learn to own our wild hearts in the process."Beyond the euphoric "Get Along," the banjo and people-positive message tempo track hovering outside the Top 10, Chesney wrote or co-write five tracks. As with any release from the East Tennessee songwriter/superstar, there are songwriters getting their first cuts, surprise collaborations, an obscure jewel and the emotional fabric that makes the No Shoes Nation a place rich with heart, tenacity and the will to embrace life on its terms."I feel like Iknowwhat this album's supposed to be, and I know how much it means to me," he says. "I wanted to get it just right, before we set a release date… and I think we've got it. I'm just glad we'll have it out in time for me to play some of these songs this summer before theTrip Around the Sun Touris over."
Kenny Chesney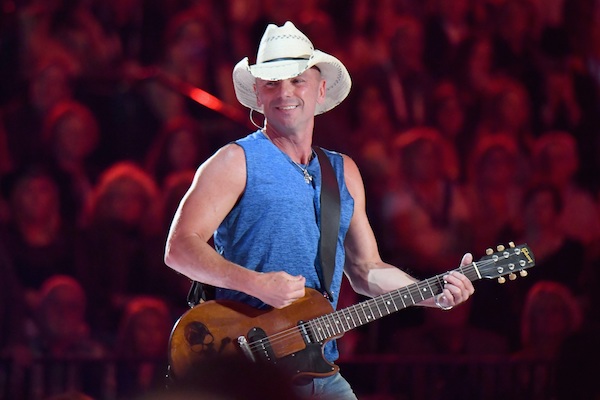 Kenny Chesney
Contemporary country star Kenny Chesney didn't have the immediate breakout success that many of his peers enjoyed upon signing with major labels, but gradually built up a significant following via hard work, pop-friendly ballads, and a likable "Average Joe" persona. Chesney was born in Knoxville, Tennessee in 1968 and raised in the nearby small town of Luttrell, best known as the home of Chet Atkins. He grew up listening to both country and rock & roll, but didn't get serious about music until college, when he studied marketing at East Tennessee State University. He received a guitar as a Christmas present and set about practicing, and was soon performing with the college bluegrass band. He soon started writing songs as well and played for tips in local venues -- most often a Mexican restaurant -- every night he could; additionally, he managed to sell 1,000 copies of a self-released demo album. After graduation in 1991, he moved to Nashville and became the resident performer at The Turf, a rough honky tonk in the city's historic district. While he gained experience, it wasn't the sort of place where he'd be discovered, and in 1992 he moved on to a publishing deal with Acuff-Rose. From there he landed a record contract with Capricorn and released his debut album, In My Wildest Dreams, in late 1993.
All I Need to Know Unfortunately for Chesney, Capricorn wasn't much of a country label; not only was the album underpromoted, but the label's country division shut down completely not long after its release. Still, it sold 100,000 copies and caught the attention of several major labels. Chesney ended up signing with RCA subsidiary BNA, which released All I Need to Know in 1995. The album gave him his first two Top Ten hits in the title track and "Fall in Love." His follow-up, 1996's Me and You, became his first album to go gold, thanks to two number two singles in the title track and "When I Close My Eyes." Released in 1997, I Will Stand was another gold-selling effort that gave Chesney his first-ever number one hit in "She's Got It All," plus another number two with "That's Why I'm Here." His big-time breakthrough, however, came with 1999's Everywhere We Go, which sold over two million copies and spawned two number one hits with "You Had Me from Hello" and "How Forever Feels"; it also featured another Top Ten single in "What I Need to Do," and another, "She Thinks My Tractor's Sexy," that just missed. In 2000, Chesney issued his first Greatest Hits compilation, and two newly recorded songs -- "I Lost It" and "Don't Happen Twice" -- went to number three and number one, respectively.
No Shoes, No Shirt, No ProblemsGreatest Hits became Chesney's second straight double-platinum release and topped the country LP chart. He followed it with the all-new No Shirt, No Shoes, No Problem in early 2002, which gave him his strongest commercial performance yet. It, too, hit number one on the country album chart and spun off four Top Ten singles in "Young," the number one "The Good Stuff," the Bill Anderson co-write "A Lot of Things Different," and "Big Star." A Christmas album plugged the gap for 2003, and he had a strong return with 2004's When the Sun Goes Down, which won in the Album of the Year category at the Country Music Awards. He repeated the win, this time as Entertainer of the Year, with Be as You Are (Songs from an Old Blue Chair).
The Road and the RadioChesney found himself the subject of much tabloid fodder in 2005 with his surprise marriage to actress Renée Zellweger (he had composed 1999's "You Had Me from Hello" after watching Zellweger in the 1996 film Jerry Maguire). The pair split that same year, citing irreconcilable differences, and Chesney released the chart-topping The Road and the Radio in November. In the years that followed, Chesney kept busy, releasing Live: Live Those Songs Again in 2006 and Just Who I Am: Poets & Pirates in 2007. In April 2010, Chesney and director Joe Thomas released the 3-D concert film Kenny Chesney: Summer in 3-D. Taken from his 2009 Sun City Carnival Tour, the film included 23 songs from six stadium shows, shot in 3-D, interspersed with interviews and home movies. A completely new studio album, Hemingway's Whiskey, named after a Guy Clark song, also appeared in 2010. His 13th studio album, Welcome to the Fishbowl, arrived in 2012.
Life on a RockWelcome to the Fishbowl performed respectably, debuting at number two on the Billboard 200 and generating the number one country single "Come Over," along with the Top 20 hits "Feel Like a Rock Star" and "El Cerrito Place." Following its release, Chesney's label BNA shuttered and he jumped over to Columbia Nashville, which released Life on a Rock in April 2013. The album hit number one, and the single "Pirate Flag" reached the country Top Ten. Chesney quickly followed Life on a Rock with The Big Revival. A conscious shift toward a brighter sound, The Big Revival was Chesney's liveliest work of the decade, as evidenced by its first single, "American Kids," a singalong that peaked at number two on the country chart.
Upon its September 2014 release, The Big Revival debuted at number two on Billboard's Top 200 and number one on the country chart, and it spawned three additional country Top Ten singles: "Til It's Gone," the Grace Potter duet "Wild Child," and "Save It for a Rainy Day." In the spring of 2016, Chesney returned with "Noise," the first single from Cosmic Hallelujah, the full-length album that appeared in October that same year. (Steve Huey, All Music)

This album contains no booklet.