---
Album info
Album including Album cover Booklet (PDF)
George Friedrich Händel (1685 - 1759): Brockes Passion, HWV 48:

1

Brockes Passion, HWV 48: Sinfonia

02:44

2

Brockes Passion, HWV 48: No. 1, Mich vom Stricke meiner Sünden zu entbinden

04:30

3

Brockes Passion, HWV 48: No. 2a, Als Jesus nun zu Tische saße

00:28

4

Brockes Passion, HWV 48: No. 2b, Das ist mein Leib

01:09

5

Brockes Passion, HWV 48: No. 3, Der Gott, dem alle Himmelskreise

02:13

6

Brockes Passion, HWV 48: No. 4a, Und bald hernach

00:15

7

Brockes Passion, HWV 48: No. 4b, Das ist mein Blut

01:00

8

Brockes Passion, HWV 48: No. 4c, Gott selbst, der Brunnquell alles Guten

02:18

9

Brockes Passion, HWV 48: No. 5, Ach, wie hungert mein Gemüte

02:04

10

Brockes Passion, HWV 48: No. 6a, Drauf sagten sie dem Höchsten Dank

00:39

11

Brockes Passion, HWV 48: No. 6b, Wir wollen alle eh' erblassen

00:31

12

Brockes Passion, HWV 48: No. 7a, Es ist gewiß

00:10

13

Brockes Passion, HWV 48: No. 7b, Weil ich den Hirten schlagen werde

01:16

14

Brockes Passion, HWV 48: No. 8a, Aufs wenigste will ich

01:12

15

Brockes Passion, HWV 48: No. 8b, Mein Vater

01:39

16

Brockes Passion, HWV 48: No. 8c, Mich drückt der Sünden Zentnerlast

00:56

17

Brockes Passion, HWV 48: No. 8d, Ist's möglich, daß dein Zorn sich stille

01:41

18

Brockes Passion, HWV 48: No. 9, Sünder, schaut mit Furcht und Zagen

01:50

19

Brockes Passion, HWV 48: No. 10a, Die Pein vermehrte sich

01:02

20

Brockes Passion, HWV 48: No. 10b, Brich, mein Herz

06:18

21

Brockes Passion, HWV 48: No. 11a, Ein Engel aber kam

00:43

22

Brockes Passion, HWV 48: No. 11b, Erwachet doch!

01:25

23

Brockes Passion, HWV 48: No. 12a, Und eh' die Rede noch geendigt war

00:15

24

Brockes Passion, HWV 48: No. 12b, Greift zu, schlagt tot!

01:00

25

Brockes Passion, HWV 48: No. 13a, Und der Verräter

00:20

26

Brockes Passion, HWV 48: No. 13b, Er soll uns nicht entlaufen

00:28

27

Brockes Passion, HWV 48: No. 14a, Nimm, Robbi

00:19

28

Brockes Passion, HWV 48: No. 14b, Gift und Glut

01:46

29

Brockes Passion, HWV 48: No. 15a, Steck nur das Schwert an seinen Ort

01:29

30

Brockes Passion, HWV 48: No. 15b, O weh!

00:41

31

Brockes Passion, HWV 48: No. 16a, Wo flieht ihr hin?

00:46

32

Brockes Passion, HWV 48: No. 16b, Nehmt micht mit

04:30

33

Brockes Passion, HWV 48: No. 17a, Und Jesus ward zum Palast

01:23

34

Brockes Passion, HWV 48: No. 17b, Was Bärentatzen, Löwenklauen

03:22

35

Brockes Passion, HWV 48: No. 18a, Dies sahe Petrus an

01:22

36

Brockes Passion, HWV 48: No. 18b, Ich will versinken und vergehn

00:48

37

Brockes Passion, HWV 48: No. 19a, Drauf krähete der Hahn

01:18

38

Brockes Passion, HWV 48: No. 19b, Heul, du Fluch der Menschenkinder

02:42

39

Brockes Passion, HWV 48: No. 20a, Doch wie?

00:34

40

Brockes Passion, HWV 48: No. 20b, Schau, ich fall' in strenger Buße

02:34

41

Brockes Passion, HWV 48: No. 21, Ach, Gott und Herr

01:17

42

Brockes Passion, HWV 48: No. 22a, Als Jesus nun

01:09

43

Brockes Passion, HWV 48: No. 22b, Er hat den Tod verdient

00:11

44

Brockes Passion, HWV 48: No. 23, Erwäg, ergrimmte Natternbrut

05:09

45

Brockes Passion, HWV 48: No. 24a, Die Nacht war kaum vorbei

01:20

46

Brockes Passion, HWV 48: No. 24b, Meine Laster sind die Stricke

02:34

47

Brockes Passion, HWV 48: No. 25a, O, was hab' ich verfluchter Mensch getan

00:34

48

Brockes Passion, HWV 48: No. 25b, Laßt diese Tat nicht ungerochen

02:17

49

Brockes Passion, HWV 48: No. 25c, Unsäglich ist mein Schmerz

00:55

50

Brockes Passion, HWV 48: No. 26, Die ihr Gottes Gnad

01:50

51

Brockes Passion, HWV 48: No. 27a, Wie nun Pilatus Jesum fragt

00:20

52

Brockes Passion, HWV 48: No. 27b, Bestrafe diesen Übeltäter

00:13

53

Brockes Passion, HWV 48: No. 28a, Hast du denn kein Gehör

00:24

54

Brockes Passion, HWV 48: No. 28b, Sprichst du denn

02:45

55

Brockes Passion, HWV 48: No. 29a, Pilatus wunderte sich sehr

00:37

56

Brockes Passion, HWV 48: No. 29b, Nein, diesen nicht, den Barrabas gibt frei

00:19

57

Brockes Passion, HWV 48: No. 29c, Was fang ich dann

00:08

58

Brockes Passion, HWV 48: No. 29d, Weg! Laß ihn kreuzigen

00:10

59

Brockes Passion, HWV 48: No. 29e, Was hat er denn getan?

00:05

60

Brockes Passion, HWV 48: No. 29f, Weg! Laß ihn kreuzigen"

00:09

61

Brockes Passion, HWV 48: No. 29g, Wie er nun sah

00:15

62

Brockes Passion, HWV 48: No. 30, Besinne dich, Pilatus

01:38

63

Brockes Passion, HWV 48: No. 31a, Drauf zerreten die Kriegsknecht' ihn hinein

00:29

64

Brockes Passion, HWV 48: No. 31b, Ich seh' an einen Stein gebunden

01:37

65

Brockes Passion, HWV 48: No. 32a, Drum, Seele

01:50

66

Brockes Passion, HWV 48: No. 32b, Dem Himmel gleicht sein buntgefärbter Rücken

03:19

67

Brockes Passion, HWV 48: No. 33a, Wie nun das Blut mit Strömen von ihm rann

00:28

68

Brockes Passion, HWV 48: No. 33b, Die Rosen krönen

02:15

69

Brockes Passion, HWV 48: No. 34a, Verwegner Dorn, barbar'sche Spitzen

00:53

70

Brockes Passion, HWV 48: No. 34b, Laß doch diese herbe Schmerzen

03:38

71

Brockes Passion, HWV 48: No. 35a, Die zarten Schläfen sind bis ans Gehirne

00:47

72

Brockes Passion, HWV 48: No. 35b, Jesu, dich mit unsern Seelen zu vermählen

02:17

73

Brockes Passion, HWV 48: No. 36a, Drauf beugten sie

00:09

74

Brockes Passion, HWV 48: No. 36b, Ein jeder sei ihm untertänig

01:04

75

Brockes Passion, HWV 48: No. 37a, Ja, scheueten sich nicht

00:08

76

Brockes Passion, HWV 48: No. 37b, Schäumest du, du Schaum der Welt

01:38

77

Brockes Passion, HWV 48: No. 38a, Worauf sie mit dem Rohr

00:13

78

Brockes Passion, HWV 48: No. 38b, Bestürzter Sünder

00:58

79

Brockes Passion, HWV 48: No. 38c, Heil der Welt

04:06

80

Brockes Passion, HWV 48: No. 39a, Wie man ihm nun genug

00:35

81

Brockes Passion, HWV 48: No. 39b, Eilt, ihr angefochtnen Seelen

01:49

82

Brockes Passion, HWV 48: No. 40a, Ach Gott!

01:21

83

Brockes Passion, HWV 48: No. 40b, Soll mein Kind, mein Leben sterben

02:23

84

Brockes Passion, HWV 48: No. 41a, Und er trug selbst sein Kreuz

00:35

85

Brockes Passion, HWV 48: No. 41b, Es scheint, da den zerkerbten Rücken

01:44

86

Brockes Passion, HWV 48: No. 42a, Wie sie nun an die Stätte

00:31

87

Brockes Passion, HWV 48: No. 42b, Hier erstarrt mein Herz und Blut

01:30

88

Brockes Passion, HWV 48: No. 42c, O Anblick, o entsetzliches Gesicht

01:12

89

Brockes Passion, HWV 48: No. 43, O Menschenkind, nur deine Sünd' hat dieses angerichtet

00:40

90

Brockes Passion, HWV 48: No. 44a, Sobald er nun gekreuzigt war

00:33

91

Brockes Passion, HWV 48: No. 44b, Pfui! Seht mir doch den König an

00:31

92

Brockes Passion, HWV 48: No. 45a, Und eine dicke Finsternis

00:31

93

Brockes Passion, HWV 48: No. 45b, Was Wunder

02:18

94

Brockes Passion, HWV 48: No. 46a, Dies war zur neunten Stund'

01:11

95

Brockes Passion, HWV 48: No. 46b, Mein Heiland, Herr und Fürst

02:16

96

Brockes Passion, HWV 48: No. 47a, Drauf lief ein Kriegsknecht hin

00:35

97

Brockes Passion, HWV 48: No. 47b, O Donnerwort! O schrecklich Schreien

03:17

98

Brockes Passion, HWV 48: No. 48a, O selig, wer dies glaubt

00:30

99

Brockes Passion, HWV 48: No. 48b, Sind meiner Seelen tiefe Wunden

03:35

100

Brockes Passion, HWV 48: No. 48c, O Großmut

00:31

101

Brockes Passion, HWV 48: No. 49, Brich, brüllender Abgrund

03:15

102

Brockes Passion, HWV 48: No. 50a, Ja, ja, es brüllet schon in unterird'schen Grüften

01:29

103

Brockes Passion, HWV 48: No. 50b, Wie kommt's, daß, da der Himmel weint

02:08

104

Brockes Passion, HWV 48: No. 51, Bei Jesus' Tod und Leiden

01:32

105

Brockes Passion, HWV 48: No. 52, Mein Sünd' mich werden kränken sehr

01:00

106

Brockes Passion, HWV 48: No. 53, Wisch ab der Tränen scharfe Lauge

05:50

107

Brockes Passion, HWV 48: No. 54, Ich bin ein Glied an deinem Leib

01:23

Total Runtime

02:36:33
Info for Handel: Brockes Passion, HWV 48

The Concerto Copenhagen is Scandinavia's most renowned Baroque ensemble and one of the most innovative such formations worldwide. Its trademarks are its unusual program combinations featuring Scandinavian rarities and famous Baroque masterpieces. This world-class orchestra now turns to Handel's great Brockes-Passion in a CD recording based on the Halle edition of this composer's works. The Passion text published by the well-to-do Hamburg resident Barthold Heinrich Brockes was a literary bestseller during the early eighteenth century. Composers set his poetic text, the first to add narrative elements to the Biblical Passion texts, more than thirty times. Today the best-known of these compositions is the one by George Frideric Handel, who set these verses to music in 1716, creating what would remain his only sacred work in German. Stylistically, however, the Brockes-Passion prefers to follow Italian models and speaks a musical language resembling that of the Baroque opera. Following concerts with this program, Die Welt enthusiastically summed up the result: »Mortensen's elite forces from the original sound movement instinctively realize what their master and motivator wishes. […] One of the best early music ensembles paints a Baroque picture that richly displays magnificent color, suggests mystery, and repeatedly also is animated by dance. The method employed by Mortensen while modeling the music enables him to breathe new life into one of the most significant Passion oratorios composed prior to the later masterpieces by Bach.«
"Lars Ulrik Mortensen gets eager, alert playing from his trim band, while his solo team is uniformly strong...Peter Harvey is a sympathetic Jesus...no Handel lover who buys the excellent Mortensen recording will feel short-changed." (Gramophone Magazine)
Maria Keohane, soprano
Joanne Lunn, soprano
Hanna Zumsande, soprano
Daniel Carlsson, alto
Daniel Elgersma, alto
Ed Lyon, tenor
Gwilym Bowen, tenor
Peter Harvey, bass
Jakob Bloch Jespersen, bass
Concerto Copenhagen
Lars Ulrik Mortensen, conductor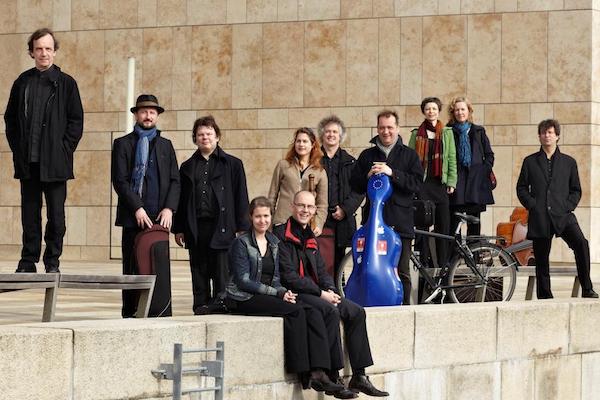 Lars Ulrik Mortensen
(born 1955) studied at The Royal Academy of Music in Copenhagen (harpsichord with Karen Englund, figured bass with Jesper Bøje Christensen) and with Trevor Pinnock in London. From 1988 to 1990 he was harpsichordist with London Baroque and until 1993 with Collegium Musicum 90 (leader: Simon Standage). He now works extensively as a soloist and chamber musician in Europe, the United States, Mexico, South America, China, Japan and Australia.
Between 1996 and 1999 Lars Ulrik Mortensen was professor for harpsichord and performance practice at the Hochschule für Musik in Munich, and he now teaches at numerous Early Music courses throughout the world, i.e. at the Mozarteum Salzburg and the Juilliard School of Music in New York.
About 20 years ago, Lars Ulrik Mortensen began conducting "modern" orchestras in Sweden and Denmark, and especially his activities at the Royal Theatre in Copenhagen - notably Kunzen's "Holger Danske" in 2000 and Mozart's "The Marriage of Figaro" in 2003 - met with great critical acclaim. However, in 2003 he made the decision to work exclusively with period instrument ensembles.
Since 1999, he has been artistic director of the Danish Baroque orchestra Concerto Copenhagen, and in 2004 he succeeded Roy Goodman as musical director of the European Union Baroque Orchestra (EUBO). Additionally, Mortensen is increasingly working with several distinguished foreign ensembles like Holland Baroque, Irish Baroque Orchestra, Nederlandse Bachvereniging and Collegium 1704.
Concerto Copenhagen
As a young member of the World's most interesting and innovative Baroque orchestras, Concerto Copenhagen distinguishes itself by its original interpretations and a marked talent for communicating with the audience. CoCo recreates the vitality and presence of ancient music and brings it up to date.
In 1999, the internationally renowned Lars Ulrik Mortensen became artistic director of the ensemble. In recognition of his stature as one of the world's leading harpsichordists and chamber music players, he was awarded the coveted Léonie Sonning Prize in 2007. The encounter between Concerto Copenhagen and Mortensen was the prelude to an exciting artistic and musical journey, enabling the ensemble to combine a repertoire of well-known European music with less familiar works of Scandinavian and other origin.
Through the years Concerto Copenhagen has cooperated with many internationally renowned artists on the Early Music scene: Emma Kirkby, Andreas Scholl, Anne Sofie von Otter, Andrew Manze, Reinhard Goebel, Ronald Brautigam and Andrew Lawrence-King, who is the orchestra's Principal Guest Conductor.
Concerto Copenhagen's CD recordings for the German label cpo, for Deutsche Grammophon and for BIS have attracted international attention and won several prestigious prizes. This in turn has opened the doors to many of Europe's leading concert venues, guest appearances at top international festivals and tours in Europe, the USA, Japan and Australia. Foreign critics have placed CoCo in the first rank of international orchestras.
In Denmark, the prime partner is the Royal Theatre, where Concerto Copenhagen performs in about one opera a year. Recent productions include works by Monteverdi and Mozart as well as Handel's Xerxes, Giulio Cesare and Partenope, the latter two featuring the counter tenor Andreas Scholl in leading roles.
Concerto Copenhagen's concerts are recorded and broadcast by Danmarks Radio (DR) and by the EBU network in most parts of the world.

Booklet for Handel: Brockes Passion, HWV 48