---
Album info
Album including Album cover
1

The Shadow of King John

03:40

2

Man or Machine

03:24

3

The Missouri Kid

05:27

4

The Good Life

03:39

5

Last Ride of the Sunset Men

03:48

6

Black Crow

03:43

7

Monkeys with Money and Guns

04:48

8

Point the Way

05:07

9

Deep Water

03:45

10

Kelly's Gone

04:15

11

Something I Picked up Along the Way

03:12

12

Time out of Mind

03:41

13

Seven Bells

06:59

14

What You Left Behind

03:59

Total Runtime

59:27
Info for Myths Legends and Lies

Danny Vaughn has completed the solo album he always wanted to make. Bringing Myths, Legends and Lies to its climax, completion and release has formed an epic quest in its own right for the singer, songwriter, multi-instrumentalist and storyteller.
The 14-track album draws together many years of influences and inspiration, has had to overcome some serious obstacles along the way, and it's a testimony to Danny's commitment to his vision and his fans (& vice versa) that has given the story — to coin a phrase — a happy ending!
Danny is recognized worldwide for his melodic, powerful & emotional vocals, To lovers of rock, Danny Vaughn is best-known for his involvement with Waysted (1985-1987) and famed for his flourishing voice-work with melodic rockers Tyketto.
Now, this talented vocalist and experienced multi-instrumentalist is about to launch his latest solo album: his first in eleven years. "It's an album I've been talking about making for over fourteen years," Danny explains, "A bunch of songs I call my orphans: they're a group of numbers, collected over decades, that I never found a proper home for."
"This is the music I make when left to my own devices. When there is no schedule to satisfy and no target audience to audition for. "
Myths, Legends and Lies is an album whose roots lie in Danny's musical influences and passions and in his love of storytelling. As Danny himself explains: "As songwriters and musicians grow older they are continually exposed to different forms of music, types of instruments, sounds and timbres. There is so much out there to excite and inspire us. "Myths, Legends & Lies is a result of that and also of having been brought up in a family with a strong storytelling tradition. As a child my parents read to me almost every night. Greek mythology, The Lord of the Rings, The Stories of the Monkey King and Conan Doyle's Sherlock Holmes: all resound inside of me with the sound of my parents' voices. They allowed me to paint my own mental pictures and that's what I hope these songs will do for the listener."
Thus in Myths, Legends and Lies, you'll find songs populated by gods and heroes, kings and derelicts, gunslingers and card sharps, cyborgs and sailors: all telling their tales of life, injustice, love & murder.
Not all stories run smoothly, or have happy endings, and thanks to one particular obstacle, Myths, Legends & Lies almost didn't get made.
"I became a victim of the PledgeMusic difficulties," admits Danny, but he reflects, "Looking back, perhaps the headache caused by PledgeMusic was actually a blessing. It gave me the push & impulse I probably needed to get the job done and it also made me realize, more than anything, that the fans are on my side and they are indispensable and significant. And if you have fans on your side, nothing is impossible."
The proof of that is that despite the obstacles and pitfalls it faced, Myths, Legends & Lies kept on track for its planned release date. Recorded, engineered and mixed by Tim Hamill at Sonic One Studios, Llangennech, Wales, the mastering was completed by Sean Magee [Deep Purple, John Lennon, The Ramones, and The Beatles] at Abbey Road Studios and the album will be released on 7th June 2019.
Danny is also proud to announce new UK tour dates. See his website for full details of dates and venues: a wonderful opportunity to hear this talented and already-respected singer-songwriter in the UK.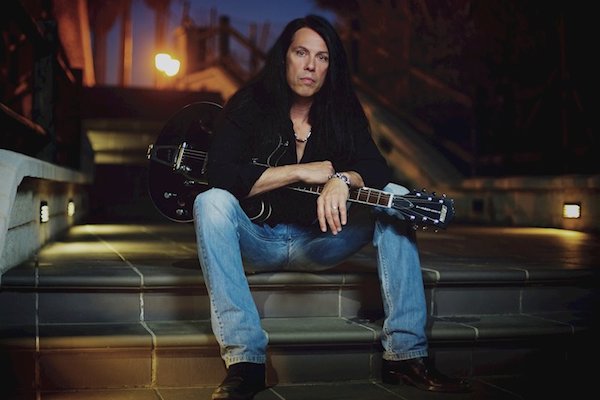 Danny Vaughn
As a young child (that probably should have been put on some kind of calming medication) Danny Vaughn was forever singing along to his parents' Beatles albums while running in circles around the house at top speed. Until something broke. Then he was running in a straight line out of the house at top speed. It was in grade school, at the age of 11, that some far-thinking teacher decided to channel all that sound and motion by getting Danny into the school choir.
Within a month he was singing his first solo in front of the entire school. When he realized that everyone was craning their neck trying to see who was singing, he was hooked! A lead singer is born when they find the spotlight to be warm and comforting rather than glaring and terrifying.
Rock and roll came later.
At first Danny's musical training consisted of playing the recorder and singing Gilbert & Sullivan, but at age 14 came his first guitar (well behind most of his friends who had gotten theirs several years earlier) and, soon after that, his first band, 'Relative Pleasure'. Mostly, 'Relative Pleasure' played cover songs at school parties but, before they disbanded, they got into some of the more prestigious venues in NYC and even recorded a demo or two. After that came a series of cover bands that got more and more serious and took him from being a teenage dreamer to becoming a working rock singer, driving stupendously long distances around the Rockland County, New Jersey and Long Island area in order to play in some of the stickiest, darkest dives in all of creation. The bands had names like 'Beefeeter', 'Obsession', 'D.W.I.' and 'Allied Forces'. It was while singing for the latter, in 1984, that he got noticed, and eventually recruited, in order to go to Florida to work with guitarist Paul Chapman of UFO on his new solo project, 'D.O.A.'
Beer was drunk, demos were made, hands were shaken and Paul went off to England to try and secure the band a record deal. It was while in England that Paul was waylaid (pardon the pun) and recruited for another band, 'Waysted', the flagship of UFO's one and only wobbly-legged bass legend, Pete Way.
A year later Paul found Danny once again. Talks began about him taking over the lead vocal duties in Waysted from Fin More. All was not happy in the Waysted camp (turns out that was the normal state of affairs!) and they had a festival commitment coming up that Fin refused to play. So the gauntlet was thrown: "Come and rehearse in Wales with Waysted for 2 days, then fly to Tel Aviv, Israel in order to play your first gig with the band in the famous Ramat Gan football stadium. If you can hack it, you're in the band." He did and he was!
This was 1985. The next 2 years were a whirlwind spent recording his first album, "Save Your Prayers", making his first MTV video, "Heaven Tonight", and touring the world playing stadiums as the opening act for such musical giants as Iron Maiden and Status Quo.
By 1987, though, it was all over. Following a number of internal problems, the highly anticipated next album was never made and the band parted with a whimper instead of the bang that everyone thought they'd make.
Back in Brooklyn, it took a year of soul-searching and basement living before Danny realized that, despite the huge amount of exposure and experience that Waysted had given him, fame was not beating a path to his door.
Time to start up his own band.
His first phone call was to drummer Michael Clayton Arbeeny, whom he had assisted with a recording project several months before. Right away he knew he had found a real friend, ideal business partner and monster drummer all in one. Michael also seemed to run on rocket fuel, making him a "Go, go, go!" kind of guy. That sort of spirit is contagious and things went quickly after that. They found bass player Jimi Kennedy and guitarist Brooke St. James and launched into a campaign that created 'Tyketto'. Signed, first, by powerhouse management company Loud N Proud and then to Geffen's DGC label, Tyketto made the legendary, underground classic album "Don't Come Easy" in 1991. For 5 years they toured hard, made videos, and did all the things that young and hirsute rock bands are supposed to do. They built a staunch and loyal following in the US, the UK and Europe because of the consistently high level and energy of their stage shows.
Their second album, 'Strength In Numbers' was released in 1994 and was well received but the musical tide had turned and by 1996, with the grunge scene in full swing, Danny had simply had enough of the grinding tour schedule. He'd also had a bellyful of the music industry which was, is and always will be, like swimming in shark-infested waters.
But retirement was not to be for long. Even when he wasn't writing his own music he kept busy. In 1996 he stepped in at the last minute to sing on the powerful blues-rock album 'Blues For Daze' by the band 'Flesh And Blood'. By the year 2000 Danny was officially out of retirement and back on the boards, where he has remained ever since! ...

This album contains no booklet.