---
Album info
Album including Album cover
I`m sorry!
Dear HIGHRESAUDIO Visitor,
due to territorial constraints and also different releases dates in each country you currently can`t purchase this album. We are updating our release dates twice a week. So, please feel free to check from time-to-time, if the album is available for your country.
We suggest, that you bookmark the album and use our Short List function.
Thank you for your understanding and patience.
Yours sincerely, HIGHRESAUDIO
1

Ghost

03:27

2

I Wanna Be Good

03:28

3

Shut Your Mouth

03:36

4

Lover

02:53

5

Stay Friends

03:02

6

Cool

03:18

7

Big Bang

03:16

8

We Play

03:02

9

Love Is a Good Drug

02:59

10

Just Wait

02:52

11

Wrong Right

03:27

12

What You Need

04:11

13

My Friend (Bonustrack)

03:19

Total Runtime

42:50
Info for Hi, We Are The Kiez

Ist aber manchmal auch wirklich die Härte, die Sache mit dem Liebeskummer. Da setzt man für Jahre alles daran, über die Person hinwegzukommen, die einem das Herz bei lebendigem Leibe herausriss, löscht sie mit aller Macht aus jedem Winkel seines Körpers – und dann geht sie eines Abends plötzlich in der Bar einem vorüber. Mit ihrem neuen Typen. In solch einer Situation hilft wirklich nur noch eins: ein fröhliches Liedchen pfeifen. Und so tun, als wäre nichts geschehen.
Es ist genau dieses unbeschwerte Pfeifen, mit dem "Ghost" beginnt, die Warner-Debütsingle des Garage-Rock-Duos The Kiez, bestehend aus dem Hamburger Produzenten und Drummer Lucas Kochbeck und Eli Mardock, Ex-Frontmann der US-Band Eagle Seagull. "If you want me you'll find me / In the corner of a bar in St. Pauli / Heavy heart, you were dead to me / Had to do this for my sanity", skizziert dieser das Setting, in dem sich das oben Geschilderte nun entfaltet. Über einen lässig groovenden, Black-Keys-esken Vibe erzählt er eine Geschichte von schwerstem Liebeskummer und dem mühsamen Freischwimmen davon – so sehr, dass besagte Situation in einer Eckbar tatsächlich nicht viel mehr als eine geisterhafte Erscheinung ist: "You're just another girl that I used to know / High on Jack and Coke, it's like I've seen a ghost / Really thought your memory went up in smoke / I tried to let you go, it's like I've seen a ghost", singt Mardock zu bestechend guten Background-Harmonien, warmen Vintage-Orgeln und brummenden Bässen.
"'Ghost' kam durch die Erinnerungen an einige Beziehungsabbrüche über die Jahre zustande", kommentieren The Kiez. "Die meisten Leute haben diese oder ähnliche Erfahrungen bereits gemacht, du weißt schon: Du liebst jemanden und bist mit dieser Person ein paar Jahre oder länger zusammen. Du bist auf jede erdenkliche Weise intim mit ihr, teilst deine Gefühle und all diese großartigen Momente. Dann jedoch endet es, aus welchen Gründen auch immer. Und wenn du die Person wiedersiehst, irgendwann später, ist es, als würdest du einen Geist oder etwas aus einem vergangenen Leben sehen. Du erkennst sie kaum wieder. Vielleicht sagst du noch nicht einmal hallo. Es ist fast so, als sei all das nie passiert."
"Ghost" ist ein Vorbote des Debüt-Albums "Hi, We Are The Kiez" von The Kiez, das in diesem Jahr bei Warner Music Germany erscheint und auf die Anfang 2018 beim Hamburger Label Clouds Hill veröffentlichte Debüt-EP "We Play" folgt. Der Track war einer der letzten, die für das Album geschrieben wurden. Lucas begann augenblicklich zu tanzen, als er an der Musik arbeitete, für Eli hingegen war es zunächst eines der am wenigsten geliebten Demos für das Album. Dies sollte sich jedoch schnell ändern: "Nachdem wir begonnen hatten, an der Melodie und den Lyrics zu feilen, wurde es einer meiner Lieblingssongs", so Eli.
The Kiez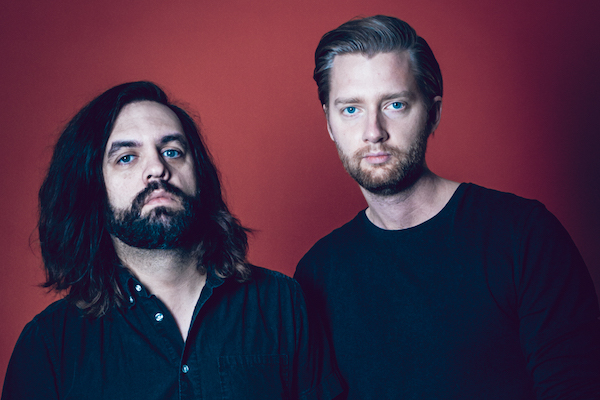 The Kiez
ein Garage-Rock-Duo aus zwei unterschiedlichen Kontinenten kommend, deren Musik eine Mischung aus flippigen atmosphärischem Rock mit Hall getränktem Soul und tanzbaren Beats ist. Als Fremde durch gemeinsame Freunde vorgestellt, fanden der Hamburger Produzent und Drummer Lucas Kochbeck und der Ex-Frontmann der Band Eagle-Seagull Eli Mardock aus den USA sofort zusammen. Die beiden tauschten über das Internet Demos und Ideen für Songs aus und produzierten so eine Sammlung von Demos, aus denen später ihre Debüt-EP "We Play" werden sollte.
"We Play" wurde am 02.02.2018 bei dem Hamburger Label Clouds Hill veröffentlicht. Weiterhin wird ihr Debütalbum "Hi, We Are The Kiez" 2019 über Warner Music Deutschland veröffentlicht. Ihre Einflüsse verschiedener Künstler sind offensichtlich, wie Iggy Pop, The Cure, Lou Reed, The Clash, Bowie, The Rolling Stones, sogar Peter Bjorn and John. Aber sie nur daran festzumachen, wäre zu einfach.
The Kiez haben ihre eigene Qualität und Unverkennbarkeit, was sie so hörenswert macht. Ja, sie bezeichnen sich selbst grob als "Garagenrock", aber diese Band ist in Wahrheit weit "musikalischer" als typischer Garagenrock. Dennoch haben sie diese typische Lässigkeit und Attitüde und diese, - wie soll ich es sagen -, Frechheit. Die ersten Songs von The Kiez entstanden mehr oder weniger aus heiterem Himmel. "Ich fühlte mich als müsste etwas aus mir ausbrechen", sagt Lucas Kochbeck. "Das war die Chance alles herauszulassen", so Mardock. "Ich fresse Dinge in mich hinein und bleibe ruhig. Ich öffne mich in Liedern. Wenn ich das nicht könnte, würde ich unter der Last von allem implodieren." Die Lieder verwandelten sich schnell in mehr als nur ein Ventil, um Ärger und Frustration zu verarbeiten. "Von Anfang an ging es in dieser Band nie um…. hey, sagen wir dieses unfassbar herausfordernde Album zu produzieren", sagt Eli Mardock. "In dieser Band kommt alles von allein. Wir versuchen nichts zu sehr, erzwingen nichts. Alles entsteht natürlich. Wir denken nicht zu weit, um es nicht zu zerstören. Wir verlassen uns in all unseren Songs auf unsere Intuition und unser Bauchgefühl."
Diese Sicherheit dringt durch jeden Track des Albums "Hi, We Are The Kiez", in dem die Band Einflüsse von Spaghetti Western bis hin zu Lou Reed und Bowie miteinander zu verschmelzen weiß.

This album contains no booklet.