---
Album info
Album including Album cover
I`m sorry!
Dear HIGHRESAUDIO Visitor,
due to territorial constraints and also different releases dates in each country you currently can`t purchase this album. We are updating our release dates twice a week. So, please feel free to check from time-to-time, if the album is available for your country.
We suggest, that you bookmark the album and use our Short List function.
Thank you for your understanding and patience.
Yours sincerely, HIGHRESAUDIO
1

Bonnie & Clyde

03:03

2

Bottle Rockets

03:56

3

The Battle of Late-Era Capitalism

02:50

4

When She Falls

02:53

5

New Wave Action Plan

02:53

6

F-Noise (Rebel Radio)

03:42

7

The Barricade

03:31

8

Night of a Thousand Guns

05:29

9

Love 'N' Justice

02:39

10

Imogene

03:36

11

Seven-A

02:30

12

Midnight Maryanne

03:23

13

A Thousand Lights

03:52

14

Permanent Revolution

03:48

Total Runtime

48:05
Info for Agitpop

Twenty-five years ago, Edwyn Collins scored the biggest hit of his career with "A Girl Like You". Buried near the end of this international smash was a wistful lament about the times: "Too many protest singers, not enough protest songs." Considering the current political climate, it's pretty clear that we could use as many modern day protest songs as possible to help the good folk of Planet Earth come together and kick against the pricks.
Fortunately Ron Hawkins, one of Canada's sharpest, most politically astute pens, has recognized the need for some new music that can educate and inspire change. The principal songwriter of beloved rock band Lowest of the Low (singer/guitarist Hawkins, drummer David Alexander, multi-instrumentalist Lawrence Nichols, bassist Greg Smith, guitarist Michael McKenzie) has trained his keen observational eye on the state of the world and has created a universal call to action railing against divisiveness and complacency. We'll let Ron pick up the thread from there:
"It's been a while since I felt the need to take the small p in the politics of my songwriting and capitalize it. Probably not since the 80s, when Reaganomics rankled and the threat of nuclear annihilation seemed to loom on the horizon. I spent the 90s and onwards embedding my politics in the personal stories of people trying to get through the day. I wrote about the trees instead of the forest. But with fascism on the rise again throughout the world it's time to hit 'caps lock' on that P once again."
Enter Agitpop, the new Lowest of the Low record about revolution and redistribution… liberation, love and justice. Produced by Grammy-winner David Bottrill (Tool, Muse, Peter Gabriel, Smashing Pumpkins), the album serves as a mobilizing manifesto that examines the dark clouds engulfing society then challenges the listener to make a difference. In case you were worried that all sounds like a joyless screed, rest easy: it's also hopeful, funny and melodic as fuck.
Most notably, the lyrics are an even greater cause for celebration than fans have grown accustomed to since Shakespeare…My Butt, the Low's venerable debut. The new album is brimming with ridiculously catchy, impassioned rallying cries for widescreen activism ("Permanent Revolution", "The Ballad Of Late-Era Capitalism", "New Wave Action Plan", "The Night Of A Thousand Guns"), small-scale altruism ("Midnight Maryanne", "Imogene", "Seven A", "When She Falls") and a mixture of the two ("The Barricade", "Love N' Justice", "F-Noise", "A Thousand Lights", "Bottle Rockets", "Bonnie And Clyde").
As Agitpop unfolds it reveals a multitude of deftly devised lyrical Easter eggs, alternately playful and poignant, that tip their cap to seminal recordings from the group's major influences, as well as their own collective mythology. Trainspotters can listen for nods to The Clash, Bob Marley, The Beach Boys, Bob Dylan and The Smiths, while also encountering allusions to classic Low songs "Bleed A Little While Tonight", "Salesmen, Cheats And Liars", "Black Monday" and "Just About 'The Only' Blues".
Back to Ron for the last word: "Songs don't make a revolution, that's not their job. They exist to be the oxygen we breathe or the nutrients we need to keep the blood pumping so we can get shit done. Your heart is a muscle and it's as big as your fist."
Lowest of the Low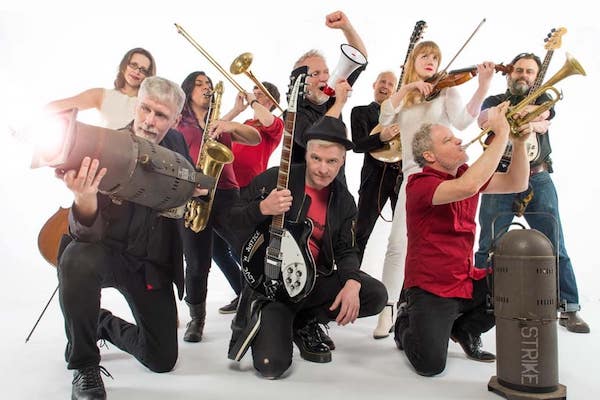 Lowest of the Low
It's a strange thing to be one of the most lauded independent Canadian bands of all time; it's almost a back-handed compliment, since it feels like the "independent" qualifier is somehow intended to lessen the achievement. Shouldn't it be cause for greater celebration when you make your name without the muscle and reach of a major label?
The story is stranger still when you consider that some of Lowest of the Low's success came in spite of themselves. Never at ease with the 'big machine' of the music industry, they may have indulged in more than one bout of self-sabotage along the way back in the Nineties. That simply means they can take a certain pride in knowing that the victories they did score (and the defeats they endured) were always of their own making, which is far better than putting your fate in someone else's hands. That's a true hallmark of independence.
You can trace the roots of the Low back to 1983, when Ron Hawkins and David Alexander played together as teenagers in a heavily politicized, straight-edge band called Social Insecurity. They rubbed intellectual elbows and shared small stages with Toronto punk scene legends like L'Étranger, most famous these days for having two of their members represent the NDP in the House of Commons. That led to the band Pop- ular Front in the late 80s, where Ron and David were joined by guitarist Stephen Stanley. At one point they boasted as many as eight players, but the three friends remained the core as other members came and went. While the music was a little slicker than their punk days and contained Afro-Caribbean flourishes, the focus on socially conscious lyrical content remained.
After a few years of gigging, the trio felt restless with both their sound and scene. They began jamming at acoustic open-mic nights with a clutch of new songs that were stripped down yet infectious. The romantic-but-realistic lyrics, assembled from character sketches and journal entries in Ron's ever-present notebook as he wandered the streets of Toronto, were always front and centre. Popular Front evolved into Lowest of the Low, and shortly afterwards Hawkins traded his four-string in when John Arnott joined on bass.
The quartet built a faithful following and a very full dance card on the strength of their joyous live shows, where they perfected the Low's mix of clever wordplay, razor-sharp hooks and airtight harmonies. They also began recording what were meant to be demos in a film production studio with friend Andy Koyama. There wasn't much interest from the A&R men of the day (and the feeling was mutual), so they elected to plow ahead on their own and press up CDs and tapes of those demos to sell off the stage.
By the time 4,000 copies of what came to be known as Shakespeare My Butt… had found homes, the Low secured distribution through indie outfit Page Publications (run by ex-Barenaked Ladies singer Stephen Page's father Victor). Within what felt like a few weeks, they were setting sales records for indie bands at the HMV Superstore and in heavy rotation on Toronto alt-rock station CFNY with songs like "Salesmen, Cheats And Liars", "Rosy And Grey", "Bleed A Little While Tonight" and "Eternal Fatalist".
The business side of the music business finally started paying attention, but an ongoing distrust of the industry led them to reject some lucrative offers, including support slots on major tours with Bryan Adams, Blue Rodeo and the aforementioned Ladies that would have made them household names.
The Low instead cut a swath across Canada on their own terms, showing downtown bars and college pubs alike one hell of a time. They also became sought-after opening acts for international artists as their live show gradually mutated into a full-on, window-rattling behemoth. That newfound grit and edge made its way to tape in '93, when they came within a whisker of winning CFNY's coveted "Discovery To Disk" talent search on the strength of sinewy new track "Gamble".
Before the conclusion of '93, the Low entered into a deal with London Smith Discs (LSD) to record their second full-length album, and A&M Records agreed to distribute what would become Hallucigenia upon its release in early '94. It was a marked departure from Shakespeare, with the amps turned up past 11 and a darker disposition on display in meaty-riffed songs like "Pistol", "Beer, Graffiti Walls" and "Motel 30".
Making the record had been frustrating, as the band sparred frequently with high-profile producer Don Smith. That experience, along with some escalating substance abuse and good old fashioned burnout from their relentless touring schedule, led to the band realizing things had come undone. Not even the tireless comic relief antics of long-time tour manager Jon Brooks (and his larger than life alter-ego Fuct The Clown) were enough to defuse the tension. In Autumn 1994, Lowest of the Low closed up shop so abruptly that fans didn't really have a chance to say a proper goodbye.
After some time working on different side projects and within other industries, the Low reunited in 2000 to rectify that fact. What they hadn't counted on was that their legend continued growing during those six years, to the point that they were being hailed by the press as returning heroes and had been elevated to genuine rock star status in certain markets (special shout-out to Buffa-LOW!).
The band played several euphoric reunion shows on either side of the border, including an open-air Toronto jamboree in the summer of 2001 with spiritual mentor Billy Bragg and kindred CanRock spirits The Weakerthans. The camaraderie of those gigs led to a creative explosion that yielded not only the stellar hybrid live/studio album Nothing Short Of A Bullet later that same year, but also their third long player. Sordid Fiction debuted in 2004, with production duties handled by Toronto rock legend Ian Blurton.
The former captured many of Shakespeare's brightest moments but with the added benefit of tighter, road-tested arrangements. The latter is a perfect blend of the heart and energy found on the previous two full-lengths and contains some of the band's strongest tunes ever, including "A Casual Overdose", "The Last Recidivist" and "Concave". It also introduced a new lineup, with Dylan Parker inheriting bass duties and longtime collaborator Lawrence Nichols becoming a full-fledged member.
Lowest of the Low supported Sordid Fiction extensively when it was released by MapleMusic, including a jaunt overseas for a series of showcase gigs throughout the United Kingdom. They also performed at the 2007 Grey Cup and logged a sweaty performance as part of The Legendary Horseshoe Tavern's 60th birthday celebrations. They pressed pause for a few years while Hawkins and Stanley worked on their latest solo albums, and Alexander continued to rack up impressive Digital Effects bona fides in the film and television world.
The band were inducted into the Canadian Indie Music Hall of Fame in 2008, and weren't active again until 2010 when they released a remastered 20th anniversary edition of Shakespeare My Butt… with a companion DVD full of archival footage and a newly-recorded instrumental score by Ron and Steve. They capped the activities for this release in March 2011 with a triumphant headlining show at Toronto's venerable Massey Hall. It's a life goal for all Canadian musicians, but it held special significance for Steve who had dreamt of treading the boards since working there as an usher in his youth.
In 2013, Stanley chose to leave the band and focus on his own projects. The remaining roster played some shows as "The Low UK", a playful nod to many groups over the years who had to change their names for legal reasons. They eventually reverted to using the full moniker, and Brian MacMillan assumed lead guitar duties. In late 2015, the band released two new singles digitally: "The Kids Are All Wrong" and "In The Blink Of An Eye" as a signal that the machine was stirring again.
2017 heralded another album, Do The Right Now, featuring a mixture of cracking new material and two absurdly hooky 'lost' songs from the Shakespeare era. Even with the inclusion of the older tunes, the entire record served as a thematic treatise on the importance of living in the moment. Hawkins, Alexander, Nichols, and MacMillan were joined in the studio by drummer Jody Brumell and journeyman bassist Derrick Brady, while Michael McKenzie (formerly of Universal Honey) handled lead guitar duties on all ensuing tour dates.
The Low put an end to that 'independent' qualifier in 2018 by inking a deal with Warner Music Canada, which not only didn't cause the sky to fall but led to the release of Shakespeare My Box!!…, a career-spanning vinyl retrospective. The sumptuously packaged set included all four studio albums, an extra record full of new material, previously unreleased or commercially unavailable tracks, demos, remixes and live cuts, plus a poster, stickers, hand-written lyric sheets and a beautiful full-colour booklet bursting at the seams with pics and ephemera from the Low's plentiful archives.
That brings us to today, where the band (now featuring full time members McKenzie on lead guitar and The Weakerthans' Greg Smith handling the bottom end) are about to unleash AgitPop, a bristling, buzzing collection of modern day protest songs that harken back to Hawkins' earliest days as a writer of 'capital P' political tunes. Its 14 ridiculously hooky yet heartfelt cuts, produced by Grammy-winner David Bottrill (Tool, Muse, Smashing Pumpkins) and recorded at Toronto's Union Sound Company with Chris Stringer and Darren McGill, serve as the most melodic manifesto since Nick Lowe penned "What's So Funny 'Bout Peace, Love and Understanding?" in 1974. From Lowe to the Low; it's (r)evolution, baby.

This album contains no booklet.