---
Album info
Album including Album cover
Felice Romani (1788 - 1865) & Vincenzo Bellini (1801 - 1835):

1

Romani, Bellini: Il Pirata, Act I: Sinfonia

07:00

2

Romani, Bellini: Il Pirata, Act I: Ciel! qual procella orribile

07:31

Vincenzo Bellini:

3

Bellini: Il Pirata, Act I: Io vivo ancor!

02:27

Felice Romani & Vincenzo Bellini:

4

Romani, Bellini: Il Pirata, Act I: Ascolta. Nel furor delle tempeste

03:17

Vincenzo Bellini: Il Pirata, Act I:

5

Bellini: Il Pirata, Act I: Del disastro di questi infelici

02:04

6

Bellini: Il Pirata, Act I: Per te di vane lagrime

03:53

7

Bellini: Il Pirata, Act I: Sorgete; è in me dover quella pietade

03:01

8

Bellini: Il Pirata, Act I: Lo sognai ferito

04:00

9

Bellini: Il Pirata, Act I: Cielo! è dessa!

01:10

10

Bellini: Il Pirata, Act I: Sventurata, anch'io delirio

04:43

Felice Romani & Vincenzo Bellini:

11

Romani, Bellini: Il Pirata, Act I: Evviva!... allegri!...

03:50

Vincenzo Bellini: Il Pirata, Act I:

12

Bellini: Il Pirata, Act I: Ebben?... Verrà

01:42

13

Bellini: Il Pirata, Act I: Perchè cotanta io prendo

05:05

14

Bellini: Il Pirata, Act I: Tu sciagurato!

02:53

15

Bellini: Il Pirata, Act I: Pietosa al padre!

03:37

16

Bellini: Il Pirata, Act I: Alcun s'apressa

01:02

17

Bellini: Il Pirata, Act I: Bagnato dalle lagrime

02:33

18

Bellini: Il Pirata, Act I: Grazie, pietoso ciel

01:57

Felice Romani & Vincenzo Bellini: Il Pirata, Act I:

19

Romani, Bellini: Il Pirata, Act I: Più temuto, più splendido nome

04:45

20

Romani, Bellini: Il Pirata, Act I: Sì vincemmo

02:31

21

Romani, Bellini: Il Pirata, Act I: Più temuto

03:40

Vincenzo Bellini: Il Pirata, Act I:

22

Bellini: Il Pirata, Act I: M'abbraccia, o donna...

02:59

23

Bellini: Il Pirata, Act I: Il suo disegno

02:01

24

Bellini: Il Pirata, Act I: Parlarti ancor per poco

03:42

25

Bellini: Il Pirata, Act I: Ebben; cominci, o barbara

04:31

Felice Romani & Vincenzo Bellini: Il Pirata, Act II:

26

Romani, Bellini: Il Pirata, Act II: Che rechi tu?

04:42

Vincenzo Bellini: Il Pirata, Act II:

27

Bellini: Il Pirata, Act II: Vieni; siam sole alfin...

01:53

28

Bellini: Il Pirata, Act II: Arresta

02:04

29

Bellini: Il Pirata, Act II: Tu m'apristi in cor ferita

04:50

30

Bellini: Il Pirata, Act II: Ah! lo veggo

03:21

31

Bellini: Il Pirata, Act II: Che rechi?

00:55

32

Bellini: Il Pirata, Act II: Io... sì... lo rinverrò

02:32

33

Bellini: Il Pirata, Act II: Lasciami, forza umana

01:35

34

Bellini: Il Pirata, Act II: Eccomi a te, Gualtiero

02:05

35

Bellini: Il Pirata, Act II: Vieni cerchiam pe'mari

05:21

36

Bellini: Il Pirata, Act II: Cedo al destin orribile

04:33

37

Bellini: Il Pirata. Act II: Parti alfine, il tempo vola

02:54

38

Bellini: Il Pirata, Act II: Sventurata, fa core...

01:24

Felice Romani & Vincenzo Bellini: Il Pirata, Act II:

39

Romani, Bellini: Il Pirata, Act II: Lasso! peri così

04:06

Vincenzo Bellini: Il Pirata, Act II:

40

Bellini: Il Pirata, Act II: Giusto cielo! Gualtiero!

02:04

Felice Romani & Vincenzo Bellini: Il Pirata, Act II:

41

Romani, Bellini: Il Pirata, Act II: Tu vedrai la sventurata

04:12

Vincenzo Bellini: Il Pirata, Act II:

42

Bellini: Il Pirata, Act II: Già s'aduna il gran consesso

01:15

43

Bellini: Il Pirata, Act II: Ma non fia sempre odiata

05:12

Felice Romani & Vincenzo Bellini: Il Pirata, Act II:

44

Romani, Bellini: Il Pirata, Act II: Udiste? È forza, amiche

00:48

Vincenzo Bellini: Il Pirata, Act II:

45

Bellini: Il Pirata, Act II: Oh! s'io potessi dissipar le nubi

08:02

Felice Romani & Vincenzo Bellini: Il Pirata, Act II:

46

Romani, Bellini: Il Pirata, Act II: Col sorriso d'innocenza

03:50

Vincenzo Bellini: Il Pirata, Act II:

47

Bellini: Il Pirata, Act II: Qual suono ferale

01:28

48

Bellini: Il Pirata, Act II: Oh, Sole! ti vela

02:46

49

Bellini: Il Pirata, Act II: La tua sentenza udisti

03:09

Total Runtime

02:40:55
Info for Bellini: Il Pirata

The new recording features an uncut edition including all the repetitions, original cadenzas and variations written by the singers, as well as the rarely performed finaletto.
In a statement Prima Classic, noted, "This relatively rarely performed opera stands out in the bel canto repertoire for its original musical resources applied by a young but undeniably genius Bellini, who was pushing the limits of the musical traditions of his time. Particularly original is the chorus of the Pirates with the echo effect: this genial page drew a clamorous success and was defined by a critic at La Scala '…a masterpiece of musical science.'"
"[Rebeka] displays a nimble coloratura from a voice that sits happily in the middle register but with a nice ripe top...A word of praise, too, for the villainous baritone Ernesto. Franco Vassallo eschews eyerolling melodrama in search of a character who is genuinely divided against himself." (BBC Music Magazine)
Marina Rebeka, soprano (Imogene)
Javier Camarena, tenor (Gualtiero)
Franco Vassallo, baritone (Ernesto)
Antonio di Matteo, bass (Goffredo / Il Solitario)
Gustavo De Gennaro, tenor (Itulbo)
Sonia Fortunato, mezzo-soprano (Adele)
Orchestra del Teatro Massimo Bellini di Catania
Fabrizio Maria Carminati, conductor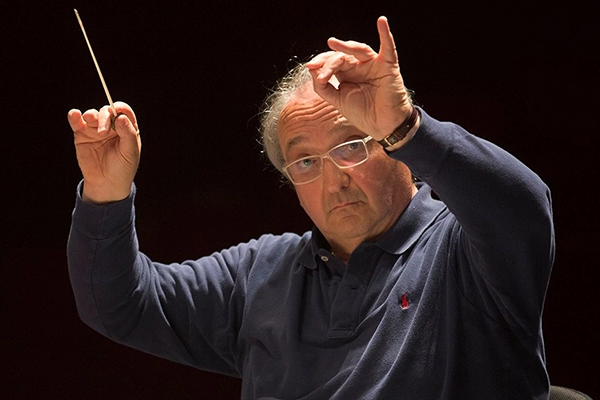 Fabrizio Maria Carminati
Having graduated in piano under the guidance of Carlo Pestalozza, Fabrizio Maria Carminati continued his composition studies in Milan with Vittorio Fellegara, and subsequently graduated with top marks as orchestra conductor.
In 1993, he debuted as conductor with La Boheme, at the Teatro Regio of Turin, where he continued to collaborate until the year 2000, conducting 11 different operas and various symphonic concerts.
In 2001, Fabrizio Maria Carminati became Member of the Board of the Fondazione Torinese Teatro Regio of Turin. Through the following years, he served as the Artistic Director of the Teatro Donizetti of Bergamo, Artistic Director of the Fondazione Arena of Verona, and the Principal Guest Conductor of the Opera de Marseille conducting many different operas (Cavalleria Rusticana, Pagliacci, Andrea Chenier, Il Pirata, Tosca, Aida, La Gioconda, I Capuleti e I Montecchi) and innumerable symphonic concerts (of particular success the monographic project dedicated to Ottorini Respighi with performances of his celebrated symphonic repertoire).
In 2018 he was appointed Principal Guest Conductor at the Fondazione Teatro Verdi of Trieste where he still holds that position. This last appointment has seen him conduct the inaugurations of four different opera seasons: Norma in 2017 (with primadonna Marina Rebeka), Eugene Onegin, I Puritani and Aida. He also conducted Madame Butterfly, Maria Stuarda, Francesca da Rimini, Amico Fritz, Rigoletto, Pagliacci and Macbeth. Of particular success was an opera tour of Japan in 2019, with the Teatro Verdi of Trieste orchestra, chorus, and technicians, to perform La Traviata (main roles by Marina Rebeka and Ramon Vargas) with 15 performances staged in the most important Japanese cities such as Tokyo, Osaka, Nagoya and others.
In January 2020 he was appointed Artistic Director of the Teatro Massimo Vincenzo Bellini of Catania.
Fabrizio Maria Carminati has been repeatedly invited as a guest conductor to a large number of theatres in Italy and around the world.
Orchestra del Teatro Massimo Bellini di Catania
In their long history of over one hundred years, the Orchestra e Coro del Teatro Massimo Bellini have been appreciated also outside their native Italy with a series of prestigious tours of Europe, Russia, Japan, and China. The great conductors that have led this renowned Etnean orchestra and choir from the podium have been numerous: Gino Marinuzzi, Vittorio Gui, Sergiu Celibidache, Guido Cantelli, Francesco Capuana, Oliviero De Fabritiis, Peter Maag, Gianandrea Gavazzeni, Lorin Maazel, Riccardo Muti, Giuseppe Sinopoli, Gianluigi Gelmetti and Fabrizio Maria Carminati, who is the present artistic director.
It should also be emphasized how the choral direction has been entrusted, over the time, to maestros of the caliber of Roberto Benaglio, Giuseppe Conca, Rolando Maselli, Nicola Luisotti, and presently, Luigi Petrozziello.
In the award-winning productions staged by this opera house in Catania, the Orchestra and Choir have worked alongside great historic voices, namely Maria Callas, Giulietta Simionato, Montserrat Caballè, Mirella Freni, Katia Ricciarelli, Renata Scotto, Beniamino Gigli, Franco Corelli, Tito Schipa, Mario Del Monaco, Giuseppe Di Stefano, Luciano Pavarotti, Gino Bechi, Tito Gobbi, Renato Bruson, Leo Nucci, Piero Cappuccilli.
Of note is the ample discography not only of Bellini operas, such as Adelson e Salvini, Zaira, Norma, Beatrice di Tenda e I Puritani, but also Fedra and La Nina pazza per amore by Paisiello, La battaglia di Legnano and Il trovatore by Verdi, to name only some Italian titles.

This album contains no booklet.